3D Printed Respiratory Masks May Be Able to Help Premature Babies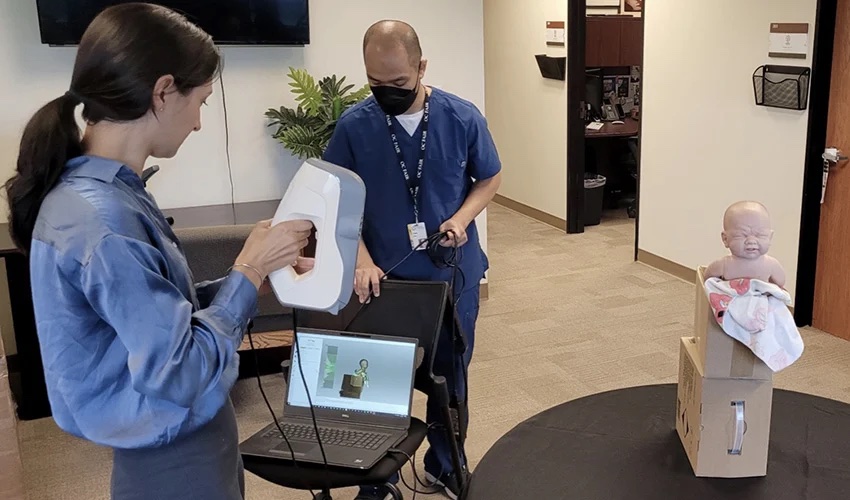 According to the World Health Organization, 15 million babies are born prematurely each year. A newborn is considered premature when it is born before 37 weeks of pregnancy. This abnormality can cause health complications for the baby, especially in terms of breathing as the lungs are not considered fully-functioning until they have reached term. That's why medical students at Western University of Health Sciences (WesternU) in Pomona, California, decided to use 3D printing to create prototype breathing masks for premature babies. The project was started after the students noticed a lack of respiratory tools in dedicated neonatal care units.
CPAP (continuous positive airway pressure) with surfactant therapy is the current preferred method to help premature newborns that are at risk for respiratory distress. Surfactant is a type of thick, foamy fluid. It plays an essential role in keeping the alveoli open and thus facilitates breathing in the baby. However, this technique involves the use of nasal tip masks, which can cause trauma in very low birth weight premature babies.
3D Printed Masks Designed for Premature Babies
To solve this issue, these 3D printed CPAP masks have been designed to perfectly fit the nose of a premature baby. As a result, they are considered less dangerous for premature newborns suffering from respiratory distress and related diseases. These tools are generally used for babies who breathe well enough on their own. Nevertheless, the masks provide a constant air pressure in the baby's nose, helping their lungs to stay open and avoid apneas, especially during sleep.
In the WesternU students' project, they first created 3D models of babies, which were then used to  design the prototype breathing masks. Then, these are printed using a flexible UV-cured resin, which helps create a solid base, minimizing air leaks. The university did not mention which printer the students used, however. The project is led by Gary Wisser, an educational 3D visualization specialist at WesternU's Center for Excellence in Teaching and Learning (CETL). Wisser asked the students to scan the tiny facial features of the infant mannequins to generate an accurate 3D rendering.
Wisser concluded, "It's always great to be able to create prototypes with students who are trying to develop solutions to problems they discover in the real world. If I can help the student turn a problem into a solution at such an early stage in their career, I think they can look at hurdles as opportunities. Now, 3D scanning, printing, and visualizations can be added to the toolkits they'll use to serve future patients" If you are interested in learning more, you can access the full research article HERE.
What do you think of this project to create 3D printed masks to help in the care of premature babies? Let us know in a comment below or on our LinkedIn, Facebook, and Twitter pages! Don't forget to sign up for our free weekly Newsletter here, the latest 3D printing news straight to your inbox! You can also find all our videos on our YouTube channel.
*Cover Photo Credits: Western University of Health Sciences