500 snorkeling masks are transformed into 3D printed respirators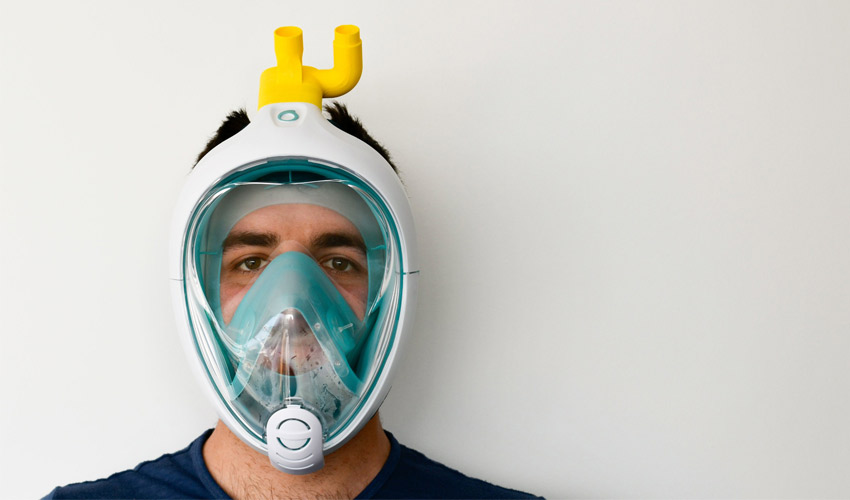 After developing the 3D printed valves for a hospital in Italy, Isinnova has developed a new design to turn a snorkeling mask into an emergency CPAP mask. A CPAP mask helps patients who can still breathe spontaneously on their own but need help keeping their airways unobstructed. The Italian company has advised that this is not a medically certified device, therefore the patient is "subject to the acceptance of use of an uncertified biomedical device, by providing a signed declaration." Nevertheless, the number of cases of COVID-19 keep growing and emergency solutions need to be put in place. Isinnova revealed that 500 of these 3D printed respirator masks have already been created over Italy to help patients in need.
A few days ago the company was contacted by Dr. Renato Favaro, a former chief physician of the Gardone Valtrompia Hospital. The doctor proposed turning a snorkeling mask into an emergency ventilator mask to help COVID-19 patients. Soon enough, Isinnova contacted Decathlon, productor and supplier of the Easybreath snorkeling mask to study its design in order to check the feasibility of Dr. Favaro's idea. The company managed to adjust the mask by adding a key component that is the link between the mask and the ventilator. They call this component the Charlotte valve. This valve can easily be 3D printed and added to Easybreath masks. The prototype was first tested on a colleague from Chiari Hospital, and a patient in need. In both cases the tests were successful. This could be a viable solution for all hospitals that are lacking the necessary equipment.
Isinnova has shared the file of the Charlotte valve: it is free to use and easy to make. Additionally, you will find instructions on the print settings you should use if you are to create this device. However, the company does insist that this is a certified device, and laws might differ across countries. In Italy, given the exceptional necessity and urgency of the situation, and in the absence of other viable alternatives, "a medical device without CE marking for the proposed indication may be used for compassionate use."
On the other hand, Decathlon has declared: "The Easybreath mask, made visible by many Internet users in recent days and presented as a possible protective mask against the Coronavirus, was not designed for this use. As its initial use remains the practice of snorkeling, we therefore recommend that you do not modify the mask by yourself; this could affect its operation, particularly with regard to air flow." Therefore, it's important to keep in mind that you can follow the clear and precise instructions from Isinnova published on their website, and included in the following video:
You can find more initiative to fight COVID-19 HERE. What do you think of this idea? Let us know in a comment below or on our Facebook and Twitter pages what you think! Don't forget to sign up for our free weekly Newsletter, with all the latest news in 3D printing delivered straight to your inbox!