Metal 3D printed perfume bottles by Formula 1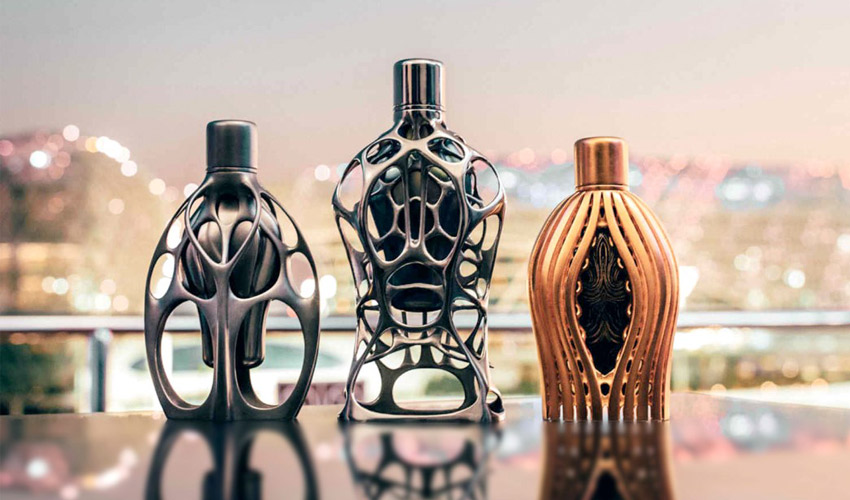 When Formula 1 meets designer Ross Lovegrove and Designer Parfums, you get 3D printed perfume bottles! The brand wanted to launch its first line of fragrances, F1 Fragance to remind people of the dynamism, passion and pleasure that exist around motorsport. So 3 limited edition bottles were created using metal 3D printing technology. The fragrances should be available in March 2020.
At first glance, Formula 1 doesn't have much to do with the world of fragrance. But when you look closer you realize  the motorsport market has been using additive manufacturing for many years, seeking to improve the performance of its vehicles and save time in the prototyping and production phase. Formula 1 has moved away from its core business here, while keeping additive manufacturing as a design method.
The company contacted designer Ross Lovegrove, known for his 3D printed jewelry, to imagine the three bottles. Instead of opting for a car shape that would have been too predictable, he chose a high-tech and refined aesthetic that is surrounded by a sort of exoskeleton, taking the shape of a trophy. Ross Lovegrove came up with three bottles for the different fragrances: Agile Embrace, Fluid Symmetry and Compact Suspension. He explains: "When you're asked to design a fragrance, you think of Dior, Kenzo or Lanvin, but you certainly don't think of Formula 1. So there's a kind of obstacle to overcome, and I think they've managed to break that barrier because they've worked with very high-level perfumers. They've done it in a very professional and high-end way. It's an interesting challenge because it's not an obvious connection."
Three 3D printed bottles
Let's start with Agile Embrace, a rather feminine 3 -printed bottle in gold-plated titanium that integrates different curves protecting a core in which the fragrance is found. The designer explains that he wanted to recall here the way an F1 car protects its driver. It took 24 hours to print a bottle that weighs 860 grams. Ross Lovegrove chose titanium because it is a well-known material in Formula 1, renowned for its strength and lightness.
The Fluid Symmetry bottle is the lightest in the collection (290 grams) and has been 3D printed in bead-blasted titanium. It is inspired by the aerodynamic principles of a car and took 15 hours to print. Finally, Compact Suspension is a kind of exoskeleton in which the perfume is suspended. The geometry is complex, which could justify the 35 hours of titanium 3D printing. The bottle weighs 550 grams.
5 different unisex fragrances should be offered to the general public, designed using ingredients like bergamot, pink pepper, cinnamon, vanilla, vetiver – reminiscent of the intensity of Formula 1. Each fragrance can easily be replaced so that the user can keep using the same 3D printed bottle – it must be said that the single bottle costs $10,000! Dilesh Mehta, CEO of Designer Parfums, concludes: "We are using the heritage and principles of the sport to create a unique fragrance brand that fuses the rules of perfumery with the core values of Formula 1. Being the first perfume brand to use 3D printing is a huge achievement and we look forward to taking it one step further when we offer consumers the opportunity to create their own custom designs."
It took more than two and a half years of work to imagine these three bottles, justifying their price according to Ross Lovegrove. We're not sure we want to put $10,000 into a perfume, but we have to admit that the result is there: additive manufacturing has struck again! You can find more information HERE.
What do you think of these 3D printed perfume bottles? Let us know in a comment below or on our Facebook and Twitter pages! Sign up for our free weekly Newsletter, all the latest news in 3D printing straight to your inbox!