Rotterdam will have a 3D printed pedestrian bridge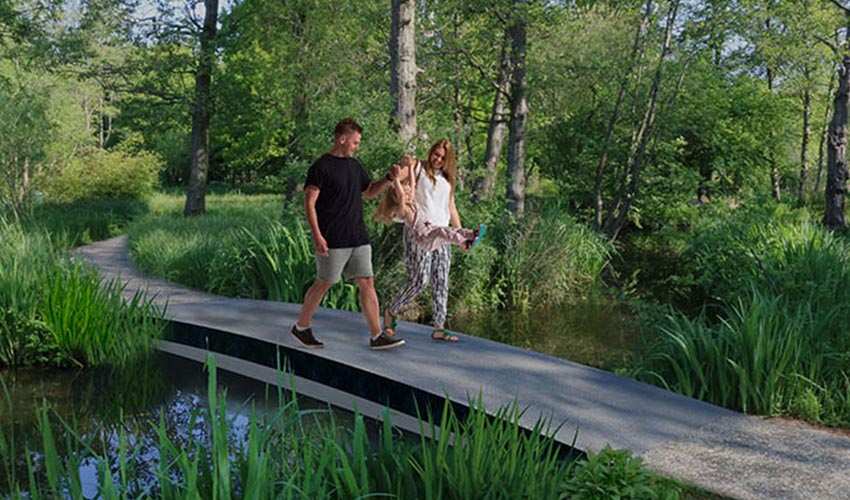 In Rotterdam, Netherlands, the first 3D printed pedestrian bridge is being built, and should be installed before the end of 2020. Currently, it's a wooden footbridge that exists in the Kralingse Bos, soon to be replaced by a lightweight 3D printed bridge made from fiber-reinforced plastic. Compared to the conventionally manufactured bridge, this one will last twice as long and will also be recyclable at the end of its life. This is not the first time that additive manufacturing technologies are used to make a bridge. Other projects have revolved around concrete 3D printing, whereas this one will use composite materials.
Back in September, we told you about the collaboration between Royal HaskoningDHV, CEAD and DSM, to design a bridge prototype that was lightweight and sustainable and also made from glass-fiber reinforced plastic. This new bridge, which is no longer just a prototype, is being developed by Royal HaskoningDHV, DSM and the Municipality of Rotterdam to accelerate the development of a new generation of bridges in the city of Rotterdam. Rotterdam is a dynamic, innovative city that is driving towards circularity.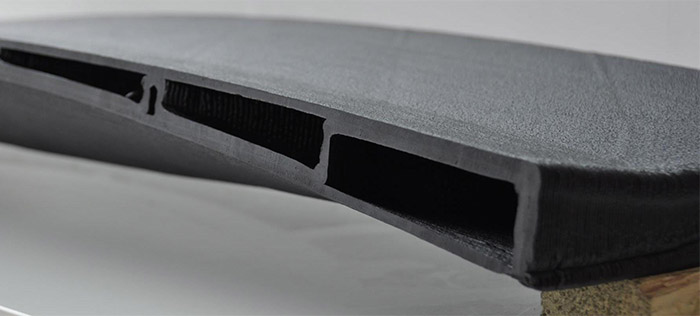 Therefore, the main aim of this project is to create a bridge that is more sustainable. In other words, it will have a longer lifetime expectancy paired with lower life cycle costs compared to steel bridges. The current deck bridge, which has been located in the native garden in the Kralingse Bos since 1975 is made of wood and is approaching the end of its life. Therefore, it is the perfect time for a replacement. With the replacement of this bridge by a 3D printed lightweight copy made from a plastic composite, the three partners are collaborating to promote a circular economy.
Mozafar Said, Asset Manager from the City of Rotterdam, said: "We see the use of composite bridges as a smart solution to replacing our older constructions. With more than 1000 bridges in Rotterdam, we are constantly looking to push the boundaries to develop the next generation of bridges which will be more sustainable and circular with lower maintenance and lifecycle costs."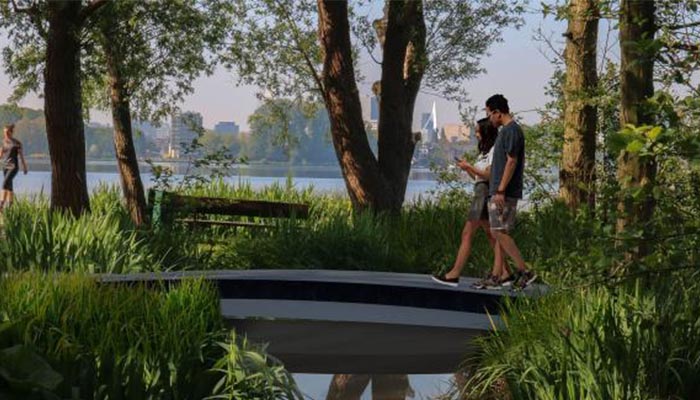 The companies also announced that new features may be integrated in the 3D printed bridge such as the use of sensors to monitor the state of maintenance, the structural safety, and the lifespan of the bridge in a smart and efficient manner. Maurice Kardas, Business Development Manager at Royal HaskoningDHV concluded: "This is a step change which signifies a collective effort to bring innovation from idea to realization and ushers in a new era of sustainable design and bridge functionality." You can find more information HERE.
What do you think of this 3D printed bridge? Would you like to see one in your city? Let us know in a comment below or on our Facebook and Twitter pages! And remember to sign up for our free weekly Newsletter, to get all the latest news on progress, research and more entrepreneurs in 3D printing sent straight to your inbox!