MEAN* creates 3D printed pavilion in Dubai to explore sustainable construction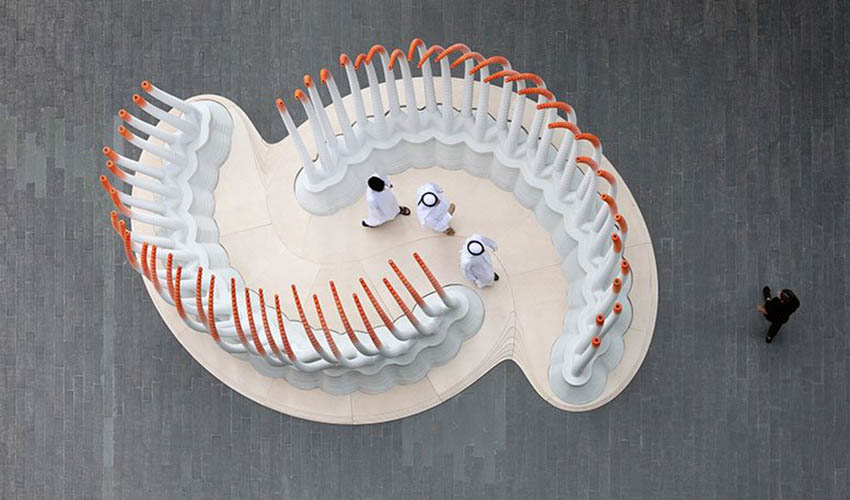 Dubai has welcomed major 3D printing construction projects, possibly more than any other city in the world. The city is truly home to much of the innovation and experimentation in this sector. Recently, the Middle East Architectural Network, also known as MEAN* completed the construction of a 3D printed pavilion for Dubai's International Financial Centre. According to MEAN*, the pavilion, named Deciduous, presents an abstract botanical form that suggests our relationship with nature. It measures 11 foot in height and visitors can walk through its S-shaped pathway. 
The construction of this pavilion was a collaborative project. In fact, it's more than 5 companies that joined their expertise to see this project through. MEAN* explained that in light of Dubai's focus on 3D printing as a sustainable technology, robotic 3D printing in plastic and concrete was an attempt at exploring the possibilities these two technologies can offer. Working on polymer 3D printing was the company Ai Build, based in the UK. It used recycled plastic filament from 30,000 water bottles, supplied by Reflow Filament. On the other hand, Besix 3D was called on for its expertise in concrete 3D printing.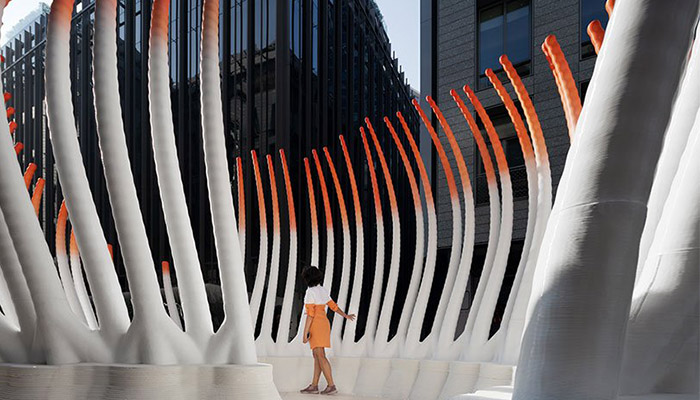 The construction process of Deciduous 
The design process behind Deciduous was a complex one, yet less complex than if it had been designed using traditional manufacturing techniques. The pavilion was designed to come together in interconnected parts, and was completely prefabricated off-site. Following the construction of these various parts off-site – namely the CNC cut birch plywood, the robotically 3D printed concrete and robotically 3D printed polymer – assembly was performed on-site with no need for heavy machinery. The company explains: "Computational modeling was used to conceive and quantify the design to a level of detailing optimal within the parameters and constraints of large format robotic 3D printing." 
This project, just as preceding ones, is an important showcase of what additive manufacturing technologies are capable of in the construction sector. Nevertheless, this is far from suggesting that 3D printed homes or buildings are to become mainstream any time soon. The industry is very young in its adoption of 3D printing technologies and many milestones are yet to be reached. At the end of last year, the company COBOD, one of the leading manufacturers of 3D printers for construction, pointed out many of the misconceptions surrounding 3D printed buildings and warned against the idealistic vision some players were painting of this industry. It is important to remain realistic, without neglecting to appreciate the projects that showcase innovative ways of using AM. 
What do you think of this 3D printed pavilion? Let us know in a comment below or on our Facebook and Twitter pages! Sign up for our free weekly Newsletter, all the latest news in 3D printing straight to your inbox!