TOP 12 3D Printed Orthoses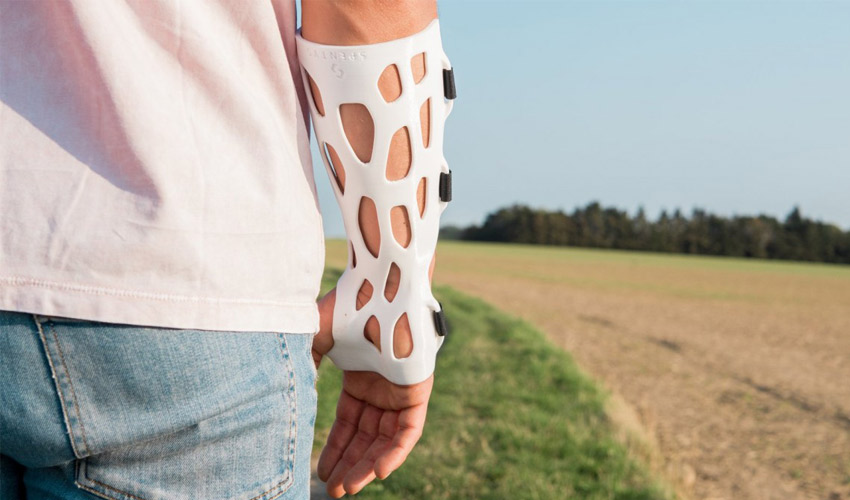 In the medical field, additive manufacturing is a revolutionary technology for numerous application, in particular thanks to its ability to personalise. From bioprinting to the creation of medical products such as implants, prostheses or orthoses, it is having a profound impact. Given that there are many exciting projects and companies in each of these areas – today we will present to you a ranking of the best 3D printed orthoses. Unlike prostheses that replace a non-existent part of the body, orthoses are medical devices that are made to stabilise, relieve, immobilise, guide or correct a part of the body. Since each patient is different, 3D printing is particularly well suited for these types of products and devices.
1. POHLIG GmbH
At the beginning of the year, POHLIG GmbH, one of the market leaders in the orthotics sector, conducted an exciting interview to learn more about the advantages of using 3D printing technologies. The company has been dealing with new technologies for 15 years, starting with light strip scanners for shape detection. In terms of 3D printing, the company uses FDM printers for prototypes of the orthoses. For the final products, POHLIG works with the world market leader EOS, which uses SLS printers. POHLIG is especially interested in orthopaedic treatment for children. For example, the company has created an exclusive ring orthosis for repositioning the talus and/or dynamic equine foot.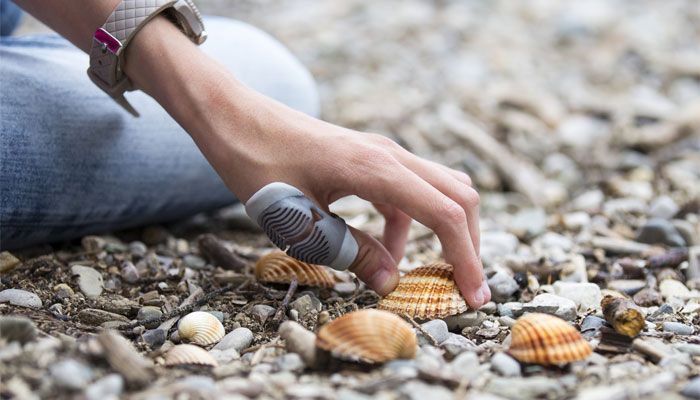 2. OT4 Othopädietechnik
The German company OT4 Othopädietechnik is responsible for the development, design and manufacture of 3D printed orthoses specially adapted to the patient. One of the many advantages is that virtual models of the orthosis can be examined by doctors, patients or therapists before printing. This makes it easy to make changes, and the 3D printed orthosis can also be adjusted during therapy. The company manufactures orthoses for a wide range of body parts, including orthoses for the face, joints, head, arms and fingers. The advantages of 3D printing here are low weight, water resistance (the orthoses are even dishwasher safe) and perforation for a pleasant climate under the orthosis.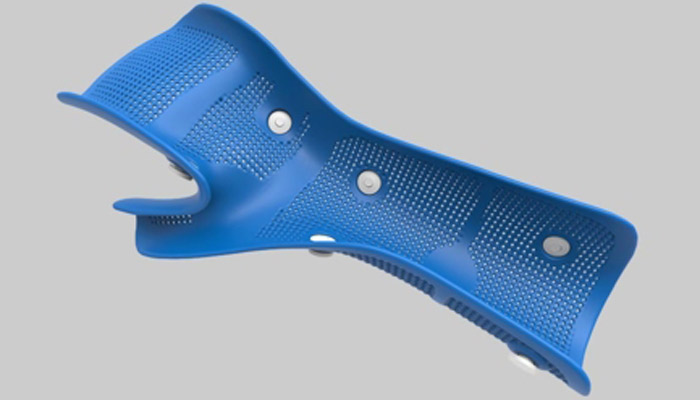 3. plus medica OT
The company plus medica OT combines craftsmanship and high-tech with additive manufacturing and is one of the first 3D printing services for orthotics – it has been operating since April 2015. It develops, produces and distributes 3D printed orthoses to companies. The companies create the model for the orthosis as usual and then send it to plus medica OT, which prints it in 3D and returns it to the customer. They also work with an SLS 3D printer from EOS – the EOS P396. Some of the advantages include freely selectable material thickness, breathable perforations and leeway for innovation in terms of complexity and design possibilities.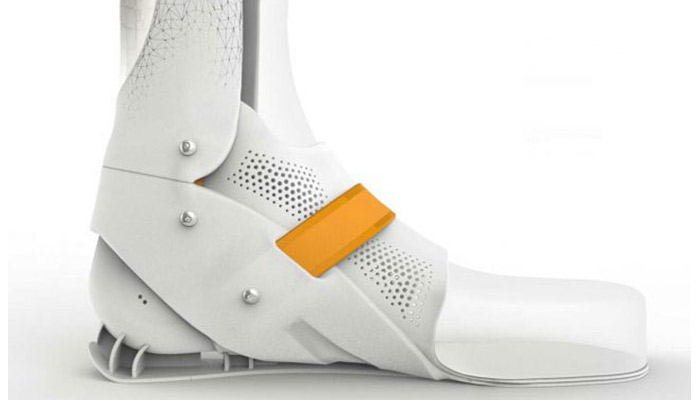 4. Chabloz Orthopaedic Orthotics
Chabloz Orthopédie is a French company specialised in the design and production of prostheses and orthoses for the upper and lower limbs. It has equipped itself with HP Multi Jet Fusion 3D printers to accelerate this manufacturing process – it has printed more than 400 devices and 120 prototypes to date. Among the 3D printed orthotics, the helmet you see below fights against plagiocephaly, a deformation of the skull in infants. It is the outer shell that was 3D printed from PA12. This manufacturing method enables to obtain an orthosis entirely adapted to the morphology of each baby whilst also reducing the weight of the helmet (between 100 and 150 grams). In addition to these helmets, Chabloz Orthopaedics also offers posture, walking and functional orthoses.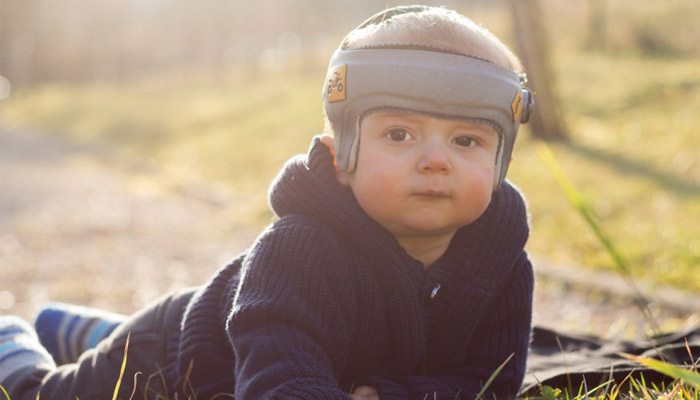 5. Mecuris' digital platform
Mecuris, a young company created in 2016 that has developed a digital platform to facilitate the manufacture of custom-made orthotics, a process made possible with 3D printing technologies. Foot orthotics, made from a partially recycled thermoplastic, can therefore is used in their solution. Each patient can customise the orthosis in terms of colour and pattern. Mecuris also keeps a copy of the STL file in order to reprint the device if necessary. The platform also offers specific orthotics according to the needs of each individual.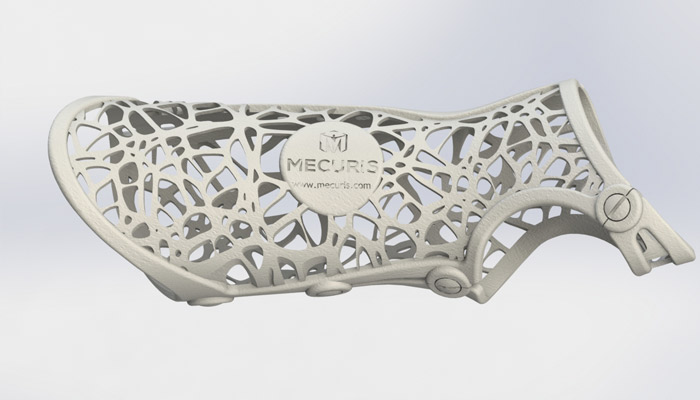 6. Shapeways turns to EOS materials
Last April, Shapeways' 3D printing service announced the arrival of a new material in its range, PA11. A novelty that allows the company to produce more resistant and above all biocompatible medical devices: Shapeways offers custom-made orthotics that will have the advantage of better elongation at break and greater elasticity.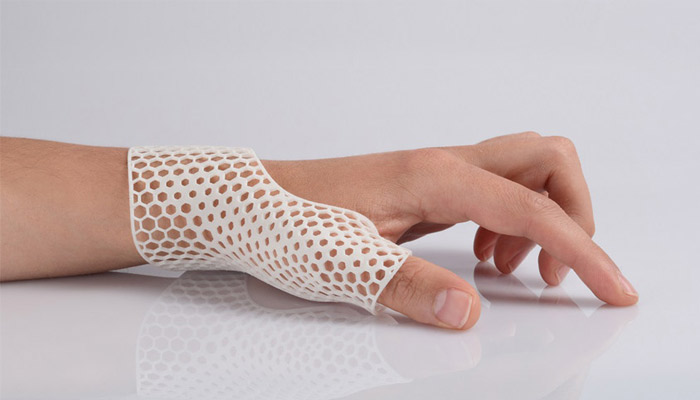 7. ScientiFeet, making 3D printed insoles
ScientiFeet is a French startup, created in January 2016 and one of the leaders in the production of 3D printed insoles. Their solution is intended for practitioners to provide a personalised and unique  product to patients. Thanks to their 3D scanner, they are able to create a very precise and custom 3D footprint which provides a high-degree of accuracy and completely new production possibilities at a better cost. Their 3D scanning solution, called PodoClic is a fast, mobile and easy to use device. Then, the startup allows you to print your 3D footprint using Prodways' powder sintering technology – the material used is PA12. They also provide training to practitioners so that they can install and use the equipment easily at their practice.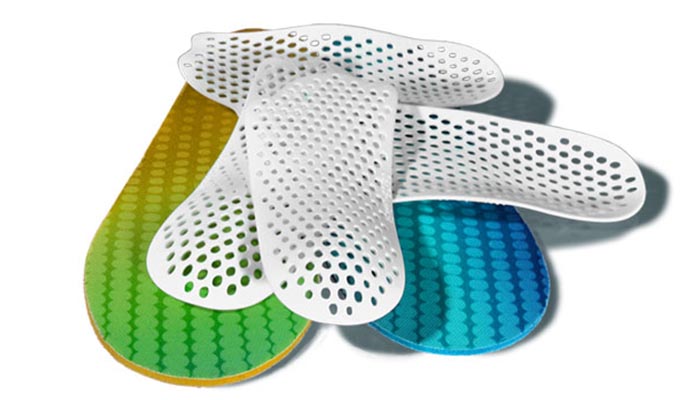 8. Invent Medical, custom-made orthotic and prosthetic products
Invent Medical has been successfully 3D printing since 2010 to offer solutions for the orthotic and prosthetic field. They cooperate with doctors, clinicians and universities to tackle the most challenging issues in this field. As a result they offer the possibility to patients to become co-designers of their products. You can use their Invent Medical Configurator, an easy to use software tool that helps you design your orthotic and prosthetic product in a matter of minutes. Then, using 3D and 2D scanners, they ensure that the product fits the patient perfectly before sending the data to a 3D printer for 3D printing.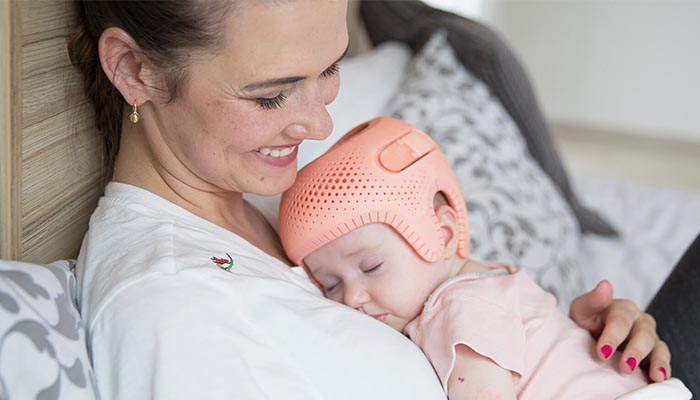 9. Xkelet, disrupting the current immobilisation methods
Xkelet Easy Life S.L. is a company based in Girona, Spain that seeks to change the current immobilisation methods using 3D printing. They work on creating 3D printed immobilisations suitable for each patient's anatomy. Their original solutions allow patients to shower and dry without problem, it also doesn't scratch or cause scaling of the skin when worn. Thanks to the design of the immobilisation system, the doctor and patient can see how the fracture or wound is healing – avoiding the painful process of removing the cast to see what is going on.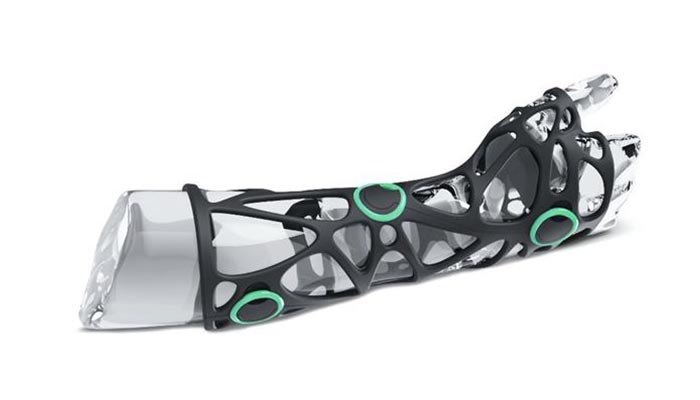 10. BioNEEK, 3D printed bionic knee brace
BioNEEK is a medical device created by Sichuan Ju An Hui in conjunction with the Chinese company INTAMSYS, specialised in PEEK 3D printers. Their newest device is a bionic exoskeletal reinforcement for people with knee problems. Developed with the help of additive manufacturing and advanced thermoplastic materials, this biomechanical system works as a shock absorber to avoid strong impacts on the knee, known to be one of the most vulnerable body parts. BioNEEK has an adjustable hinge that prevents hyperextension, accelerates rehabilitation and alleviates pain.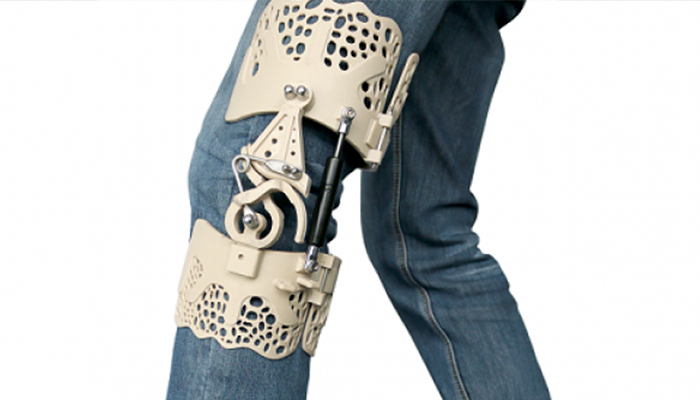 11. Andiamo, expanding access to orthoses
This UK-based project began with a Kickstarter campaign to enable the Parvez family to develop a 3D printed orthosis for their little Diamo who had mobility problems. As a result, Samiya and Naveed Parvez decided to develop this project on a larger scale and give more children a chance to access custom orthoses at a much lower cost. Since their first campaign in 2014 in the last 5 years they have managed to get more families to join the project and ask for help to improve the mobility and recovery of the children.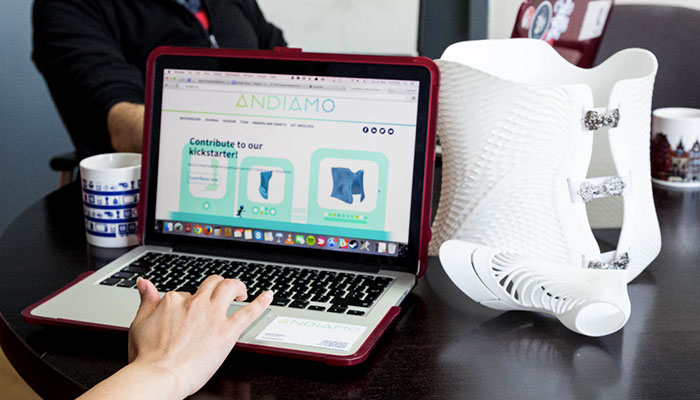 12. aNImaKe, high-precision custom orthotics
aNImaKe is another project developed by parents to help their little boy – Nik, the son of Matej and Mateja Vlašič was born a month early, and due to complications during childbirth he suffered brain damage that led to a paralysis. As a result, Nik had mobility problems which is why his father decided to develop his own orthosis using iPad applications as a scanner and 3D printing it with Formlabs' stereolithography technology. After the success of his 3D printed orthosis, Matej decided to leave his job and create aNImaKe, focused on the development of custom orthoses for children.
*Cover photo credits: spentys
Was this ranking on 3D printed orthoses useful? Let us know in a comment below or on our Facebook and Twitter pages! Sign up for our free weekly Newsletter, all the latest news in 3D printing straight to your inbox!