A 3D Printed Lamp Made From Orange Peels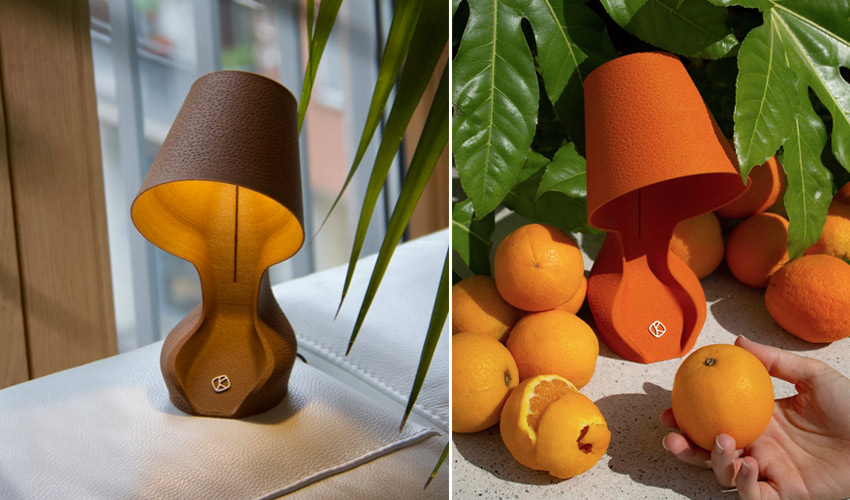 What if the lamp on your bedside table was made from orange peels? This is the concept behind the Ohmie lamp project from the Italian agency Krill Design. They used the skin of oranges to 3D print this household object. Ready in just two hours, the lamp is available to purchase from €59 through the company's Kickstarter campaign. This project is the latest example of closed-loop production and clearly demonstrates the pivotal role that additive manufacturing can play. This application of 3D printing shows an alternative to the pollution produced by traditional manufacturing methods which are harmful to our planet.
If you have been closely following 3D printing news, you may recall the Feel the Peel machine — a juice bar capable of turning orange peels into cups using 3D printing. In the case of the Italian agency Krill Design, the idea is similar: recover natural waste and find a manufacturing method that is more respectful of the environment. So, they designed a natural, compostable biopolymer from Sicilian orange peels, a material the agency has been working on for some time now, which was also used in another project with Autogrill.
The Manufacturing Process of the Ohmie Lamp
One of the reasons that led Krill Design to choose orange peels as a manufacturing material is simply their abundance, but also the properties in their organic chemistry. Domiziana Illengo, the agency's marketing manager, explains, "The link between the basic biopolymer from the fermentation of plant starches and the added material from organic crops is that they need sugars to bind together. Oranges are particularly high in carbohydrates, which chemically is basically the same as sugar. And so that helps us to develop a robust material." The skins are first dried, then ground into powder, and then processed into granules.
They needed a solid material, capable of supporting the weight of the upper portion of the lamp, where the bulb is nestled. The agency says it had to come up with several prototypes, 7 to be exact, to find the right design. Ohmie lamp can tilt its head and maintain an upright body. Each lamp is made with two Sicilian oranges and weighs only 153 grams.
The material enriched with orange peels can be extruded on any desktop FDM machine, in about two hours. The agency specifies, however, that quality problems can easily occur due to thermal management because some 3D printers are not developed to work with organic materials. Be aware that once printed, the Ohmie lamp smells like an orange cookie. Quite astonishing!
The Ohmie lamp comes with an LED bulb and a dimmer to adapt the light to its environment and needs, all for 59 euros. You can find more details HERE and support the crowdfunding campaign! Furthermore, Krill Design does not intend to stop at oranges, they plan to launch a whole range of organic products. Their next project will be to develop a coffee table from coffee grounds. Though, it remains to be seen if it will be 3D printed . . .
What do you think of Ohmie's 3D printed lamp made from orange peels? Let us know in a comment below or on our Facebook and Twitter pages. Don't forget to sign up for our free weekly newsletter, with all the latest news in 3D printing delivered straight to your inbox!
Cover Photo Credit: Krill Design