Researchers improve accuracy of 3D printed metal parts with electric current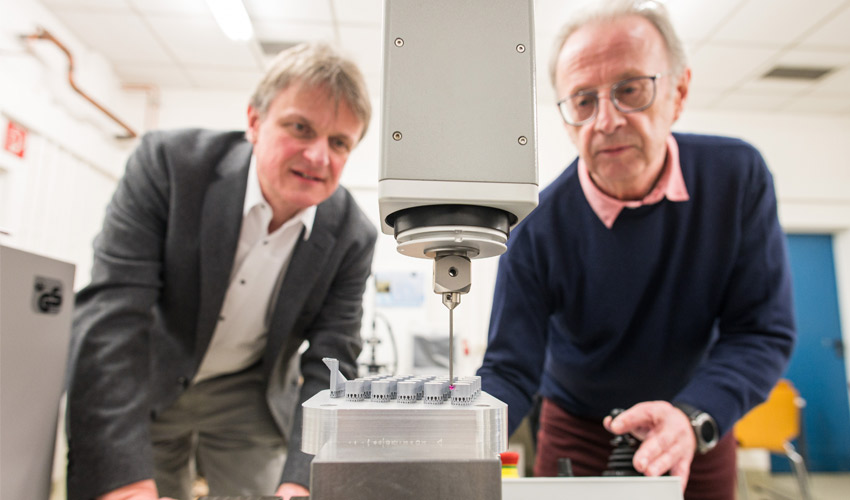 As metal additive manufacturing grows, it is not always easy to obtain high quality, high precision parts for specialized and demanding applications. That's why a team of researchers at Saarland University in Germany has developed a non-contact process based on electrochemistry to transform metal 3D printed parts into complex components with dimensional tolerances of a few thousandths of a millimeter. A method that should make it possible to make greater use of end-use parts made in sectors such as aerospace or automotive.
The demand for metal parts in industrial sectors is strong and must meet precise requirements such as dimensional accuracy. Aircraft, car and rocket engines are usually made up of several parts that are assembled together and it is essential that each of them can withstand high mechanical stress. Today, metal additive manufacturing makes it possible to simplify the design process by reducing the number of components that make up a part, or by increasing its complexity. But it remains a difficult technology to master and achieving the same mechanical characteristics as a machined part is not easy, especially in terms of dimensional accuracy. 3D printing remains a "layer by layer" technology and it is not uncommon for these to be apparent.
For this reason, Professor Dirk Bähre and his research team have developed a non-contact method for post-processing 3D printed metal parts. In concrete terms, they relied on electrochemical machining, a method of removing metal by an electrochemical process. The professor explains: "Electrochemical material removal makes it possible to create even the most complex geometries in the hardest metals. Our non-destructive, non-contact manufacturing technology allows us to efficiently machine parts with complex geometries, even if they are made of high-strength materials."
How does this electrochemical-based process work?
The first step consists of bathing the 3D printed metal parts in a fluid electrolyte solution. The team explains that they can then be electrochemically machined to the required geometry and tolerance. All they need is a source of electrical power: electric current flows between a tool and the 3D printed part. The printed part is then immersed in a conductive fluid, which is an aqueous salt solution. The electrochemical machining process removes tiny metal particles from the surface of the part. 
The metal atoms on the surface of the workpiece enter the solution as positively charged metal ions, allowing the workpiece to achieve the required geometric shape with great precision. Professor Bähre continues: "By adjusting the duration of the current pulses and the vibration of the tool, we can remove material from the surface very uniformly, leaving particularly smooth surfaces and achieving high dimensional accuracy."
The team has tested different metal alloys such as steel, aluminium or titanium and is evaluating all stages of the process. The aim is to be able to improve and optimise the electrochemical methods used to obtain even smoother surfaces and even higher levels of precision. Research work that will therefore be able to affect the industry and offer more accurate and high-performance 3D printed parts. You can find all the research HERE.
What do you think of