Smart Design & Gantri Join Forces to 3D-Print Lighting Designed for the Home Office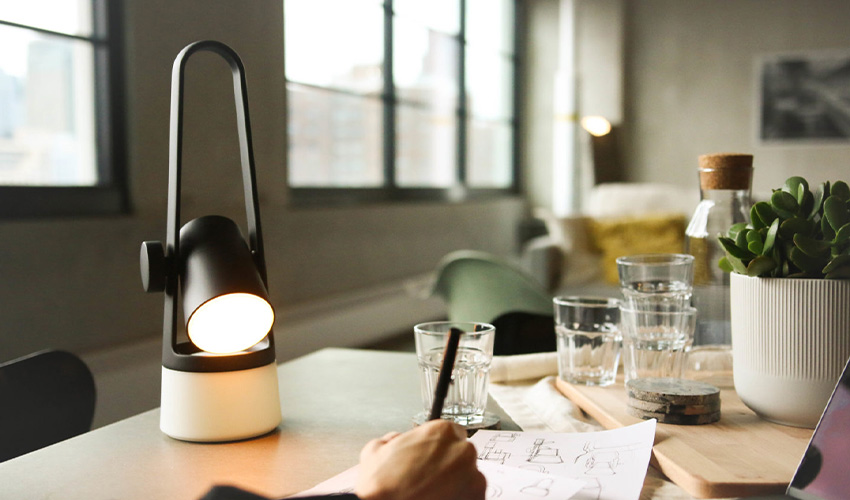 Since the start of the pandemic, the daily life of the majority of professionals has been turned upside down. Many people now work from home to avoid contracting or transmitting viral illnesses. With so many people across the globe being constrained to new teleworking conditions, the Smart Design studio and Gantri, a company specializing in the design of lighting through digital manufacturing, have joined forces. Together, the companies have designed the Aim Collection, a range made up of four lamps perfected just for teleworking. This 3D-printed lighting allows for freedom of movement, rearranging spaces and places dedicated to professional activities, but also homes workspaces. "We designed each light to adapt to our human needs first — accomplishing tasks you want to get done, where you want.", explains Gantri's product manifesto.
Within the Aim Collection, we find a floor lamp, a directional work lamp, a lantern as well as a clip lamp. All 3D-printed, the majority of lamps are made of removable parts, a first for Gantri, who is used to using additive manufacturing to produce lights. Dan Grossman, Industrial Design Director of Smart Design, discusses this particular challenge: "Gantri had never reached this level of complexity with the articulation of joints and pivots. While it sounds simple, with 3D printing it's actually quite a big challenge. There has been a ton of thinking and a lot of prototyping and testing to determine material constraints, tolerances, as well as weight and balance. " 
3D Printed Lighting For Everyday Life
Each of the lamps has been designed to meet the needs of people working from home. And to make sure they are in the right direction, Smart Design and Gantri have polled their loved ones for their opinion. For example, the Clamp Light was designed to allow its users to create a desk on any surface. Equipped with a clip, it is possible to install it anywhere. As for the Aim Task Light, it can easily switch from a directional work light to ambient light by effortlessly moving the light arm. 
The two companies have remained discreet on the materials and technology used, however usually, to design its lamps, Gantri uses its mixed fleet of modified desktop FDM printers and its own Dancer 3D printer. When it comes to materials, the Californian company uses PLA , mainly because of its durability. Because, in addition to wanting to simplify the daily life of professionals working from their homes, Gantri above all wants to offer sustainable products that respect the environment. Learn more about this lighting HERE.
What do you think of this 3D printed lighting from Smart Design and Gantri? Let us know in a comment below or on our Linkedin, Facebook, and Twitter pages! Don't forget to sign up for our free weekly Newsletter here, the latest 3D printing news straight to your inbox! You can also find all our videos on our YouTube channel.
Cover Photo Credit: Smart Design