The Most Impressive 3D Printed Jewelry Designs on the Market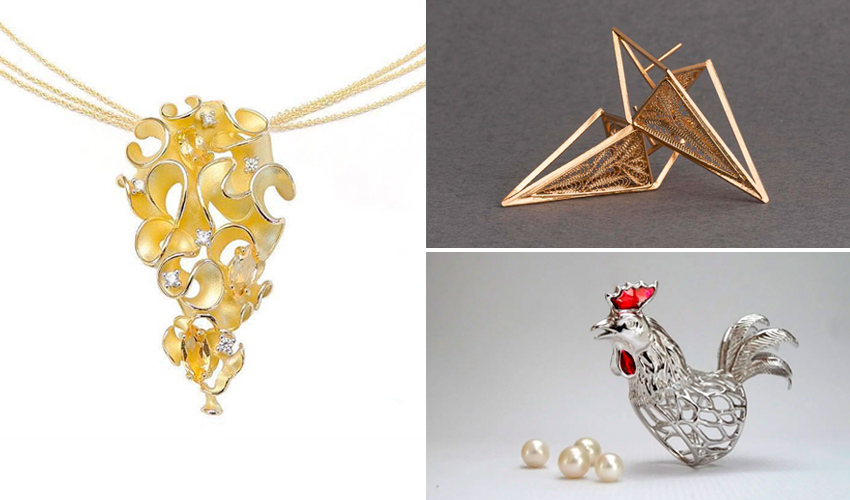 Whether in jewelry or jewelry, additive manufacturing is a technique increasingly used by professionals in the sector because of its ability to design complex and unique parts, all more quickly. It is used in particular to produce molds used later for the lost wax casting; prototypes to allow better visualization of rings, necklaces, bracelets; but also finished parts directly integrated into a jewel. This variety of applications can be explained by the diversity of the printing processes used, but also the range of materials available. Stereolithography, for example, will be ideal for creating highly detailed prototypes; laser fusion, on the other hand, will allow us to work on finished metal parts, sometimes even precious metals.  In order to understand all the possibilities of 3D technologies in this sector, here is a selection of 3D printed jewelry!
A Ring with 7,801 Diamonds
We start our selection with a project that broke a world record for the most diamonds in a ring: 7,801 at the time. Though what interests us most is not so much this astronomical number but more because additive manufacturing was involved in the development process of this unique jewel. The Indian service Imaginarium was behind the flower-shaped ring. It 3D printed a resin mold into which it cast the precious metal – in this case gold. So it's not a 3D printed piece of jewelry per se, but without 3D printing, the ring would never have been this complex, the service noted that 3D printing was the only way to create a mold that could incorporate so many jewels. It is composed of 7 different sections – six flowers and the ring, with each flower layered on top of the other. The result? A ring with 7,801 diamonds that doesn't go unnoticed!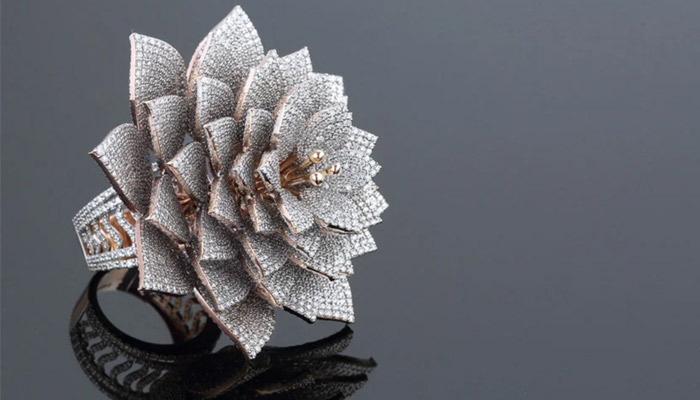 Rings with Complex Geometries
Invaerso uses 3D printing primarily for prototyping purposes and in 2020 was even awarded for its innovative solutions. Thanks to 3D printing, the Italian company is able to quickly test whether a product works and is able to determine whether it needs to be modified or not. In addition, in combination with traditional techniques, additive manufacturing can speed up production processes. Maria Clelia Scuteri, the designer behind Invaerso, also says that 3D printing makes it possible to design rings and other types of jewelry with complex geometries.
The Benefits of 3D Printing and Nylon According to Caroline Auraix
In France, too, the jewelry industry is using additive manufacturing to improve production processes. Parisian artist Caroline Auraix uses 3D technologies to meet the time constraints imposed by the industry. The jeweler works mainly with Rhinoceros 3D software, although she confides that she also uses free modeling software, allowing her to give her models "modeling clay" effects. As for the printing process used, Caroline Auraix explains that selective laser sintering, also known as SLS, is the technology best suited to her needs. The majority of these parts are made from nylon, because when this material is applied in a very thin layer, it allows light to pass through, which offers a luminous effect. In addition, its strength and lightness make it an ideal material for jewelry.
RADIAN Uses 3D Printing for Sustainable Jewelry
Next on the list has to be Berlin based label RADIAN who are known for their 3D printed, sustainable jewelry and home goods. According to the company, they wish to give jewelry that is straight forward with a twist, with artistic pieces that are intricate, edgy and organic. This is possible using 3D printing, notably SLS and binder jetting. They have three collections that interested buyers can choose from including the Solitaire collection which puts a focus on geometric and angular struts, the Cubetwist collection which as the name suggests combines a strong cubic pattern with bends and twists, and Nefertiti which is the company's answer for what Ancient Egyptians would make using 21st century production methods. RADIAN points to 3D printing as a key factor in how they make their jewelry sustainable thanks to its ability to make products locally and to reduce waste.
Elements Lab Offers Unique Jewelry
Based in Taiwan, ElementsLab is a 3D printing service offering the ability to design custom jewelry. Founded by Ting Tang, the company is able to create silver and metal alloy parts, and mass-produce them. Compared to traditional metalworking, additive manufacturing allows for more complex designs to be created faster and more efficiently. ElementsLab offers customers the opportunity to realize their ideas and design custom parts. Although they are only prototypes, 3D printed items must meet durability standards and have certain mechanical features. Thus, each piece of jewelry has a unique touch and meaning.
3D Printed Optical Jewelry from F-elia
F-elia is a young French company making 'optical jewelry' thanks to 3D printing, giving them an original design. The frame combines both aesthetics, with complex and unique shapes, but also functionality. To achieve such a result, F-elia uses SLS technology and, as far as materials are concerned, it relies on polyamide, especially as it offers strength, flexibility and a smooth surface after the post-processing stages. Today, the company has diversified and offers accessories such as magnifying glasses and eyeglass necklaces in addition to its glasses.
Nuovi Gioielli, Combining Traditional Know-How with Innovation
Founded in 1985, Nuovi Gioelli offers jewelry that combines traditional craftsmanship and innovation. In order to make its unique jewelry, Nuovi Gioielli uses different production processes, among which we find 3D metal printing. The company uses different metals, although the most common are steel and bronze, and aims to successfully 3D print gold and platinum. Like other companies in the industry using 3D technologies, the company praises the benefits of the technology in jewelry, especially in terms of design freedom. By combining new technologies with traditional methods, Nuovi Gioielli creates unique pieces and leaves no limits to its creativity.
Nervous System
Nervous System is an American design studio specializing in the creation of complex 3D printed objects. In order to make bracelets, necklaces and other types of jewelry, the company takes inspiration from natural phenomena and uses computer simulations to model them. Once the 3D file is ready, it is 3D printed and offered to customers. And with this method, Nervous System doesn't just produce jewelry. The company also designs cups and vases, lamps and other sculptures.
Endswell Jewelry
Rachel Gant and Andrew Deming, the designers behind Endswell Jewelry, have teamed up to use 3D printing in their solid gold rings. Their work focuses on beautiful, yet minimal, pieces that offer an alternative to traditional wedding rings. The designers came up with the design since they are an unmarried couple, and use 3D printing to create their precise designs.

Diana Law's 3D printed Jewelry
Diana Law is a fashion and jewelry designer who studied in France before discovering 3D printing. 3D printing allowed Diana to create the stunning jewelry designs she wished to create, leading to her newly released collection. Her collections are made of plastics and stainless steel. The plastic jewelry is created using selective laser sintering, allowing her to create extremely fine layers of nylon. Inspired by life around her, Diana also prefers 3D printing due to the environmental benefits.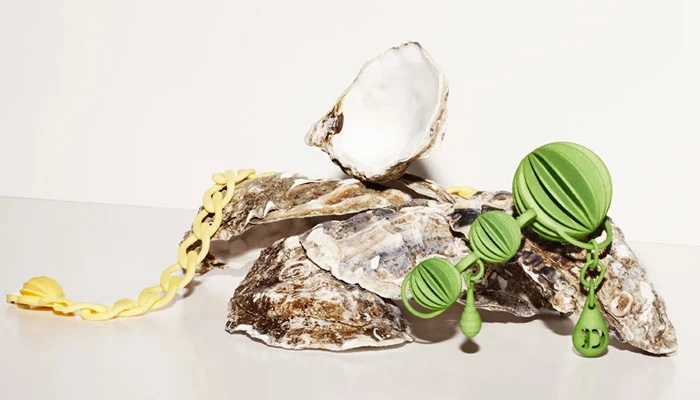 Ross Lovegrove
Designer Ross Lovegrove has developed a collection of 3D printed jewelry rings called Foliates. The collection of 6 rings are made of 18K gold, and are each made in an edition of 10 rings. These stunning rings are made with direct metal laser sintering in addition to combining 3D printing with wax casting.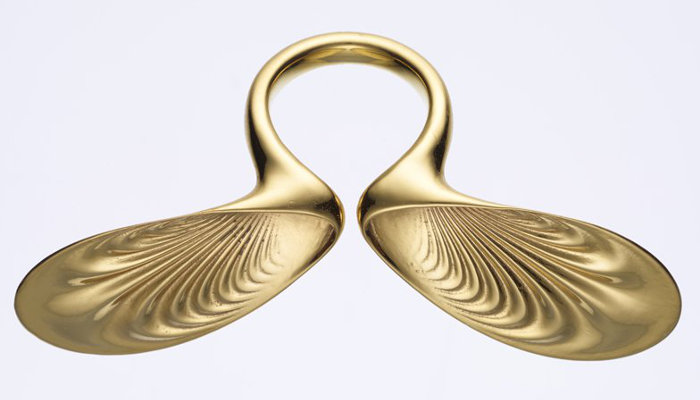 The 3D Printed Pen from Pjotr
Not quite a piece of jewelry, but a stunning 3D printed accessory made of expensive material nonetheless, Pjotr have unveiled a solid 18K gold 3D printed pen. The pen, designed by Rein van der Mast, is named Spica Virginis. The first version of this 3D printed pen was a titanium version, which was still very luxurious. However, this solid gold variant is a new level of luxury. The pen is available for just €14,320, bargain?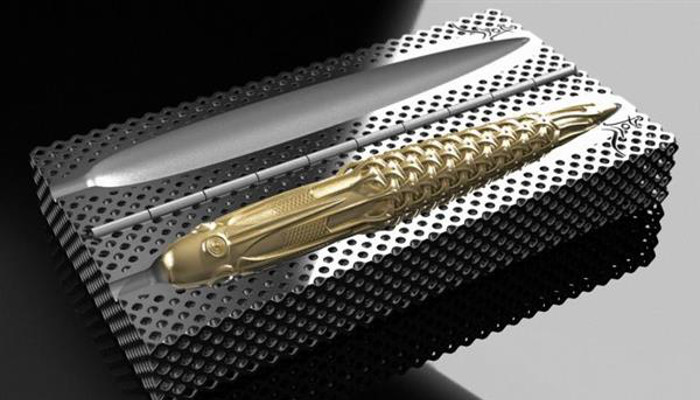 What do you think of this 3D printed jewelry? Let us know in a comment below or on our Linkedin, Facebook, and Twitter pages! Don't forget to sign up for our free weekly Newsletter here, the latest 3D printing news straight to your inbox! You can also find all our videos on our YouTube channel.