Top 10 3D Printed Jewelry Designs
Published on December 15, 2017 by
Jamie D.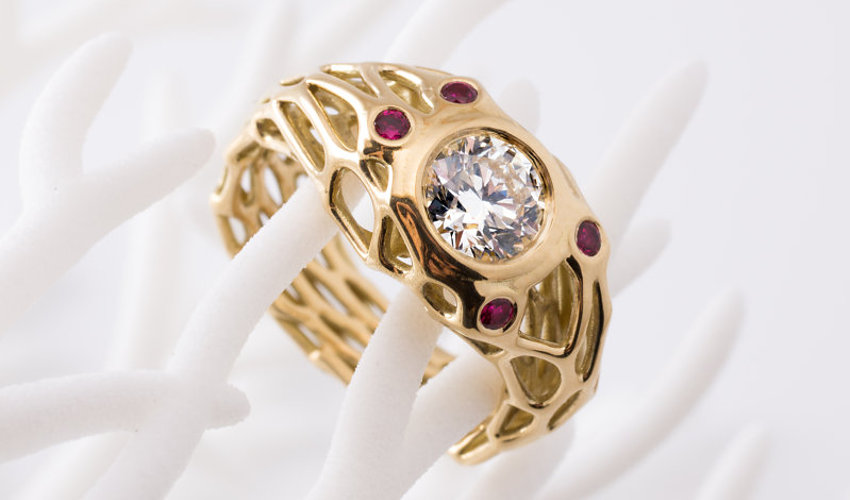 Additive manufacturing and 3D printing technologies in jewelry is growing in popularity. Already shown to be useful in art and fashion, and architecture, 3D printing is now focusing on the 3D printed jewelry industry. Since 3D printers are capable of printing in precious metals as well as just plastics, it is possible to create beautiful 3D printed jewelry. Therefore, we scoured the web to find the Top 10 3D printed jewelry designs.
1. Diana Law
Diana Law is a fashion and jewelry designer who studied in France before discovering 3D printing. 3D printing allowed Diana to create the stunning jewelry designs she wished to create, leading to her newly released collection. Her collections are made of plastics and stainless steel. The plastic jewelry is created using selective laser sintering, allowing her to create extremely fine layers of nylon. Inspired by life around her, Diana also prefers 3D printing due to the environmental benefits.
2. Doug Bucci
Doug Bucci is an artist who creates 3D-printed necklaces, bracelets, and other objects. He utilises CAD design to create intricate pieces of 3D printed jewelry inspired by biological systems. His large 3D printed necklaces show how intricately you can print patterns, and make them into beautiful designs.
3. Pjotr: 3D printed 18K pen
Not quite a piece of jewelry, but a stunning 3D printed accessory made of expensive material nonetheless, Pjotr have unveiled a solid 18K gold 3D printed pen. The pen, designed by Rein van der Mast, is named Spica Virginis. The first version of this 3D printed pen was a titanium version, which was still very luxurious. However, this solid gold variant is a new level of luxury. The pen is available for just €14,320, bargain?
4. 3Dwave Encode Ring
Japanese startup 3Dwave have created a line of 3D printed jewelry rings. This creative collection allows you to send a 3 second audio file which they then convert into a stunning 3D printed ring. This innovative technology means that audio can be converted into a 3D model file to then be printed. 3Dwave offer these rings from standard metals to precious metals like gold and platinum.
5. Endswell Jewelry
Rachel Gant and Andrew Deming, the designers behind Endswell Jewelry, have teamed up to use 3D printing in their solid gold rings. Their work focuses on beautiful, yet minimal, pieces that offer an alternative to traditional wedding rings. The designers came up with the design since they are an unmarried couple, and use 3D printing to create their precise designs.
6. Paola Valentini
Italian designer Paola Valentini's 3D printed jewelry was considered so beautiful that it was awarded the top design prize recently by the Comité Francéclat. Valentini's 3D printed rose gold cuff bracelet was given the prize using additive manufacturing techniques to create the complex structures in the 64 gram piece.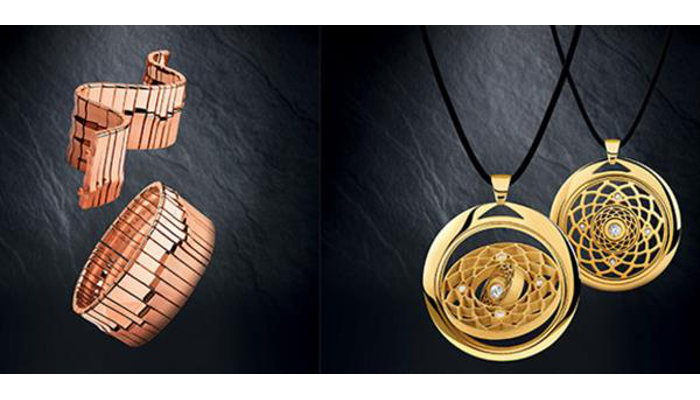 7. Skraep
Skraep is an innovative launch from LuxMea, that turns crumpled up scrap paper into 3D printed jewelry. Offering a collection including toys, bracelets, and more, Skraep turns crumpled pieces of paper (associated with failure), into beautiful jewelry (associated with success).
8. Nervous System
Nervous System is an American design studio specialising in 3D printing to create complex objects. They use mathematical models to create jewelry designs such as bracelets and rings. In addition, Nervous System also create cups and vases, as well as lamps and sculptures.
9. Zazzy
Zazzy is a Dutch startup that offers a catalog of jewelry to personalise online. Once personalised, you can order it and receive your 3D printed piece. The company has expanded the materials it offers to include gold, steel, and nylon. In addition, Zazzy has recently partnered with The Noun Project to offer over 65,000 different cufflink options. These range from smiley races, to intricate patterns, to Bitcoin logos!
10. Ross Lovegrove
Designer Ross Lovegrove has developed a collection of 3D printed jewelry rings called Foliates. The collection of 6 rings are made of 18K gold, and are each made in an edition of 10 rings. These stunning rings are made with direct metal laser sintering in addition to combining 3D printing with wax casting.
If you enjoyed this Top 10, check out our Top 10 low cost 3D scanners, Top 14 DIY 3D printers, and our Top 10 resin 3D printers.
What do you think about 3D printed jewelry? Let us know in a comment below or on our Facebook and Twitter pages! Sign up for our free weekly Newsletter, all the latest news in 3D printing straight to your inbox!