3D Printed Inserts That Maximize Comfort for Cyclists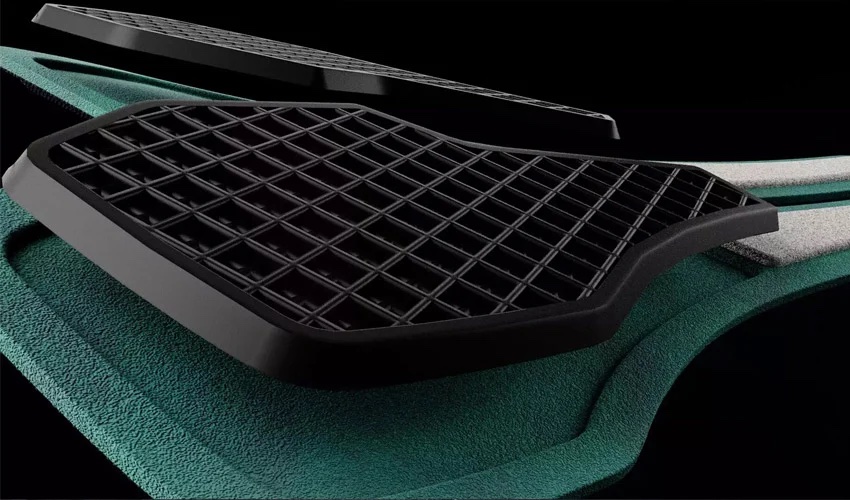 Based in Treviso, Italy, Elastic Interface has used additive manufacturing for the first time to design chamois for cyclists, i.e. inserts that are placed inside the shorts to maximize rider comfort. Called NX3, these inserts have a unique design and offer greater comfort as well as better breathability and stability. With its launch, the Italian brand aims to promote the third dimension of comfort in cycling, a particularly crucial point in this sport.
As we have seen many times, 3D printing and cycling are a great match. Both for the creation of bicycle parts, such as the frame, handlebars, or saddle and for the manufacturing of equipment that offers greater comfort to athletes. The ways that 3D technologies can be applied in this field are almost limitless. Although it is mostly used for creating prototypes, new final components have been developed in recent years that allow the full potential of this manufacturing method to be exploited.
The chamois is one of the parts that make up cycling shorts. It is located between the legs and protects the most sensitive parts against friction and pressure from our weight on the saddle. This is a very important aspect when choosing equipment. Keeping that in mind, Elastic Interface has developed the first 3D printed chamois to offer increased comfort and breathability. The NX3 inserts incorporate a 3D printed piece that replaces the usual foam or padding in the ischium support area. Its lattice structure allows for more precise control of the density and firmness of the patch, depending on the use of the cushion. In addition to that, the design allows cyclists to control how the cushion deforms under weight and pressure during use. This results in better damping, more stable seating, and less deformation of the cushion.
To manufacture these inserts, the company used FDM technology. Although the material used is not specified, we suspect that it is an elastomeric polymer that allows for flexibility and deformation of the design. By applying this method, the company has managed to develop a grid shape that also promotes airflow through the structure. This results in better breathability and prevents the accumulation of moisture thanks to its hydrophobic properties. While we don't yet know which sports equipment brands will incorporate the NX3 pad, we're sure to see it adopted in various cycling shorts in the near future. Elastic Interface is also considering the possibility of implementing the technology in cycling gloves. More information can be found on the company's website HERE.
What do you think of the 3D printed chamois for cyclists? Let us know in a comment below or on our LinkedIn, Facebook, and Twitter pages! Don't forget to sign up for our free weekly Newsletter here, the latest 3D printing news straight to your inbox! You can also find all our videos on our YouTube channel.
*Cover Photo Credits : Elastic Interface