Mud Frontiers are 4 3D printed huts that showcase sustainable construction method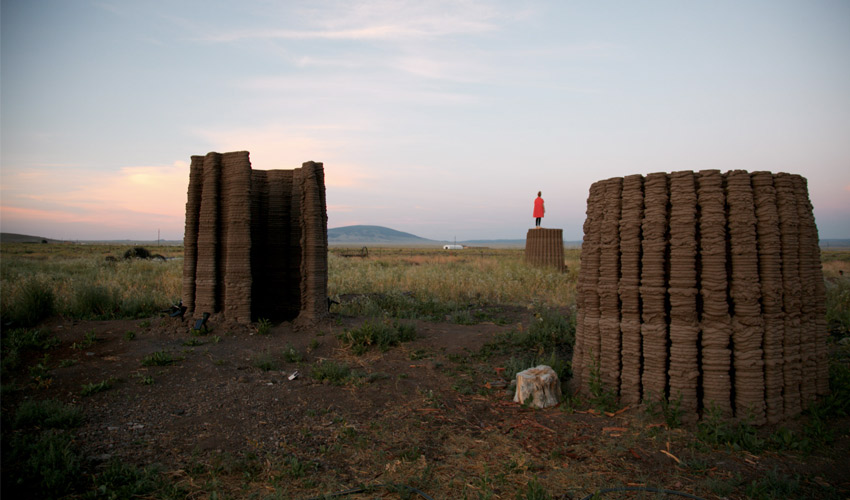 Emerging Objects presented its new project called Mud Frontiers, which aims to promote a more sustainable and accessible construction method. Led by architects Ronald Rael and Virginia San Fratello, the project consists of 4 3D printed huts from a mud-based material, reminiscent of those built on the banks of the Rio Grande River in the San Luis Valley, Colorado up until the 19th century. Baptized Hearth, Beacon, Lookout and Kiln, the huts were created using 3D Potter printers. 
Emerging Objects is known in the additive manufacturing sector to explore all the possibilities offered by technology, generally with regard to the environment. The company's projects often promote more sustainable construction, using local, recyclable or natural materials. Examples include 3D printed substrates to restore the seabed or the small cabin of curiosities where the tiles were 3D printed from cement, sawdust, salt and even grape skins. This time, the American company was interested in mud to create its 4 huts.  
Emerging Objects architects first carried out research on typical construction methods in the region, including handmade clay structures and pottery made from the mud and clay of the Sangre de Christo and San Juan mountains. They explain that they quickly wanted to print directly on site and that they needed a machine that was easy to transport, capable of locally extracting a material similar to this mixture of clay and mud. So they turned to 3D Potter, a Florida-based manufacturer renowned for its ceramic 3D printers, who designed a small mobile robot for them, Potterbot XLS-1.
Rael San Fratello told Dezeen when talking about the project: "What we learned was really how accessible, robust, and powerful it was to print large scale structures so quickly using the soil just beneath our feet. We discovered work flows for printing, material mixture processes, structural applications, and theories about new and old ways of living and designing for the future using humankind's most humble material."
The 4 3D printed huts all have a different structure. Hearth, for example, includes a very thin 3D printed mud wall that has been reinforced with rot-resistant juniper wood. These have mainly been used to join the two walls of the structure, without this being visible inside. The architects have also placed a mud bank around the fireplace. If we take Lookout as an example this time, the hut is very different because it is actually a kind of staircase on which you have to climb to see the view, hence its name. Several layers of material were applied successively, reminiscent of the shape of coils. Finally, Kiln houses an oven to cook 3D printed vases and earthenware, fed by local juniper wood.
What do you think of this new project from Emerging Objects? Let us know in a comment below or on our Facebook and Twitter pages! And remember to sign up for our free weekly Newsletter, to get all the latest news in 3D printing send straight to your inbox!