Will 3D printed houses be the new norm in the Netherlands?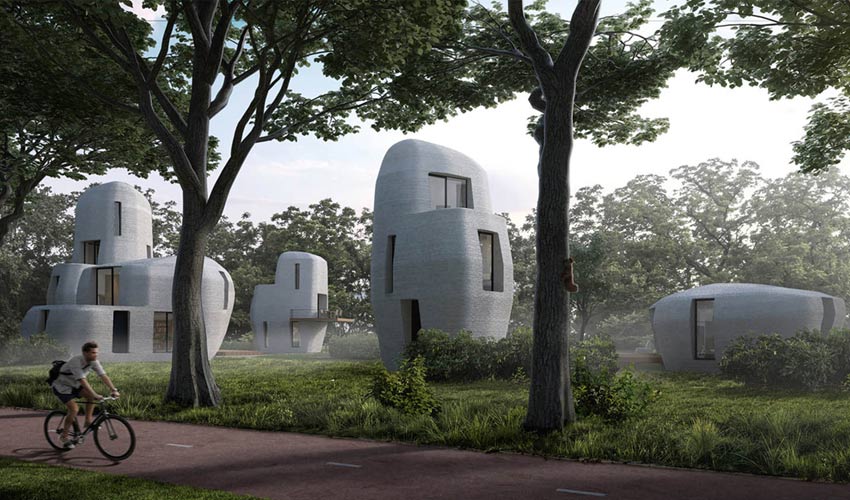 Exciting 3D printing news brings the focus back to the Netherlands as 3D printed houses could be built by next year in the city of Eindhoven. An additional initiative in the construction field that confirms the benefits of additive manufacturing compared to more traditional methods. This project, named Project Milestone, is being run by the Eindhoven University of Technology and includes four additional players such as French group Saint Gobain.
This is not the first time that the Dutch city has focused on additive manufacturing in a construction project, as they have recently inaugurated a concrete bridge for cyclists. This bridge was also printed by the same university, in partnership with BAM Infra. This time around, the university is focusing their attention on housing that will be welcoming their first tenants in mid-2019.
Five 3D printed houses
The Milestone project involves the construction of five 3D printed houses. The first should be ready by next year and includes one floor; the other four will have several floors. The concrete structures will be subjected to all usual industry requirements and will meet occupant requirements for comfort, layout, quality, and price. The houses were designed by architects Houben and Van Mierlo, who wanted to create rather irregular structures. The rounded and asymmetrical shapes of the houses will be fully created thanks to concrete 3D printing, which offers more geometric freedom.
"The idea came about two years ago during the Dutch Design Week," explains Theo Salet, Head of 3D Concrete Printing at the Dutch University of Technology. But we needed partners to realize such an idea: We have managed to control the printing technique and now we want to know what it is like to live in it; we are still learning, and we hope that our team will print buildings in the future."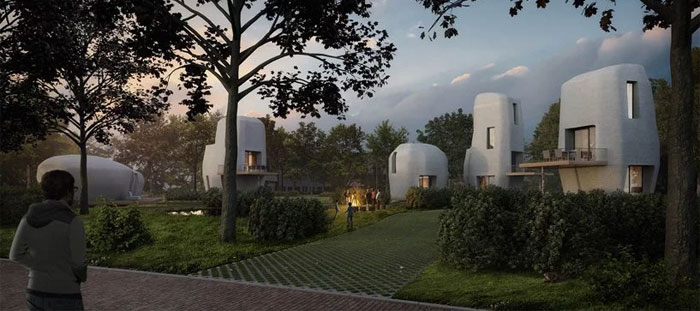 By printing five houses in a row, the different partners will be able to learn from their mistakes as the printing process progresses and improve it if necessary. The project teams explain that the first elements of the house will be 3D printed on the university campus, the goal is to move all construction work directly to the site. The fifth and last house will be 3D printed on site.
Find more information on the University of Eindhoven's official website
What do you think of these future houses printed in 3D? Let us know in a comment below or on our Facebook and Twitter pages! Don't forget to sign up for our free weekly Newsletter, with all the latest news in 3D printing delivered straight to your inbox!