A house 3D printed in a single block in Belgium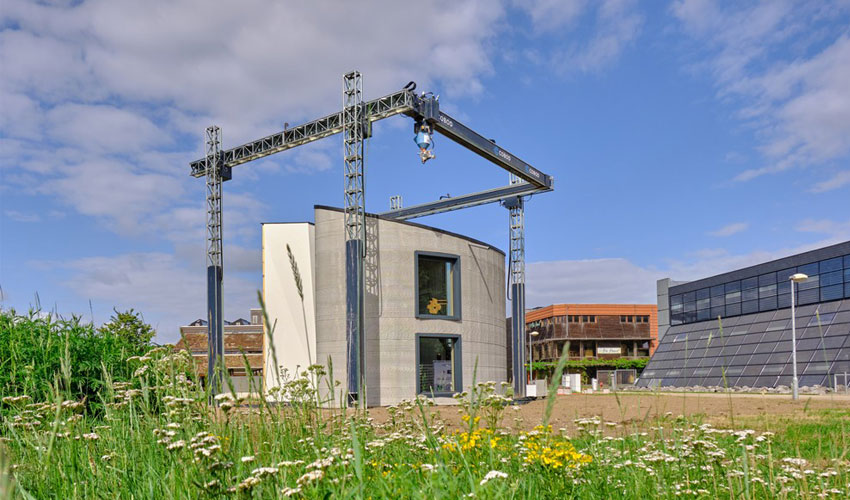 In Belgium, a two-storey house has just been erected thanks to additive manufacturing: using the concrete 3D printer BOD2, developed by COBOD, the Kamp C company was able to construct a 90 square meter structure in only three weeks, and in one single block! The company claims that this freed them from the on-site assembly steps. The project is actually a model house – for the moment, there are no plans to inhabit it as its purpose is to demonstrate the full potential of additive manufacturing in the construction industry.
The construction industry today faces many challenges, including the excessive consumption of polluting materials and energy, the reduction of CO2 emissions, but also the high demand for affordable and at the same time quality housing. The sector has to juggle all these constraints, which can sometimes hinder certain projects and create frustration. This is where additive manufacturing steps in. According to Kathleen Helsen, MPP for Housing and President of Kamp C, "New technologies, such as 3D printing of concrete, can help provide an answer. 3D printing in construction is growing worldwide. A number of possibilities, including the printing of temporary dwellings and even complete apartments, are already being implemented, but this technology is still very new in Flanders". That is why Kamp C has designed this 3D printed house, which for the time being is only intended as a model to show the possibilities offered by the additive manufacturing technology.
Indeed, the Kamp C team explains that they hadn't defined the usefulness of the 3D printed structure at all – it could be used as a home as well as an office. In any case, 3D printing saved 70% in terms of material, costs and time. It took three weeks to erect the structure, a time that the team hopes to reduce to just a few days. On the material side, carbon fibers were added to the concrete to reinforce the final result. Marijke Aerts, project manager at Kamp C, adds: "The compressive strength of the material is three times higher than that of conventional building bricks." The house would therefore be three times stronger than a house built using traditional methods. The technologies also made it possible to create different and atypical shapes. The team opted for a "greener" construction with low energy consumption, solar panels and floor and ceiling heating.
Finally, what is interesting with the technique developed in partnership with COBOD, is that the envelope of the house was 3D printed in one go, over two floors! A house 3D printed in a single block – it is a first for the construction industry, since typically, the different parts are 3D printed separately and only afterwards are assembled on site. Those interested will be able to visit the house from September 2020, by appointment only. You can find more information on the official website of Kamp C.
What do you think about this house 3D printed in a single block? Let us know in a comment below or on our Facebook and Twitter pages! Sign up for our free weekly Newsletter, all the latest news in 3D printing straight to your inbox!