Top 5 Videos: 100 3D-Printed Homes in Austin, Texas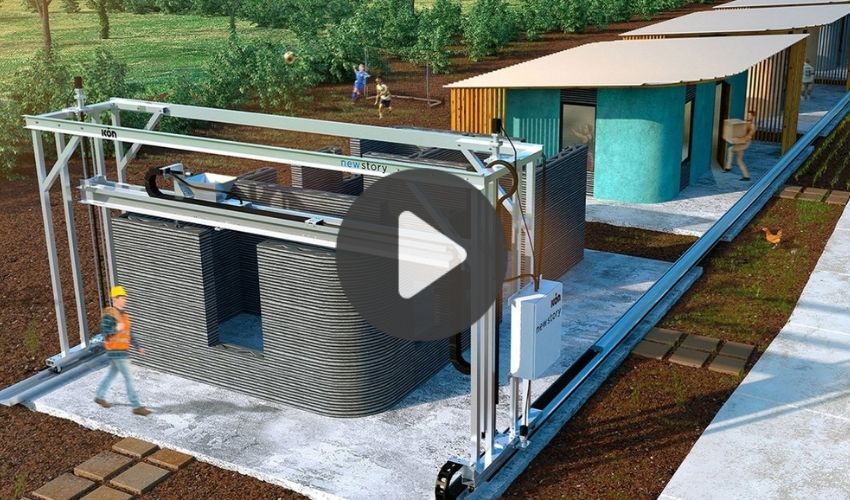 This week, we're exploring construction in the 3D printing industry. First, get a glimpse of ICON's plans to build 100 3D-printed homes in their hometown of Texas. Next, take a look at some of the software that is helping the construction industry digitalize the sector. Also, check out a team of students racing their fully electric car that has 3D printed components. Finally, we invite you to discover how Vacuum Formers can help you in your next project. Happy Sunday —enjoy watching!
Top 1: ICON Building 100 3D-Printed Homes in Austin, TX
Together with Lennar, the United States tech construction giant, ICON aims to 3D-print 100 homes in Austin, Texas by next year. According to the American company specializing in 3D printing and the construction sector, additive manufacturing allows them to deliver solutions on several challenges. As we face global scarcity in materials and labor in the construction industry, technology is making it possible to construct buildings using the precise amount of materials required. Furthermore, 3D printing opens up the possibility of building affordable residences quickly.
Top 2:

Digital Prefabrication in Construction 3D Printing
Nearly 30% of the waste in landfills comes from the construction industry. Branch Technology's Cellular Fabrication (C-Fab®) process aims to reduce that waste with their digital prefabrication solution. Along with material efficiencies, the C-Fab process is bringing design freedom and mass customization to the field of construction. As we mentioned above, there is also a labor shortage in the construction industry — with their C-Fab solution, Branch Technology plans to bring a new generation of workers to the sector.
Top 3: World Record Holders Formula Student: Green Team
A group of students from the University of Stuttgart is breaking records as they participate in the CERATIZIT Project. After achieving top speeds and high performance in global competitions with their all-electric racing car They are working with industry leaders in the AM industry to 3D print critical parts in their race vehicle.
Top 4: Building Robots with 3D Printing
Thanks to additive manufacturing, researchers at ETH Zurich have succeeded in 3D printing autonomous feline-like robots. To do this, the researchers used several 3D printing processes. Among them, we find SLS technology, FDM but also MJF. Called 'Dyana' and designed from polymers, the robot is able to mimic the movements of felines thanks to its shock-resistant leg and thigh joints. Andrina Grimm, who is responsible for the mechanics and design of Dyana, presents the project:
Top 5:

Rapidly Create with Vacuum Former
When thinking of desktop manufacturing with plastic, we typically think of processes that include heating and extrusion. However, in this video, you may discover a method for additive manufacturing with plastic that you have not considered —vacuum-forming. Creating unique molds with a vacuum former can create products such as packaging, food design molds, cosplay costumes, and props.
What do you think of this week's video compilation? Let us know in a comment below or on our Linkedin, Facebook, and Twitter pages! Don't forget to sign up for our free weekly Newsletter here, the latest 3D printing news straight to your inbox! You can also find all our videos on our YouTube channel.