The world's first 3D printed hockey helmet liners, now certified by NHL
Published on September 18, 2020 by
Aysha M.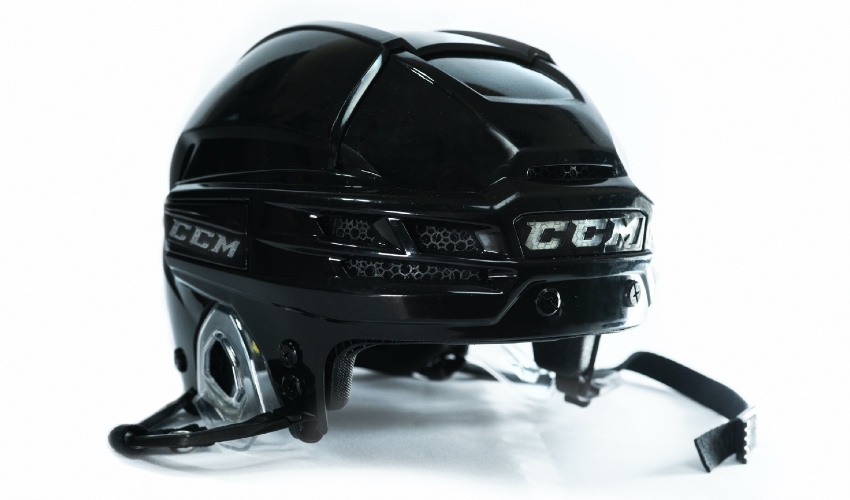 Very popular in North America, and practiced all over the world, ice hockey is a rather rough sports game – playing it often results in injuries, be it during a game or practice. Therefore, protective equipment is essential and needs to be of high quality to prevent serious damage for players. With that in mind,  a Canadian sports goods manufacturer, CCM Hockey, partnered with Carbon to produce the world's first NHL-certified 3D printed hockey helmet liner. Thanks to the American startup's DLS (Digital Light Synthesis) technology, the two companies were able to design the Super Tacks X helmets. What is special about the new 3D printed hockey helmet liner?
Carbon is known in the additive manufacturing world for its proprietary Digital Light Synthesis technology and mastering the lattice structure. Different sectors, from automotive to sports apparel, have been eager to integrate Carbon's 3D printing technologies. The California-based company has worked with Adidas to create 3D printed sneakers, with Lamborghini to additively manufacture parts for a luxury sports car, with Specialized to develop 3D printed bicycle saddles. The Super Tacks X helmet is not the first time Carbon 3D printed inner lining for protective gear either – the company has worked with Riddell to design helmets for American football. But their latest project with the leading Canadian manufacturer CCM Hockey gave birth to the world's first hockey helmet with NEST (Next Evolution Sense Technology), a digitally printed lattice-structured liner that offers perfect breathability, more comfort, and significantly better protection.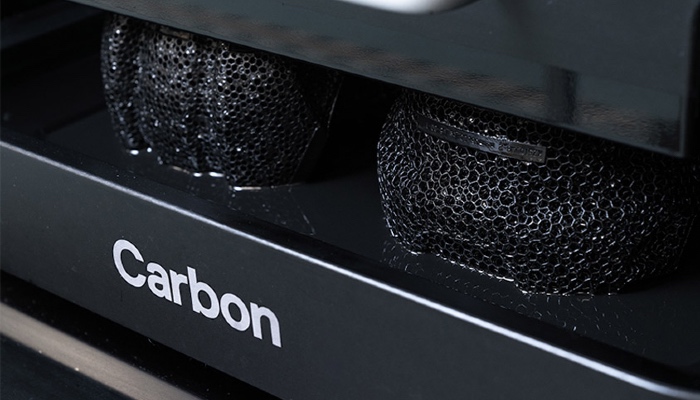 The new helmets are lined with a polyurethane-based lattice instead of standard foam. Previously, layers of foam were used to protect hockey players during collisions, but Carbon's lattice structure allows for thousands of precisely positioned struts (the bars that comprise the lattice) to be engineered to counter the physical impacts. The inner lining is placed between each player's head and the shell of the helmet to absorb the force of damaging impacts. A tighter lattice with smaller cells is better suited to handle smaller impacts, while larger cells are better for larger impacts. Phil DeSimone, CCO and Co-Founder of Carbon, explained, "Each one is designed using millions of data points that CCM has collected over a long period of time to provide the best performance possible. So each strut is specifically designed to expense energy both in linear and rotational ways better than what foam can do."
The plan is to make Super Tracks X availabe for all NHL players in the upcoming 2021 season. But if you're a hockey fan, you've probably noticed the 3D printed helmet being worn by three professional players: Austin Matthews and John Tavares of the Toronto Maple Leafs and Seth Jones of the Columbus Blue Jackets in the 2020 season. And finally, exciting news for hockey fans and non-professional players: the 3D printed Super Tracks X will be available not only to NHL players, but for the general public as well! We only have to wait for the product to be commercialized in the spring of 2021.
What do you think about Carbon and CCM designing 3D printed hickey helmet liner? Let us know in a comment down below or on our Facebook and Twitter pages! Don't forget to sign up for our free weekly Newsletter, with all the latest news in 3D printing delivered straight to your inbox!