14 Best 3D Printed Furniture Projects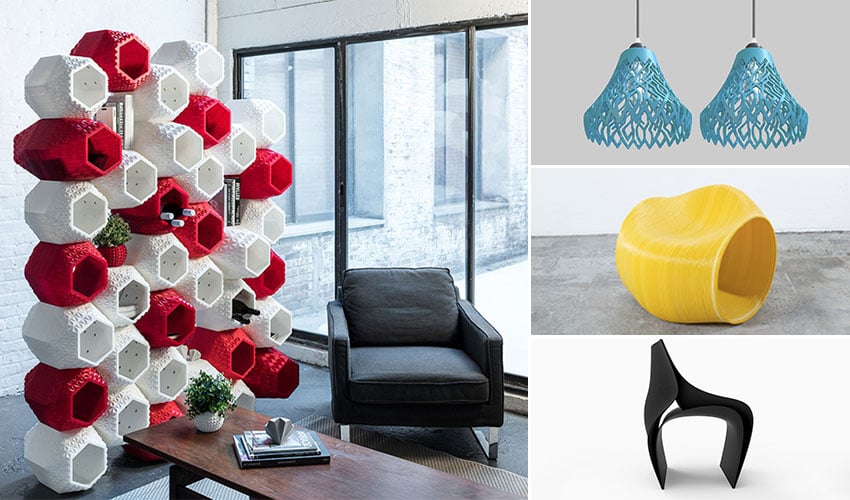 While 3D printing is gaining ground in the industrial sector, it is also present on a smaller scale in homes, open spaces or even parks and streets. We have noticed more and more 3D printed furniture for example. From chairs, tables, stools to sofas, there is no shortage of initiatives! Designers and manufacturers use 3D printing technologies to increase complexity and offer customisable furniture. Some can even be printed directly at home. Discover some 3D printed furniture projects and leave with some great home decor ideas!
TOP 1: DRAWN Furniture
Drawn is a French company that has developed its XXL 3D printer called Galatéa to create custom furniture and decoration. After a successful Kickstarter campaign in 2015, it started manufacturing plastic stools, tables and chairs and smaller decorative items such as vases. The users can choose the colour and shape of their furniture and watch the 3D printing of his chair for example.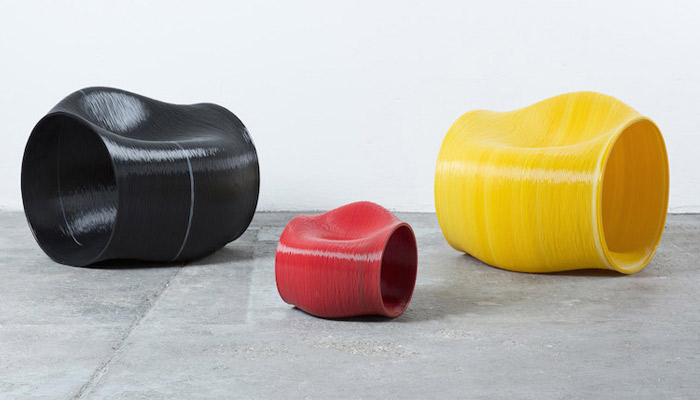 TOP 2: Print Your City Project
If you walk the streets of Amsterdam or along the coast in Thessaloniki, Greece, you may see 3D printed street furniture, including benches. They were made from the plastic waste of the city's inhabitants. This waste was recycled and transformed into 3D printing filament. This initiative clearly shows that 3D technologies have a key role to play in preserving our environment and can create value in all sectors of activity.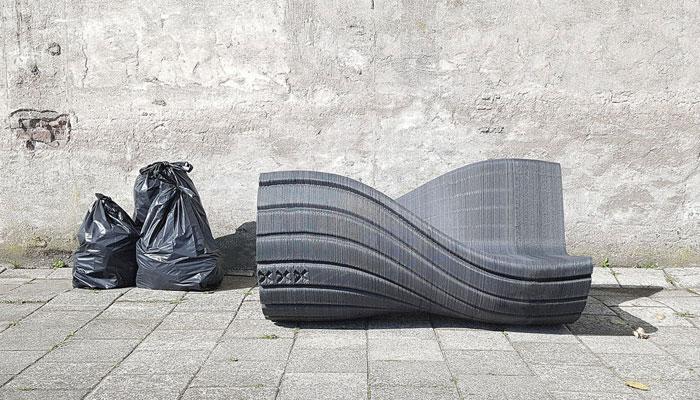 TOP 3: Nagami's Chairs
The Spanish design studio Nagami presented its collection of avant-garde chairs last year at the Milan Furniture Fair. Four fairly futuristic chairs, printed in 3D from different materials; two of them have been made with biodegradable plastic granules for example. They remind us of a floral structure and are very colourful: we go far beyond the simple kitchen stool! This project is more likely to demonstrate the possibilities offered by 3D technologies in the architecture and furniture sector, we are not sure to see them appear any time soon at Ikea.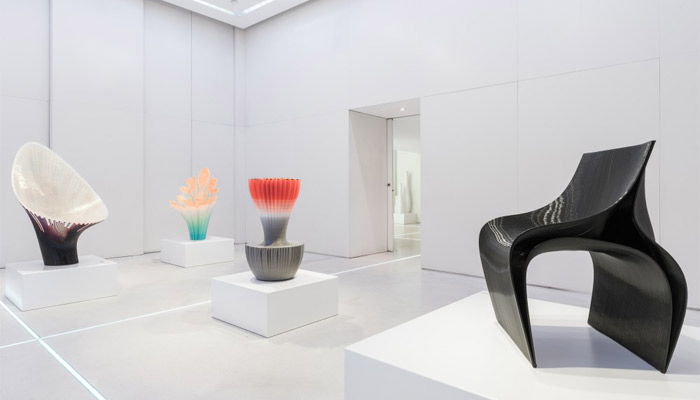 TOP 4: RIO Collection
Integrate and Morgan studios worked together to create RIO, a collection of chairs and tables that integrate 3D printed elements. For example, it is the backrest of the chair that has been printed in 3D in 24 hours from a liquid resin or polyamide powder and a mathematical algorithm. The result is a piece of furniture that combines craftsmanship and new technologies, impossible to make otherwise. The same principle applies to tables where part of the base has been printed in 3D.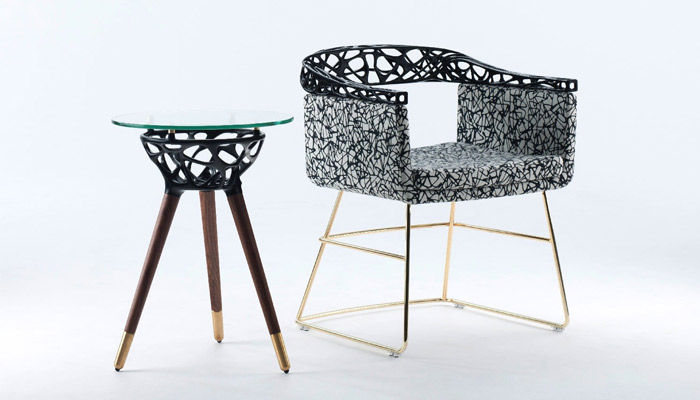 TOP 5: 3D Printed Benches from XtreeE
The French startup XtreeE develops advanced large-scale 3D printing technology for architectural design, engineering and the construction sector. The startup is also a concrete 3D printing specialist. Amongst many projects, it actually ran from 2017-2018 the woven concrete benches project. As a result, they created a series of three benches by collaborating with Berlin-based design studio, Studio 7.5. The benches exploited the woven pattern both for aesthetic value and its structural performances. It is a very complex motive to obtain with a classic mould. However, the 3D printed design is both geometrically complex and uses a minimal amount of concrete.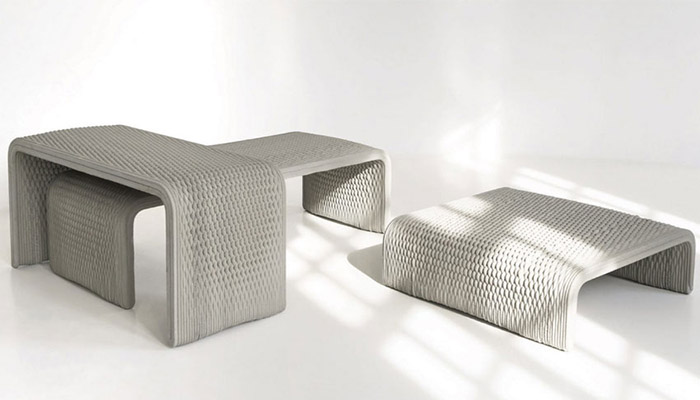 TOP 6: Simplus' Modular Wall System
Simplus is a New-York City based design practice founded in 2014. They work across the disciplines of architecture and industrial design with an approach rooted in digital methodologies and rapid prototyping. One of their projects, baptised SuperMod is a 3D printed modular wall system. It combines function and beauty. The wall fluctuates between different sized modules to accommodate various types of storage needs. 3D printed materials of opaque white and translucent red plastic allow for light to come through certain modules and produce glowing effects in the surrounding place.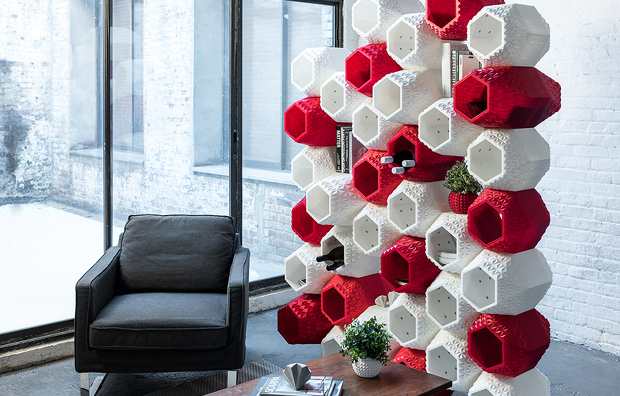 TOP 7: BigRep's Ocke Series
The BigRep ONE v3 from BigRep was created to make industrial 3D printing for large-scale objects as easy as possible. The printer offers 1m3 print volume. This time, it's 3D designer Beatrice Müller who has put the technology to good use. In fact, she has designed furniture to be printed almost in one piece on the machine. In BigRep's Ocke Series, the set of 3D printed furniture consisted of a chair and sofa. As Müller explains, 3D printing gives designers more design freedom to create new and interesting concept ideas.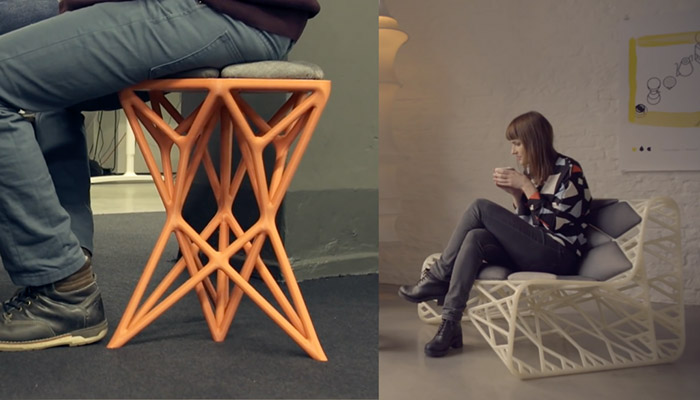 TOP 8: KARO Coffee Table from Zortrax
3D printing manufacturer, Zortrax created the KARO coffee table with its M200 3D printer to showcase the potential of their technology. The coffee table's legs were 3D printed in the company's Z-ULTRAT black, grey and ivory filaments. The legs of the table add up to 3Kg of plastic. It took nearly 263 hours to print the several diamond-shaped and triangular modules needed to assemble the table. Once printed, a circular glass was placed over the base to form a classy tabletop. KARO is a weather-proof furniture piece, suitable for both indoor and outdoor home environments.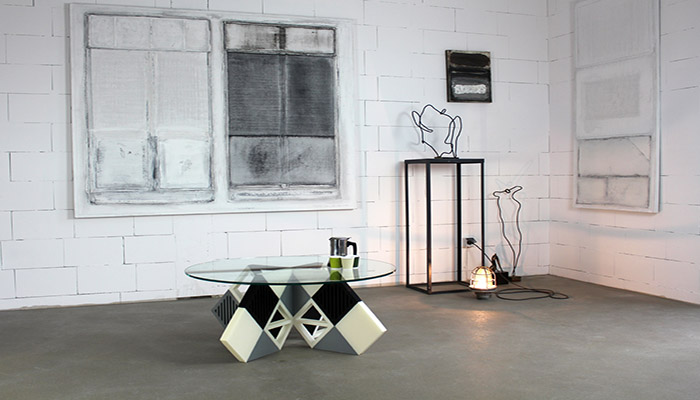 TOP 9: Puzzle Chair from BITS&PARTS
This puzzle chair from BITS&PARTS can be downloaded online for free and printed at home, or you can order a 3DHub to print the chair. You can choose between the "Kids Maker Chair 19", the "Maker Puzzle Chair" and the "Kids Maker Chair 39". The latter, for example, has 39 puzzle pieces, each of which weighs approximately 170 grams. According to BITS&PARTS, you need a total of 3.5kg of filament in each colour and it should be printed with 2.85mm ABS. With different colours you can design your individual chair to print at home!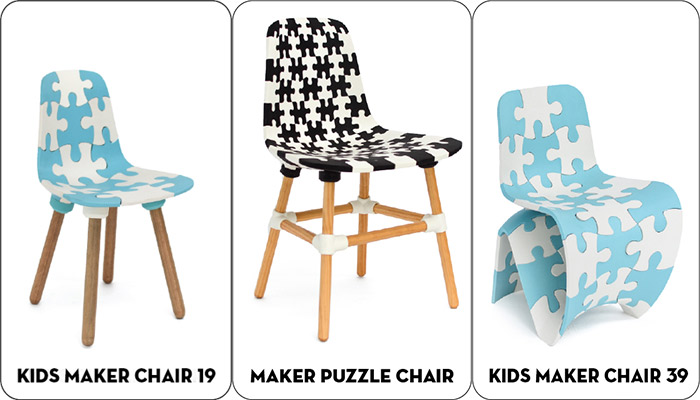 TOP 10: Ikea's Gamer Chair
Together with the start-up company UNIQ, which specialises in 3D printing, the furniture store giant IKEA wants to produce personalised, ergonomic and interactive video game equipment. Since a comfortable chair is essential for gamers, but no one has ever dealt with personalised gaming chairs before, IKEA decided to take on the task. The aim is for the customer to simply scan his body and receive the chair within two weeks. The first personalised gaming chair should be marketed starting from 2020. In fact, this is not the first IKEA model to be produced by additive manufacturing. As early as 2017, the furniture store launched a collection of 3D-printed furnishings, such as a coat hook in the shape of a hand.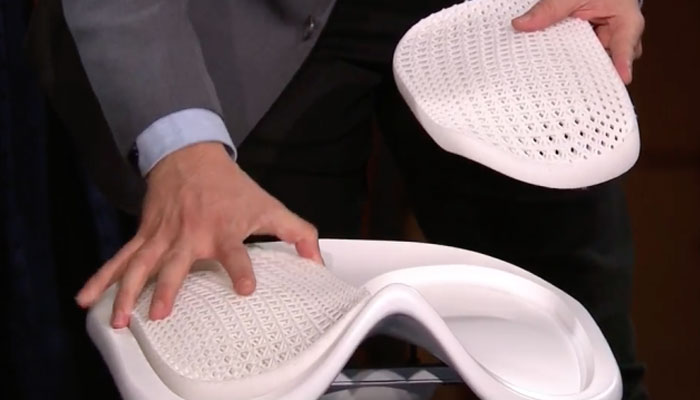 TOP 11: ALEKSA Studio's Table
This table was designed by ALEKSA studio in London. The additive legs of the table were manufactured by 3D Print UK using an SLS printer. The very efficient structure of the legs makes it possible to carry the heavy walnut wood top despite their minimal weight. The use of 3D printing technologies allows designers and manufacturers to produce different variations and sizes of the table on request.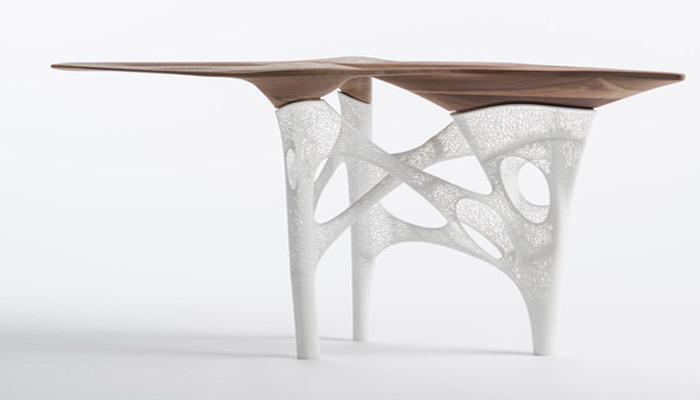 TOP 12: Jon Christie's Chairs
Jon Christie has been a DJ by profession, but throughout his experience he has always worked with design and lighting. That's why after 20 years of experience he has decided to merge additive manufacturing technologies with traditional furniture manufacturing techniques. This is how his first collection emerged, taking a Scandinavian design of chairs decided to add 3D printed gaskets, which has allowed greater creativity in terms of color and shapes when creating. For its development it has used the melted deposition technology of the Dutch brand Ultimaker.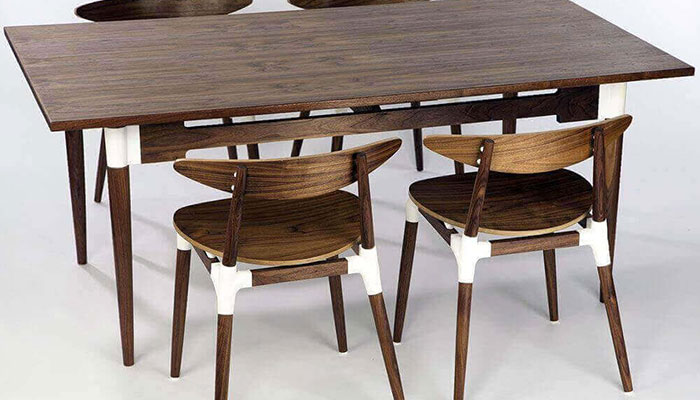 TOP 13: Steelcase & MIT Collaboration
The collaboration between MIT's Self-Assembly Lab, designer Christopher Guberan, and furniture brand Steelcase yielded to the development of a new 3D printing method: Rapid Liquid Printing. Effectively, it draws inside a gel the structures to be printed. It was thanks to this development that an original table was created, which takes advantage of the fact that this manufacturing technique has no gravity limitations and is capable of doing so in less time than traditional technologies. The table was printed in just 28 minutes!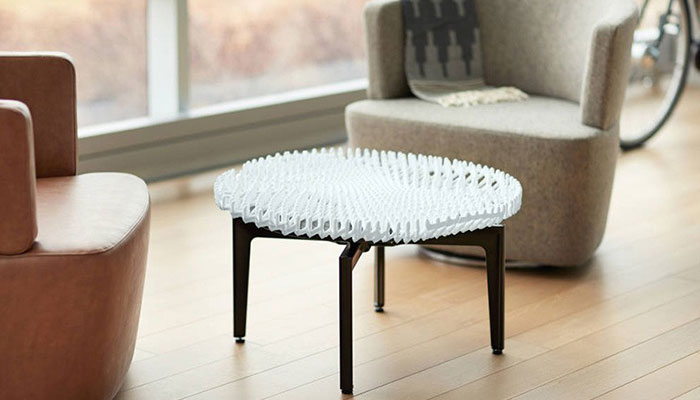 TOP 14: 3D Printed Lamps
Pierre-Yves Jacques, is the creator behind the French design studio LPJacques. The design studio specialises in the use of additive manufacturing technologies for their projects. A few months ago he unveiled his Di-Lamp project. These lamps can be completely customised by users thanks to additive manufacturing technologies. You can choose the type of design and colour of the perfect lamp for your living room. In addition, the studio has also included a series of decorative elements to match your lamp.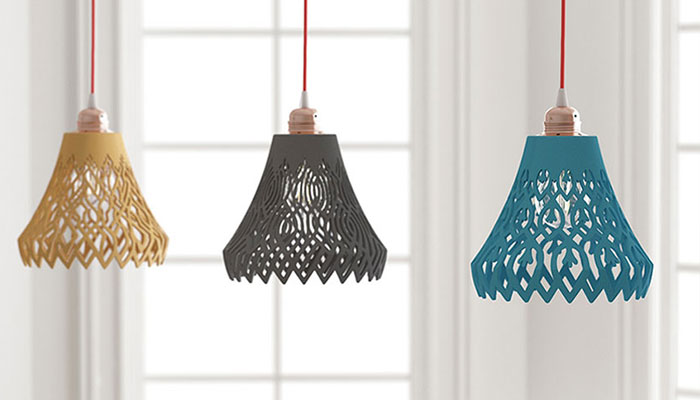 Are you inspired by these 3D printed furniture projects? Let us know in a comment below or on our Facebook and Twitter page! Don't forget to sign up for our free weekly Newsletter, with all the latest news in 3D printing delivered straight to your inbox!