3D printed footwear, a market in full growth?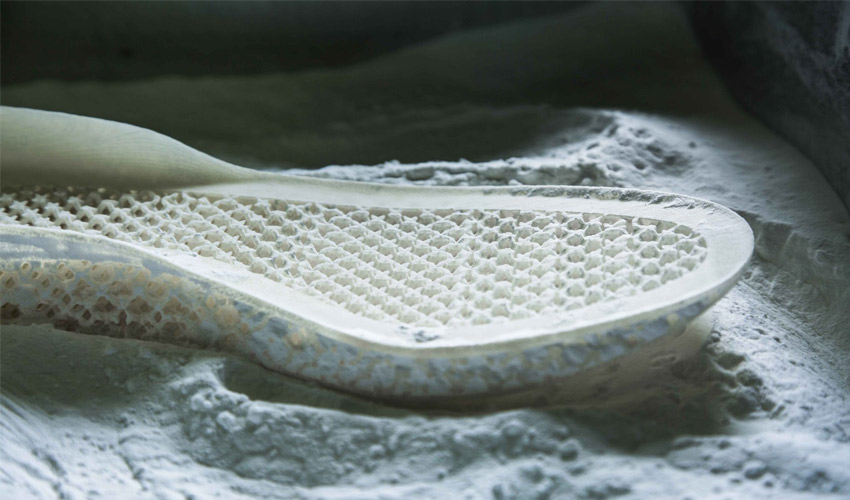 The research firm SmarTech Analysis, specialised in additive manufacturing, recently published its latest report on the role of 3D technologies in the footwear sector. The use of additive manufacturing in this industry is expected to generate more than $6.5 billion by 2029, an expected annual growth of 19.5%. The report states that the various 3D printed components for footwear (soles, vamp and midsole) could generate more than $1 billion by 2023. So, can 3D printed footwear become the future of this industry?
3D technologies are of increasing interest to the shoe industry because of the opportunities offered in terms of personalisation: consumers are looking for a unique final product, adapted first and foremost to their morphology but also to their needs and style. Additive manufacturing is proving to be an efficient new means of production to meet this trend. Thanks to 3D scanning, some market players can scan the consumer's foot, model it, understand its specificities and 3D print a fully personalised product (whether a sole or the upper part of the shoe), all in record time. It is therefore not surprising to note that the industry is expected to grow by 19.5% annually.
Among the biggest players on the market, SmarTech Analysis cites 3D machine manufacturers such as 3ntr, 3D Systems or Carbon; major brands in the sports sector such as Adidas or Nike; and start-ups that have specialised in the shoe and 3D printing industry such as Scientifeet or Wiivv.
According to the report, revenues from 3D printed footwear now represent about 0.3% of the global shoe market's revenues. This figure, which includes materials, software, prototypes and tools, is expected to reach about 1.5% of total market revenue by 2029. Considering all 3D printed consumer goods, the footwear segment should actually represent the most important segment, followed closely by home products. The firm states: "At present, this is the only segment where there are cases of mass production using additive manufacturing processes that have proven to be viable and profitable solutions."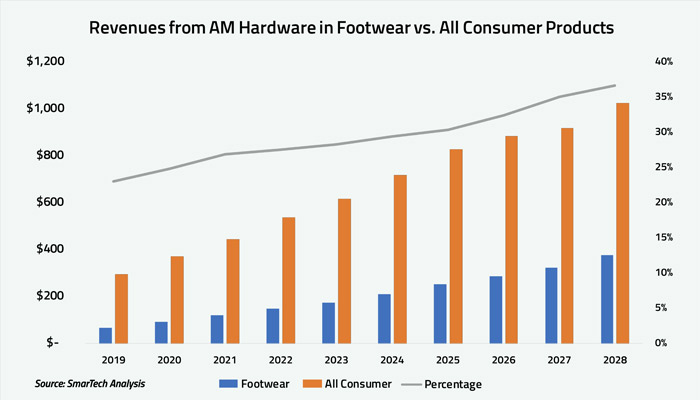 In terms of technologies and materials, SmarTech reveals that photopolymerisation is the most widely used in this mass customisation. We know that the Carbon solution, for example, has interested more than one sports equipment company because of its printing speed and the level of accuracy. Selective laser sintering should also be another process highly valued by the shoe industry. The report states that overall demand for 3D printing materials in this sector is expected to reach 3,700 metric tons by 2029. Powders are expected to have the highest demand, representing 1.8 million tons, or about 50% of total material demand.
What do you think of the figures revealed from SmarTech for the footwear segment of additive manufacturing? Let us know in a comment below or on our Facebook and Twitter pages! And remember to sign up for our free weekly Newsletter, to get all the latest news in 3D printing send straight to your inbox!