Viktor&Rolf decorates its famous Flowerbomb perfume with a 3D printed set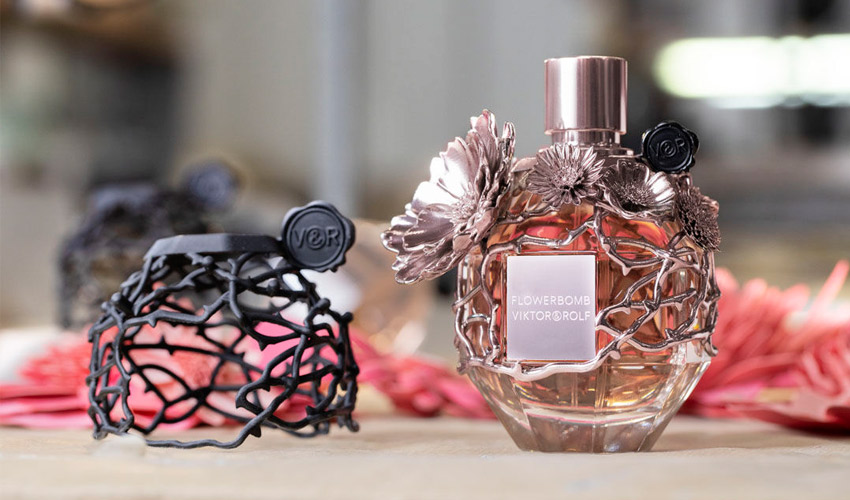 On the 15th anniversary of its famous Flowerbomb perfume, the Dutch fashion house Viktor & Rolf released a limited edition version of the product. Rather, they released a limited edition ornament for the bottle, which was 3D printed before being polished and electroplated to obtain a rose gold finish. This is a fine example, combining new technologies and traditional methods, to demonstrate how additive manufacturing is disrupting the luxury sector. The project was carried out in collaboration with L'Oréal, and the French 3D printing service Erpro which used machines from the manufacturer Carbon.
Founded in 1993, Viktor & Rolf quickly stood out with its conceptual glamor and provocative collections. In 2005, it launched the Flowerbomb perfume which very quickly became all the rage among women. Its creators, Viktor Horsting and Rolf Snoeren, say that, from the start, it has been about embedding the consumer in a dream: "Flowerbomb will take you by surprise. When we showcase our collections, we don't just showcase clothes, we present a dream and that's what this fragrance is too. " 15 years later, they wanted to shine the spotlight on their bestseller by creating an adornment worthy of a Haute Couture piece.
Belonging to the L'Oréal group which has used additive manufacturing in many of their projects for a few years now, the brand has turned to 3D printing once again to imagine a complex and elegant set, impossible to obtain via traditional methods or at least, not so quickly and with so much agility. The 3D printing service Erpro was entrusted with printing the different parts for the sets. Using Carbon resin machines, it produced the different components for 15 sets. Each component was polished, cleaned and then assembled by hand. Once the set was ready, a layer of rose gold was deposited by electrolysis to obtain this superb finish.
Olivier Polge, one of the three perfumers behind the fragrance, explains: "We designed this perfume by pushing flowers to their limits, studying every facet of a bouquet. The main idea was to create 1000 flowers of freesia, rose, jasmine, and more. Flowerbomb is a swirl of petals creating dizziness for the senses." It is worth noting that the bouquet that the set includes thorny branches and several flowers where the petals are very detailed.
The limited edition includes only 15 bottles, each costing 2,500 euros. Granted, it's far from the price of traditional perfumes, but let's be honest, these perfumes are more a work of Haute Couture. You can find more information HERE.
* Photo credits: L'Oréal
What do you think of this 3D printed perfume set? Let us know in a comment below or on our Facebook and Twitter pages! Sign up for our free weekly Newsletter here, the latest 3D printing news straight to your inbox!