3D printed floating house to be built in the Czech Republic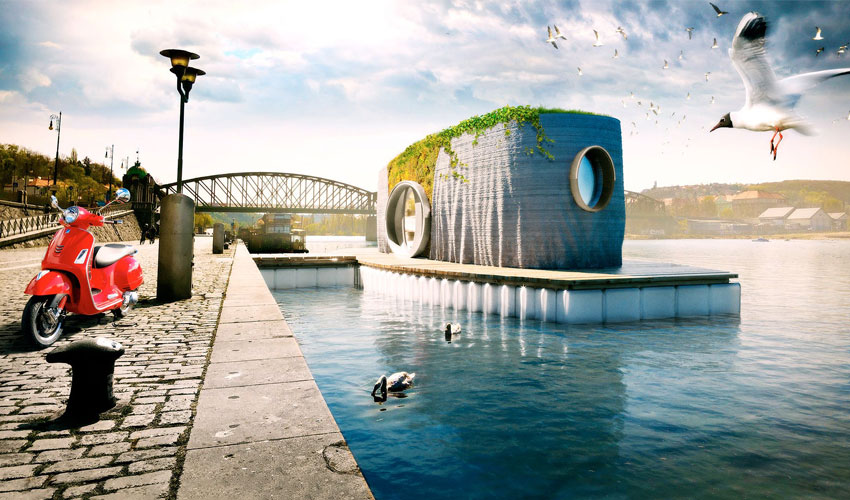 It's already unusual to live in a house that floats, so imagine how it would be if it were 3D printed. This is the new concept developed in the Czech Republic: called Prvok, this small structure will not only have 3D printed walls but it will be built on water, a first for the country. Designed by Michal Trpak of the Scoolpt architecture studio, the 3D printed floating house should be erected next month and will be 43 square meters in size.
In the construction sector, 3D printing is already doing wonders: we hear a lot about houses printed in 3D in record time, saving in most cases on materials but also on labour costs. While most structures today have only 3D printed walls and are only proofs of concept, these are encouraging projects that show once again how additive manufacturing is rethinking our traditional value chains. So this is the first time that the Czech Republic will host a house like this, and what's more, it will be floating!
The Scoopt studio is behind the project, in partnership with the construction company Stavebni sporitelna Ceske sporitelny. It imagined a 43 square meter structure with three rooms: a living room with an integrated kitchen, a bedroom and a bathroom. According to the studio, the 3D printed walls would be three times stronger than those designed with traditional concrete and would have to be erected in just 48 hours, reducing construction costs by 50% while reducing CO2 emissions. It will then take another two months before it can be inhabited.
Attached to a pontoon, the Czech house will incorporate various eco-technologies such as water recovery, recirculation shower, green roof and tanks for drinking water, utilities and wastewater. Looking at the printing process itself, the studio explains that it will use a robotic arm capable of depositing the concrete mix at a speed of 15 cm per second. The concrete is enriched with nano-polypropylene fibres and plasticizers. Michal Trpak says the structure has a life span of 100 years, and once its life span is over, they will be able to reuse the material to create a new one. It remains to be seen what this will look like! The construction process is expected to begin in June and the first inhabitants will be able to move in in August if all goes according to plan. You can read more HERE.
What do you think of this project? Let us know in a comment below or on our Facebook and Twitter pages! Sign up for our free weekly Newsletter, all the latest news in 3D printing straight to your inbox!