The 3D printed fiberglass boat, MAMBO, finally takes to the open sea
Published on September 30, 2020 by
Aysha M.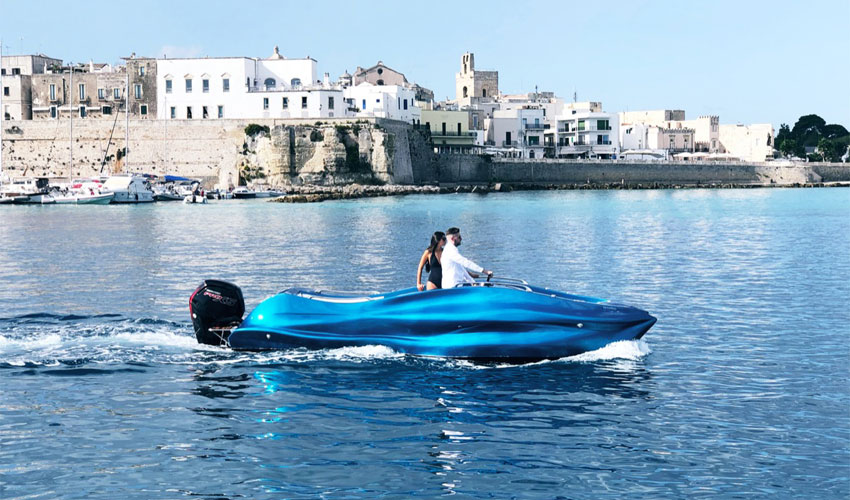 Remember that 3D printed fiberglass boat we were showing you in the aisles of Formnext 2019? Designed by Moi Composites in collaboration with Autodesk, Catmarine, Micad and Owens Corning, it finally went to sea! Named MAMBO (Motor Additive Manufacturing Boat), it is the first 3D printed fiberglass boat that will be on Italian waters at the Genoa Boat Show starting tomorrow. It is 6.5 meters long and 2.5 meters wide, weighs about 800 kg and is equipped with a real navigation system, cork flooring, white leather seats and a 115 hp engine – a real first for the maritime sector!
The additive manufacturing is as effective in the air as it is in the water! Maritime applications are steadily multiplying, whether to preserve the environment, design more efficient devices or simply create spare parts for all types of vessels. 3D printing technologies have begun to prove their worth in the field of boat manufacturing: for example, the 3D printed  University of Maine, which exploded into world records. Designers relied on large-format technology to create the entire boat in one go. In the case of the Italian manufacturer Moi Composites, it's more the material used that should be highlighted since the MAMBO is made of a fiberglass composite.
Composite 3D printing to design MAMBO
Moi Composites uses Continuous Fiber Manufacturing 3D printing technology, a continuous composite 3D printing method: a Kuka robot guided by an algorithm deposits a thermosetting plastic filled with continuous fibers (in our case glass), which is then cured by a UV light source. A system that would make it possible to imagine parts that are lighter, more resistant and more durable over time, all without creating inaccessible molds and limiting material waste. The Italian startup has carried out several projects to demonstrate the capabilities of this technology – it all started with their Atropos robot. The MAMBO boat is probably one of the most outstanding examples.
Supported by several companies, including software expert Autodesk, Moi Composites imagined a 6.5-meter long and 2.5-meter wide motor boat with a Y-shaped hull inspired by the Arcidiavolo designed by Sonny Levi. The teams explain that the monohull structure with organic and asymmetrical shapes was built on this base. We finally have the feeling that the imagined shapes continue, a little like the current of the water in the end. Gabriele Natale, CEO and co-founder of Moi Composites, commented: "We participated in the Genoa boat show in 2017, and it was during this event that we came up with the idea of making MAMBO. We saw the project take shape first, then brought it to life, and finally, MAMBO arrived today at the sea. We have 3D printed a boat, enhancing the concept of customization with a one-of-a-kind design created and tailored from the owner's mind, to give everyone the opportunity to understand and experience the sea in their own way. All this would not have happened without the support of our partners, who believed with us in this ambitious project.".
Two robots were used to print the motorboat. Each individual section was laminated into a sandwich, each incorporating polyester resin and fiberglass, and then assembled with the others. The MAMBO was then painted blue for presentation at the Genoa boat show. This is a fine example of the possibilities of additive manufacturing in the marine sector and hopefully will inspire more than one boat manufacturer! Find more information on the Moi Composites website.
Do you think about the 3D printed fiberglass boat? Let us know in a comment down below or on our Facebook and Twitter pages! Don't forget to sign up for our free weekly Newsletter, with all the latest news in 3D printing delivered straight to your inbox!