A 3D Printed Elephant Sculpture is Emerging From a Storefront in China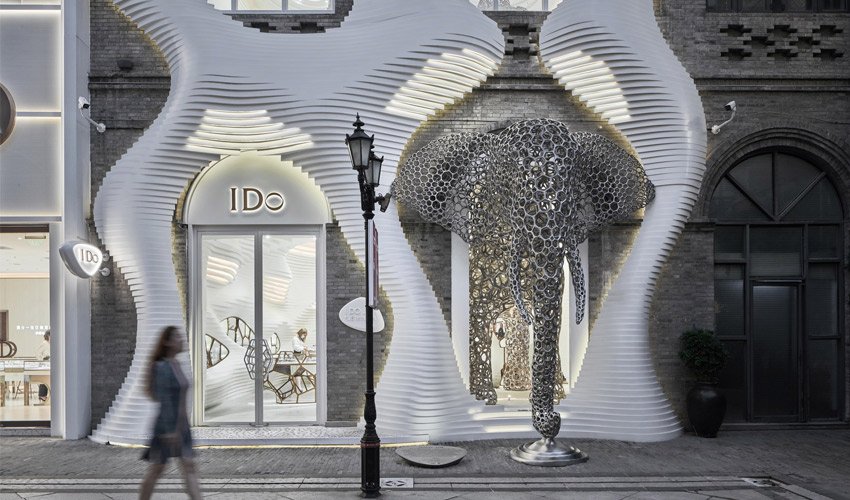 Imagine a metal elephant coming out of a store window when you are doing your holiday shopping. Well, in China, it's a reality! The I Do store has installed a 9-meter high metal sculpture to enhance its design, with the head of the elephant sculpture sticking out of one of the facades. Two figures were also placed on the back of the animal, adding height to the two-story store. This impressive sculpture was made in part through additive manufacturing, and more specifically via 3D printed molds that were then used for the lost cast wax stage. This work is the result of a collaboration between the architecture studio Antistatics Architecture and the artist Yue Minjun.
In the city of Wuhan, China, artist Yue Minjun has contributed to the decoration of this 250 square meter I Do store. He is particularly known for his paintings and sculptures depicting him laughing out loud and that's precisely what he did in this new store. Two intertwined figure are indeed on the back of the elephant sculpture, resulting in a sculpture of 9 meters high made of stainless steel. The whole thing weighs about 9 tons and is meant to represent wisdom, strength and unity, all qualities that elephants in general are known for. The animal is located on the first floor while the two figures cross the second floor, giving height to the store and inviting visitors to go upstairs.
Of particular interest to us is how this sculpture was made. The Chinese architecture studio and artist explain that they combined parametric design and technology to achieve this end result. They state that they used large-format wax additive manufacturing to design the various molds, which were then cast in 316L stainless steel. The model of the machine is not known, but the final design suggests that topological optimization software was used. The artist Yue Minjun was inspired by cell biology and the internal structure of a diamond to imagine the elephant and the two characters.
A style that is also found inside the store since the furniture takes the same diamond shape. The store is reminiscent of a sort of cave where innovation, art, technology and architecture are combined. The spiral staircase invites visitors to go up to admire the sculpture seen on the sidewalk. It's a beautiful combination of art, technology and commerce that offers a new experience to everyone who passes by the store!
What do you think of this 3D printed elephant sculpture? Let us know in a comment below or on our Linkedin, Facebook, and Twitter pages! And don't forget to sign up for our free weekly Newsletter here, the latest 3D printing news straight to your inbox! You can also find all our videos on our YouTube channel.
*Cover Photo Credits: Dachou Photography