Newly Developed 3D Printed Electrolytes Allow for Better Energy Storage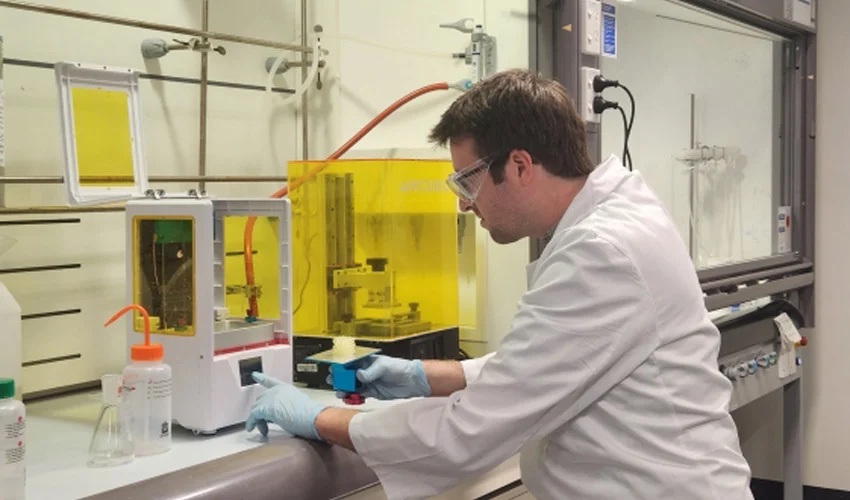 In Australia, a team of researchers at UNSW in Sydney claims to have successfully 3D printed solid-state polymer electrolytes in custom shapes from a desktop 3D printer. This would allow for energy storage in small electronic or medical devices, or for aerospace applications, among other things. The resulting electrolyte is expected to have very good conductivity and strength.
First of all, let's remember that an electrolyte is a substance, liquid or solid, which is able to carry an electric charge, either positive or negative. This is a result of the displacement of ions. For example, a polymer electrolyte – as used in this study – represents a matrix of organic polymers in which moving ions are observed. They are widely used in lithium batteries, especially to improve their density and safety. By being able to 3D print them, the UNSW researchers would be able to imagine all sorts of shapes for even more complex applications.
And it's clearly a world first. Kenny Lee, one of the team's researchers, explains, "Nobody has 3D printed solid polymer electrolytes before. Traditionally they have been made using a mould, but previous processes did not offer the ability to control the strength of the material, or to form it into complex shapes. With existing solid-state electrolytes when you increase the mechanical strength of the material, you sacrifice a lot of the conductivity. If you want higher conductivity the material is much less robust. What we have achieved is a simultaneous combination of both, which can be 3D printed into sophisticated geometries." 
Few details have been revealed about the machine used, but it appears to be a desktop resin 3D printer. The researchers state that it is a rigid, cross-linked polymer matrix that incorporates nanoscale ion-conducting channels. To test the strength and capabilities of this new development, the team 3D printed a map of Australia using these electrolytes, which was then tested as a device to store energy. According to Dr. Corrigan, another researcher on the team, the results were excellent:
"One of the other benefits of this SPE in energy storage devices is the fact it increases the cycling stability – that is the number of charging and discharging cycles until its capacity is reduced to a certain amount. In our paper, we show that this material is very stable and has the ability to charge and discharge over thousands of cycles. After 3000 cycles there was only roughly a 10 per cent drop."
Eventually, the goal is to 3D print electrolytes with a much higher storage density to expand the field of possibilities and associated applications. In the meantime, you can find out more HERE.
What do you think of these 3D printed solid electrolytes? Let us know in a comment below or on our LinkedIn, Facebook, and Twitter pages! Don't forget to sign up for our free weekly Newsletter here, the latest 3D printing news straight to your inbox! You can also find all our videos on our YouTube channel.
*Cover Photo Credits: Dr. Corrigan