Mass customization of a 3D printed electric vehicle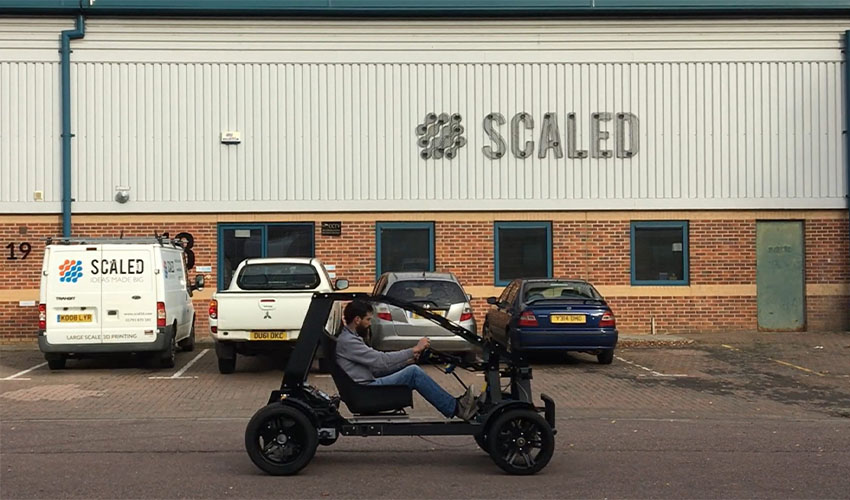 In the automotive industry, additive manufacturing has historically been used to create functional prototypes. Over the years, the automotive sector started leveraging the benefits of 3D printing technologies for end-use part applications too, to produce complex parts, or to allow greater customization at the design level for example. A recent project which showcases some of the possibilities of AM in automotive is Project Chameleon. This is a 3D printed electric vehicle project initiated in the UK by Scaled, a company specialized in material extrusion large format 3D printing using robotics.
Behind Project Chameleon lies "the opportunity to own a vehicle, designed from the ground up to be ideally suited to a particular environment. True mass customisation. Sustainable. Affordable. Aesthetic," you can read on the Scaled website. In fact, this project explores various applications of 3D printing, including optimizing structural design thanks to DfAM (Design for Additive Manufacturing) techniques to produce higher performance parts, in conjunction with delivering a more sustainable, affordable and aesthetically pleasing product.
Whereas additive manufacturing is cost effective for prototyping, it is not competitive with conventional manufacturing technologies for mass production; injection molding or CNC machining remain indefinitely cheaper and reliable when you need to produce a part at scale. However, in the case of customization, AM has the advantage: "By moving away from mass production to mass customisation, specialisation becomes affordable. This paradigm shift is possible by being able to prototype and manufacture using the same technology: large scale 3D printing. Design and manufacture of a first production vehicle will be cheaper than traditional methods," you can read on the website. In the Project Chameleon, Scaled explains that expensive, specialised production equipment and tools were not needed. Every vehicle variant could be produced in a single, versatile manufacturing cell, with no need for large assembly lines. Additionally, lead times were only limited by the speed at which a vehicle could be printed.
Manufacturing endless vehicle variants in a single manufacturing cell
Initiated 6 months ago, the Chameleon vehicle was finally driving on October 15th, 2020. In terms of design, the vehicle uses high-end 3D printed thermoplastics for the chassis as well as some recycled plastics. The team aimed for a 1:1 weight to payload ratio of just over 100kg to make it as efficient as possible, using new and emerging design techniques such as stochastic topology optimisation to remove redundant material, and above the "factory in a box" approach, producing the entire vehicle on a single manufacturing cell.
At the modeling stage, Scaled worked with Rafinex to incorporate topology optimization in the Chameleon's design. Rafinex's software is stochastic, meaning that it tests many random variations in the loading conditions before delivering a final optimised structural design. This process ensures that it is suited to real-world conditions where impacts and loads never quite happen as planned. Finally, using the same hardware and software tools, each vehicle produced is custom-made for the customer. "The Chameleon Platform makes vehicles specifically adapted to their environment. The customer specifies their requirements and receives a vehicle designed to efficiently meet its task." This project is certainly interesting to understand the latest developments in mass customization, where each customer could end up with a completely different device, manufactured to match its operating environment.
You can find more information about the project HERE. What do you think of this concept? Let us know in a comment below or on our Facebook and Twitter pages! You can also check out our Youtube channel for videos on AM!