A 3D printed electric motorbike prototype coming from Poland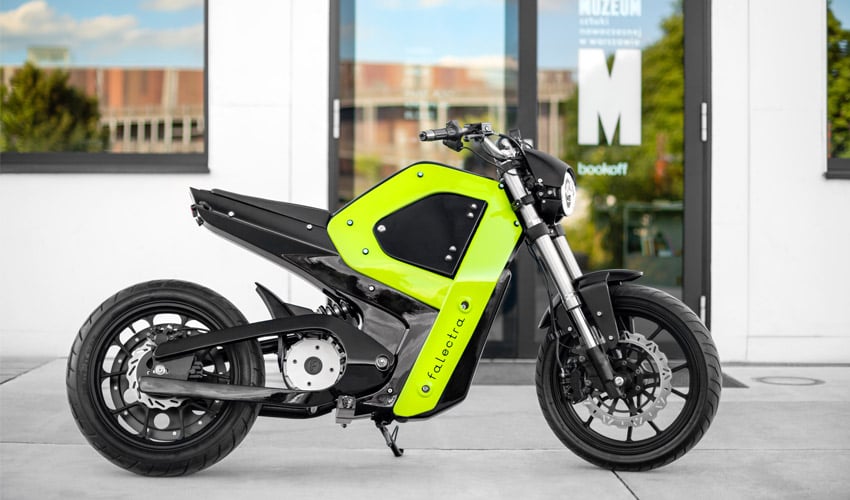 Piotr Krzyczkowski is a young Polish designer who wanted to create his own brand of electric motorcycles, Falectra. He wanted to offer city dwellers a comfortable, economical and more environmentally friendly solution. In order to convince various investors, he designed a first prototype using 3D printing, using Zortrax's FDM machines. A project that apparently seduced many people since Piotr obtained all the necessary funds to embark on the adventure: we should see the first motorbikes on the roads next year.
A few months ago, Sculpteo published its annual study on the use of additive manufacturing by different professionals. The State of 3D Printing 2019 revealed that 63% of participants 3D print parts as a proof of concept: they check designs, ideas, etc. via 3D printing. A solution that allows multiple iterations to be made by simply correcting the 3D model instead of recreating an entire mould, for example. The young Polish designer is not so different: he used several production methods, including 3D printing, to develop his functional prototype of the Falectra electric motorcycle, which he was able to present to future investors.
The Falectra electric motorcycle has been developed in two stages. The first stage consisted of developing the final idea, patenting it and obtaining some funds; a process that took 2 years. The second step involved the creation of a functional prototype to scale to showcase a physical model, a crucial point in the world of e-mobility. Piotr Krzyczkowski adds: "Alone, a virtual project is no longer enough for partners and investors. We had to show a fully functional prototype. However, simply creating the laminated panels that form the vehicle's bodywork would have cost between PLN 150,000 and 200,000 (USD 39,000 to 52,000), which was well beyond our budget. That's when we started thinking about 3D printing. Thanks to our cooperation with Zortrax, the parts needed to assemble the prototype were created on their printers. The whole process cost almost seven times less and we were able to show the world a functional motorcycle."
The creation of the prototype took only 6 months. We don't know exactly how many parts were 3D printed on the M200 Plus and M300 Plus machines  but from Piotr's perspective, it seems that most plastic parts were 3D printed. Miłosz Bertman, Lead 3D Designer at Zortrax explains: "We knew that the priority was printing durability so that the bike created by Piotr would be fully operational and ready to be used. We chose the Z-ULTRAT material, capable of supporting heavy loads, and used the M200 Plus and M300 Plus printers. This has allowed us to create parts that fully reflect the look and functionality of these bikes, which will soon be produced in series."
It is not said that future motorcycles will incorporate 3D printed parts, but if we look at the advantages of technology for the automotive market, everything suggests that Piotr would be a winner. The prototype is very light, stable and easy to drive. In principle, the first 10 motorcycles will be allowed on the road for research purposes next year. Mass production will begin in 2021. The bike will cost a little more than €3,500.
You can find more information HERE.
What do you think of this 3D printed electric bike prototype? Let us know in a comment below or on our Facebook and Twitter pages! And remember to sign up for our free weekly Newsletter, to get all the latest news in 3D printing send straight to your inbox!