Has An English Research Center Found a Way to Commercialize a 3D-Printed Electric Motor?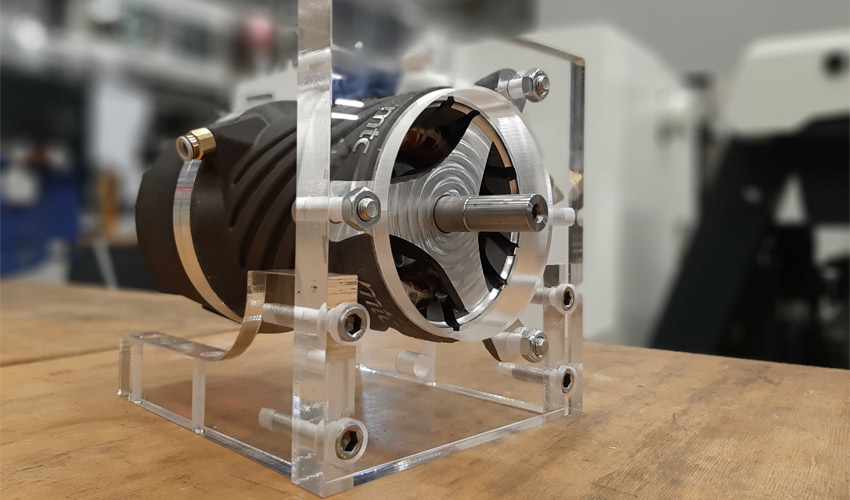 In England, the National Center for Additive Manufacturing (NCAM) has designed a 3D-printed electric motor, which they proclaim is the first of its kind. The motor consists of multiple 3D-printed parts. Furthermore, the motor has comparably more power, requires less assembly time, and reduced mass and size of key components as compared to traditionally build motors. According to the team, this project could go beyond the theoretical stage and pave the way for the commercialization of 3D-printed electric motors.
NCAM is part of the Manufacturing Technique Center (MTC) located in Coventry, England. Its primary mission is to accelerate the adoption of additive manufacturing. The center is now equipped with about twenty machines, from polymer to metal to ceramics. For example, the center has invested in Renishaw, Trumpf, AddUp, HP, XJet, and Photocentric machines. Several post-processing solutions complete the center's range, which can thus control the entire additive manufacturing value chain. For some time, the team at NCAM has been interested in designing an electric motor.
The NCAM team, therefore, 3D-printed several parts of an electric motor. Although the team remains discreet about the processes and materials used, they have shared that the end result is lighter, smaller, and would offer more power. The use of additive manufacturing has allowed NCAM to simplify the entire supply chain and reduce production and assembly times and costs. Steve Nesbitt, Chief Technologist at MTC, explains: "Additive manufacturing is a key tool for developing the complex features and shapes essential to improving the performance and functionality of electric motors. The manufacturing process of these presents a number of challenges, including complex or manual assembly, difficulty to process and sometimes expensive materials, thermal management, and the need to lighten the assembly. By harnessing the capabilities of additive manufacturing through product redesign, major benefits can be achieved in terms of cost, reduced waste, performance, and ease of manufacture."
The team had previously designed a 3D-printed electric motor housing: the part in question incorporates cooling channels, a design that could not have been achieved other than through additive manufacturing. Now his goal is to print the entire engine. Dan Walton, Senior Research Engineer at MTC concludes: "Additive manufacturing is complex, but the possibilities for companies to improve their productivity, efficiency and cost savings—and therefore their competitiveness—are great. This project allowed us to identify a roadmap to help manufacturers implement additive manufacturing technologies for electric motors, which have the potential to transform the industry as we know it." You can learn more about the electric motor project HERE.
What do you think of this 3D-printed electric motor? Let us know in a comment below or on our Facebook and Twitter pages. Don't forget to sign up for our free weekly newsletter, with all the latest news in 3D printing delivered straight to your inbox!