What benefits do 3D printed drones bring to our society?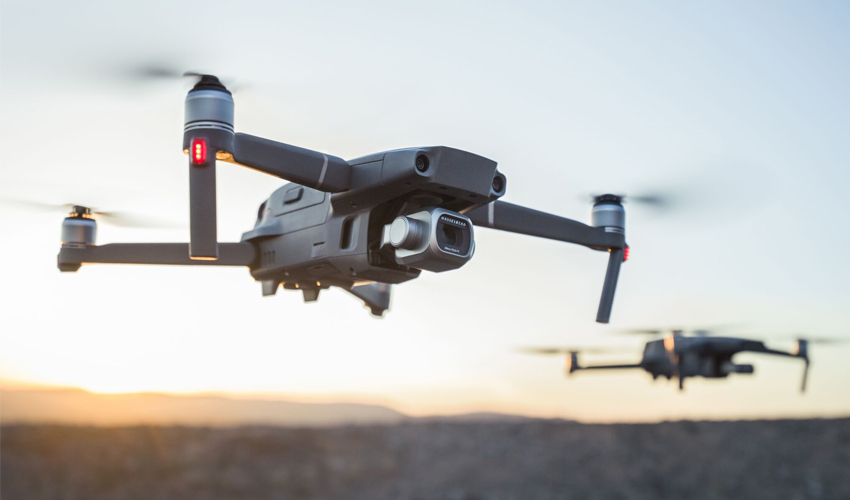 A drone is an unmanned aerial vehicle (UAV), or in other words aircraft, without a human pilot on board. These days, getting a traditional drone can be a big investment if you do not need the advanced features they offer. The additive manufacturing industry has made great progress, meaning that any user with a 3D printer is able to create their own custom drone. Therefore, the benefits of 3D printing technologies make it suitable for developing such a vehicle. It's true that drones are appealing to multiple industries because they operate with various degrees of autonomy:  either under remote control by a human operator or autonomously by onboard computers.
The good thing about using additive manufacturing to create drones is that almost every part of the assembly can be 3D printed, with the exception of the electronic components. These include the propellers, the frame, the antenna mounts, the prop protectors, the battery housing or even the landing gear. But 3D printing is not limited to hobbyists or makers. Some commercial companies, such as Blue Robotics, also use this technology for the development of their drones. In addition to the main parts, other accessories such as mounts, boosters or cases for storing the drones can also be created.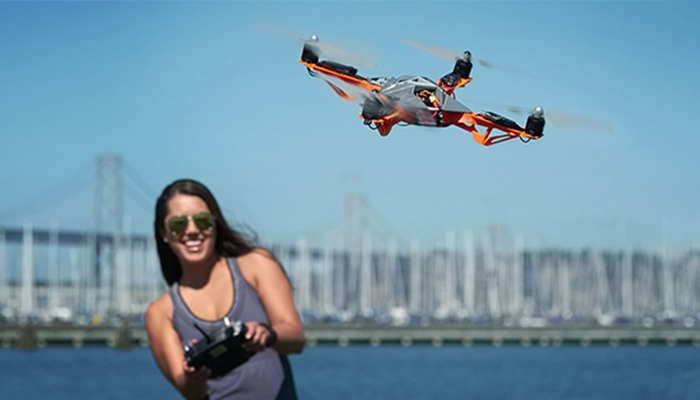 The benefits of using 3D printing for drones
As we know, this technology provides numerous advantages when creating prototypes or functional models. The team at Svarmi, a company dedicated to custom built drones and remote sensing data for scientific and industrial purposes, has begun using 3D printed drones in its research activities. In fact, in an interview with Sculpteo, they stated: "With 3D printing, we were able to save 40% of time in the product design and development process. The total weight of the drone was also reduced by a factor of 20%." This means that thanks to AM, parts can be manufactured at high speed, tested and modified if necessary. In addition to this, there is no doubt that the additive manufacturing process allows production costs to be reduced, unlike traditional production methods. These benefits have enabled 3D printed drones to move from being considered gadgets to being professional devices that can be adopted in multiple areas. So what are the areas of applications where we can find additively manufactured drones?
Drones in education
Besides the more professional applications, developing your own drones is also a very interactive way to learn about technology. That's why this practice is starting to be used in education, as part of learning programs around technology. To facilitate the inclusion of this learning, there are companies like Bonadrone, a startup based in Catalonia, that is dedicated to offering drone kits for 3D printing. Josep Tomàs Vergés, CEO of Bonadrone told us: "3D printing is the beginning and also part of the whole journey of a Bonadrone kit. With these robots we wanted to empower students to create and design their own drone from scratch, learning all the electronic parts and components". Parallel to this company, there are websites like Cults3D that offer STL files with different drone models to be created with a 3D printer. You can find several open source and totally free drone models to print at home.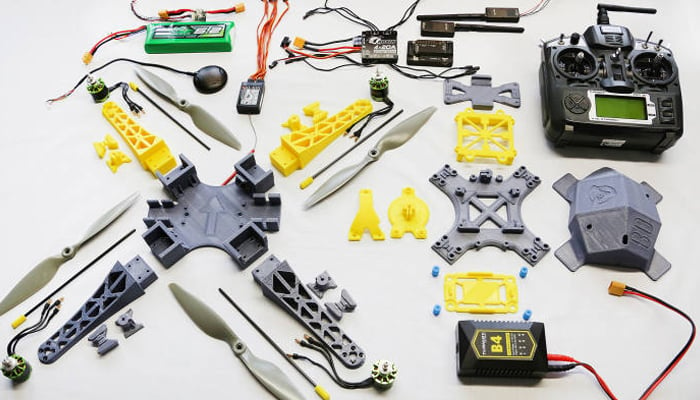 Increasing public safety
Another area where the use of a 3D printed drone  is very interesting is in the area of public safety. General Drones is a company dedicated to the manufacture of emergency drones, which provides assistance and training for pilots and instructors. The company makes use of FDM technology to create the so-called Auxdron Lifeguard, which is capable of monitoring and controlling beaches thanks to its fast operation. In case someone is in danger, the technology can assess, locate and intervene to help the victim – this type of intervention is faster than human intervention.  In addition, it is able to detect various risks to bathers, such as the presence of jellyfish or other dangerous fauna. The drone is designed to withstand extreme conditions of wind, rain, sand, salt and high temperatures.
We also saw how additive manufacturing was at the service of drone prototyping in the case of Perdix. Perdix drones are autonomous combat devices developed in an experimental project conducted by the Strategic Capabilities Office (SCO) of the United States Department of Defense. The aim was to develop autonomous micro-drones to be used for unmanned aerial surveillance. SCO's William Roper explained: "Since each Perdix communicates and collaborates with any other Perdix, the group has no leader and can easily adapt to other UAVs integrating the team." In addition, Perdix drones can be used to monitor perimeters and locate enemy radars. Following this successful project, the budget was increased for this sector to develop more complex prototypes.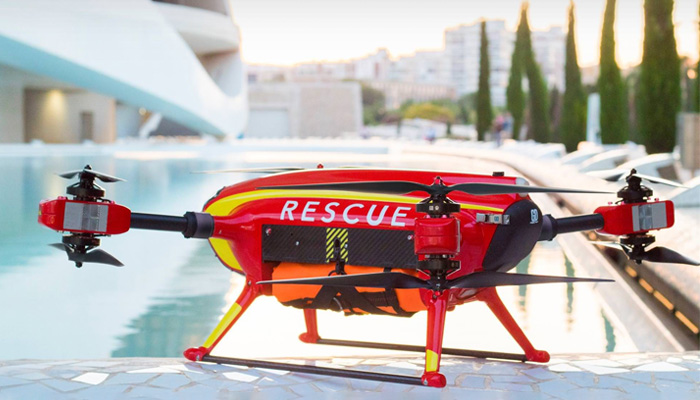 3D printed drone at the service of businesses
More recently, we observed the launch of the Lidardrone XL, a drone capable of lifting up to 13 kilos. Aeromedia, the company behind this device, is dedicated to providing industrial and audiovisual services adapted to the different needs of customers. The company developed the drone, which has an autonomy of between 25 and 45 minutes, depending on the weight it carries. This prototype could be used in many shops or industries to transport heavy loads and speed up the activity. Aquilino Abeal, managing partner of Aeromedia commented: "We use the highest quality materials, the predominant one being carbon fibre. This allows the Lidardrone XL to increase the compromise between weight and strength". For this reason, the drone is able to work under adverse conditions of rain and wind.
On the other hand, a few years ago a collaboration between Flirtey and the fast food brand Domino caught the attention of many. The project proposed in New Zealand, consisted of the creation of an unmanned drone, capable of making home deliveries for pizza. Flirtey's technology made the "Dru" drone light and autonomous – it was manufactured from aluminium, numerous fibres and 3D printed components. The device integrates a GPS system to make the deliveries, and must respect the air rules and regulations imposed on unmanned aircraft. Although it seems crazy, this system has already been implemented for some services!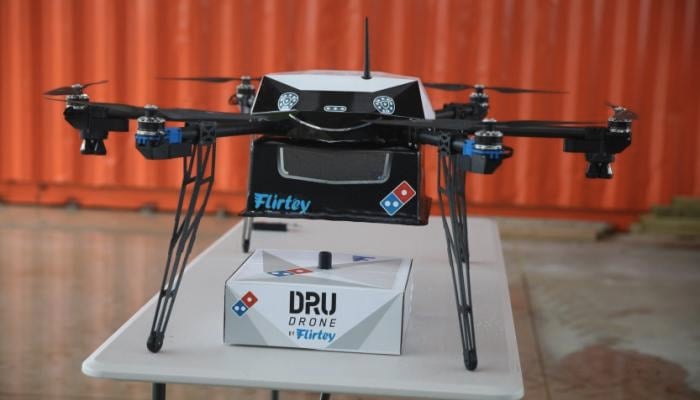 Other areas of application
In addition to the areas we have just mentioned, 3D printed drones can be used in other more playful activities, such as the companies UVify and Nano-Racing, which develop 3D printed drones to compete in air races. On the other hand, there are some drones and flying machines that, together with robotic technology, are capable of scanning and 3D printing to contribute to the construction and repair of streets. This incredible idea of self-repairing cities is already a reality thanks to projects like this one from the University of Leeds, or from the company DediBot. The latter, called Fly Elephant, is the first machine that prints 3D structures while flying. Both projects could lead to the identification construction works in cities or in building projects.
How to create your own 3D printed drone?
When making a drone with 3D printing, one of the most important points is the material used. The current possible materials for additive manufacturing are many, so finding one that fits the needs and possibilities of the drone can be difficult. This choice is vital, since the heavier it is, the more energy it will need and the shorter the flight time. Knowing this, and depending on the functionality that the device will have, one material may be more suitable than another. In addition, to increase resistance and reduce weight, you can always choose to reinforce the materials with composite fibres. For the production of drones, the following additive materials are usually used.
PLA is mostly used by those who are starting out in the world of 3D printing. Its main characteristic is that it is an odourless, cheap material with a multitude of colours available, although its main disadvantage is that it does not resist high temperatures. On the other hand, we find ABS, a polymer similar to PLA in terms of its low cost and availability, although much more efficient. This material is more resistant, as well as lighter, but the toxic fumes and the need for a heated build platform must be taken into account before printing. As for other, more complex options, PETG is a stable, impact-resistant polymer, yet it is quite heavy and expensive to print. TPU materials, which can also be used, are characterized by the flexibility of the end pieces and the absorption of vibrations. Finally, Nylon is a lightweight polymer with incredible strength and temperature resistance, yet difficult to print.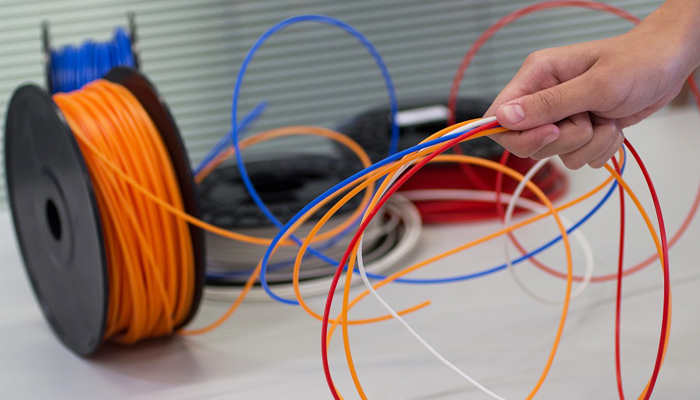 Once you have chosen the most suitable material for your project, the next step would be to acquire an STL file with the model of the drone you wish to create. There are many websites that offer free models for 3D printing, but if you don't know all of them, you can visit our dedicated listing. Once you have 3D printed the parts, all you have to do is assemble them and add the electronic components! What are you waiting for to make yours?
Have you ever made a 3D printed drone? Let us know in a comment below or on our Facebook and Twitter pages! Sign up for our free weekly Newsletter, all the latest news in 3D printing straight to your inbox!