Sandvik unveiled first-ever 3D printed diamond composite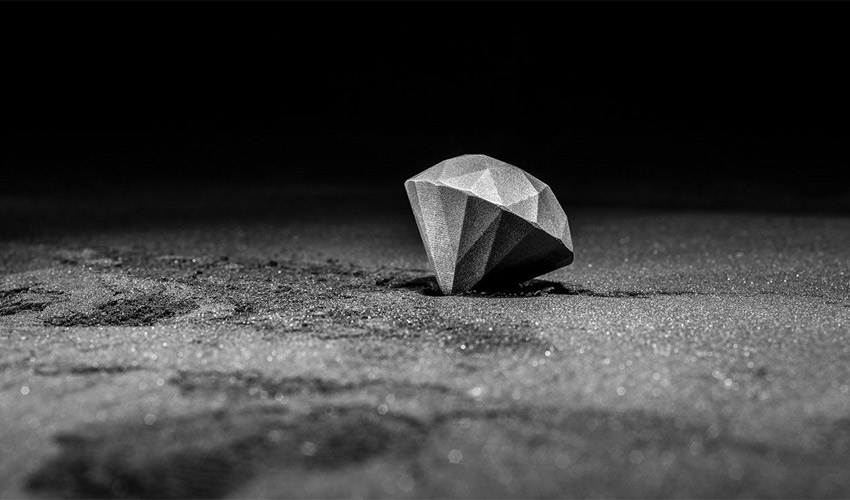 At RAPID + TCT last week, Sandvik unveiled the first ever 3D printed diamond composite. Recently, using SLA technology the company can say it has added 3D printed diamond material to their portfolio of materials. Quite recently the company was involved in creating an unsmashable guitar using their expertise in metal additive manufacturing. This time around,  they have involved themselves in a completely different venture: 3D printing diamond. The diamond composite does not sparkle but it is useful for a range of industrial applications. Diamond is extremely hard, harder than anything else you can find in nature, therefore it is a key component in many wear resistant tools from mining and drilling to machining and also medical implants.
Since 1953, it has been possible to produce synthetic diamond. What does 3D printing add? With the use of additive manufacturing, it is possible to form complex shapes of the diamond composite. Something almost impossible when producing synthetic diamond. The realm of applications has therefore exploded, Mikael Schuisky, Head of R&D and Operations at Sandvik AM further explains, "We now have the ability to create strong diamond composites in very complex shapes through additive manufacturing, which fundamentally will change the way industries will be able to use this material. As of now, the only limit to how this super-hard material can be shaped and used is down to the designer's imagination."
It should be noted that Sandvik's newest material remains a composite. This means that most of the material is diamond but in order to make it printable and dense it needed to be cemented in a very hard matrix material. As a result, they were able to keep the most important physical properties of pure diamond. Susanne Norgren, Adjunct Professor in Applied Materials Science at Uppsala University explains, "Sandvik's 3D printed diamond composite is a true innovation. It means that we can begin to use diamond in applications and shapes never conceived possible before. Just imagine what it could do to industries, when it is possible to print anything, in any shape – in diamond."
The process uses a slurry containing diamond powder and polymer to 3D print the diamond composite layer by layer. After the printing, the company explains that the next step is more critical. As a result, Sandvik has developed a tailor-made, proprietary post-processing method that is able to produce the exact properties of the diamond composite. Those properties, as eluded to above include, extremely high hardness, exceptional heat conductivity, while also possessing low density, very good thermal expansion and fantastic corrosion resistance.
What do you think of this 3D printed diamond composite? Let us know in a comment below or on our Facebook and Twitter page! Don't forget to sign up for our free weekly Newsletter, with all the latest news in 3D printing delivered straight to your inbox!