A 3D printed coral reef has been successfully installed in the Indian Ocean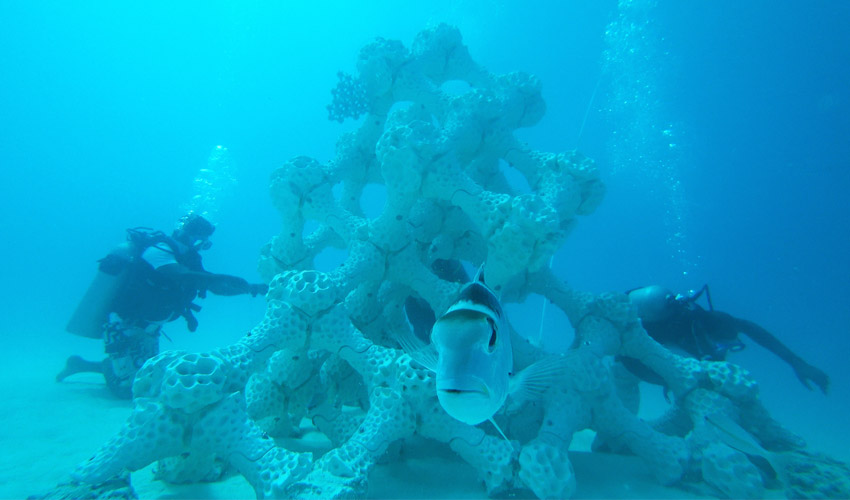 Not too far back, we presented you with a video of a 3D printed coral reef installed in the Maldives in one of our top 5 videos of the week. It is considered as the largest 3D printed reef by its designer Alex Goad of the Reef Design Lab. It could be an effective solution to preserve the marine ecosystem today threatened by global warming. The structure was created, at the bottom of the Indian Ocean, thanks to several 3D printed ceramic molds.
Coral reefs are home to a variety of aquatic species, from seaweed to fish, and represent 25% of the world's marine life. Today, they suffer from a phenomenon called bleaching. Basically the coral polyps reject algae from their tissues. This especially happens because of the increase in water temperature. Thus causing a gradual death of the coral. Several initiatives using 3D printing technologies developed to try to preserve the reefs and the species that live there. One such project was when Emerging Objects worked with Boston Ceramics and SECORE (Sexual Coral Restoration) to create a population of 3D printed substrates to attract coral larvae to the reefs and encourage their reproduction.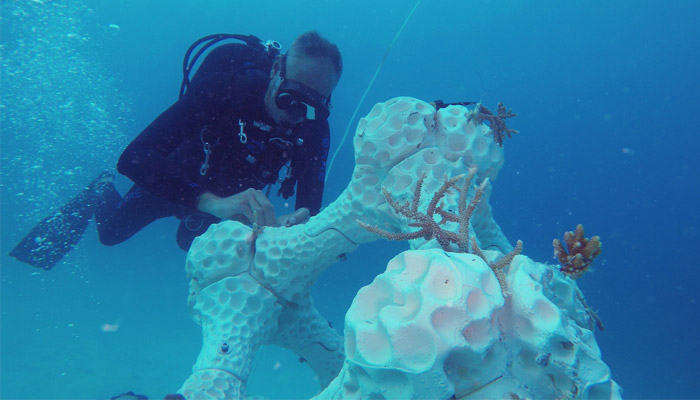 The largest 3D printed barrier reef
With the same goal of restoring in mind, Alex Goad, industrial designer at Reef Design Lab, has developed a 3D printed coral reef designed to be the largest ever created. Last week it was settled in the Indian Ocean near the Summer Island Maldives. Composed of hundreds of ceramic and concrete modules, the reef has been designed using an advanced computer modeling program. This provides the textured appearance of the print.
Once this modeling work was completed, a 3D printer was used to print 220 molds. A process that would have taken only 24 hours with this technology. Alex Goad explains that these were then cast in ceramics, a "material that has properties similar to those of calcium carbonate which is the coral reefs". The mussels were then filled with concrete and assembled directly in the Indian Ocean, 7 meters deep, near an existing coral nursery. Coral fragments were taken from the nursery and placed on the reef printed in 3D. The team hopes that in a year or two, these corals will colonise the 3D printed coral reef.
Alex Goad adds: " This is a scientific project, a research project. 3D printing technology helps us to mimic the complexity of natural reef structures. So we can design artificial reefs that look a lot like the natural ones. We hope this will be a more effective way to grow and restore corals . "
Project stakeholders say that if it is successful, we could see a new natural reef in a year or two. In the meantime, you can find more information on the Reef Design Lab website and in the video below if you have not already seen it:
 What do you think of this 3D printing coral reef project? Let us know in a comment below or on our 
Facebook
 and 
Twitter
 pages! And remember to sign up for our free weekly 
Newsletter
, to get all the latest news in 3D printing send straight to your inbox!