Concrete Choreography are 9 unique 3D printed columns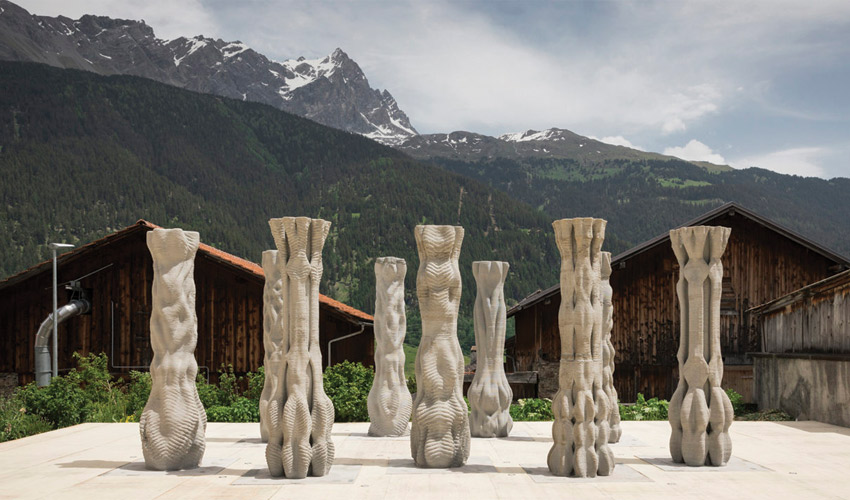 Students at ETH Zurich once again presented an innovative project surrounding 3D printing technologies. This time they mixed architecture and new technologies to design 3D printed concrete columns. Nine structures, 2.7 meters (8.9 ft) high were designed for the Origen festival in Riom, Switzerland, which is mainly dedicated to dance. It is therefore not surprising that the project was named Concrete Choreography.
At ETH Zurich, you can follow the Master of Advanced Studies ETH in Architecture and Digital Fabrication (MAS DFAB). It seeks to better understand all the opportunities offered by computer design, digital manufacturing and 3D printing in the fields of architecture and construction. This curriculum made it possible to imagine the DFAB House, a three-storey house designed exclusively by digital manufacturing methods, it had a 80 m2 3D printed ceiling, developed from sand.
Concrete Choreography, 3D printed columns to celebrate dancing
The concrete 3D printing technology developed at ETH Zurich has therefore made it possible to create 9 columns 2.7 meters high without any formwork. It took about 2.5 hours to print each column with complex shapes and precise details. They all have a different design and could be manufactured in a fully automated way once the design of the 3D model was complete. The columns are hollow, offering a more sustainable approach to architecture since the amount of material used is optimised. Only the needed structure is printed.
The 3D printing process is based on a robotic arm system that, in the case of Concrete Choreography, achieved a printing speed of 180 mm per second with a range of 1,600 meters in length. Each layer of concrete deposited has a thickness of 5 mm with a width of 25 mm. Finally, thanks to the 3D software used, the columns are decorated with more or less complex patterns, with a unique surface texture.
Project stakeholders explain that Concrete Choreography "illustrates well the versatility and aesthetic potential that 3D concrete printing can have, even in large structures". The 9 columns will serve as the backdrop for the festival's various dance shows in Riom this summer – it is easy to imagine how the artists will sneak in, grab hold of and dance around them. They also show how 3D technologies can bring new expressions to architecture, a key benefit that many manufacturers have already put their trust in. You can find more information HERE.
What do you think of this project? Let us know in  a comment in the below or on our Facebook and Twitter pages! Sign up for our free weekly Newsletter, all the latest news in 3D printing straight to your inbox!