The Best Holiday Decorations to 3D Print for Christmas
Published on December 9, 2021 by
Jamie D.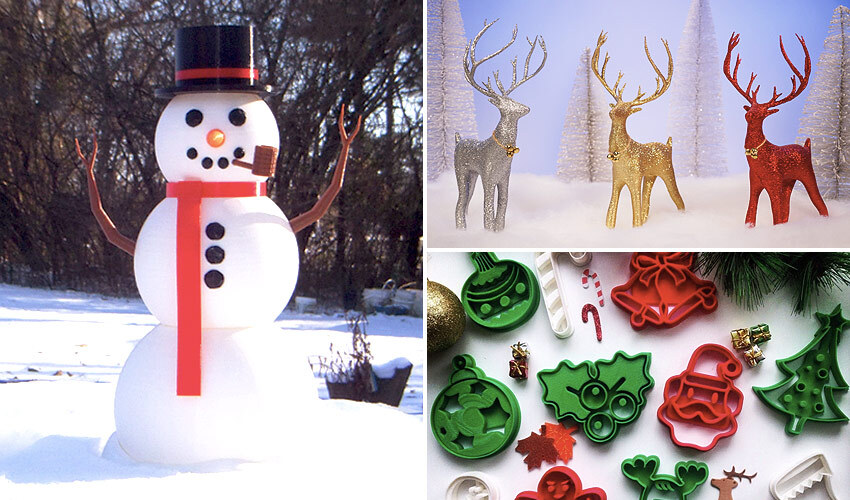 Christmas is a magical time for children and those who are young at heart and still believe in the magic of the season. Everyone gets in the holiday spirit when the garland goes up and the Christmas lights twinkle on every street. So, if you're in the mood to create your own personalized 3D printed Christmas decorations and have access to a 3D printer, we have a bountiful list of holiday figurines and decoration print files available for download from MyMiniFactory,  Thingiverse and Cults3D,. We've made our list, feel free to check it twice. Enjoy the holiday season! 
Multi-Part Christmas Tree
We all know the saying, the more the merrier. So, for the happiest season of all, why settle on just one Christmas Tree when you can have multiple? Thanks to Gallaghers Art's Multi-Part Christmas Trees, this is possible. With 3 or more parameter layers integrated into the files, users can print a Christmas Tree as well as decorations, gifts and space to put lights within the tree itself. These many print options mean that users can print many different, distinct-looking trees using the same files in ways that suit their fancy for the holiday season for some truly festive decorations. For ease of printing, Gallagher Art specifies the colors and brands of ABS filament used and the different parameters.
Christmas Cookie Cutters
Cookies are an absolute must at Christmastime. So why not start a crafty tradition of making cookies using 3D-printed cutters? It's possible thanks to 3D printing! All you have to do is imagine the shape you would like to give to your holiday treat: a tree, a star, Father Christmas, so many possibilities. In our case, we have chosen the festive Christmas stocking in which all knick-knack gifts are slipped. Don't hesitate to go to Thingiverse to find a myriad of shapes and models.
Personalized Tree Ornaments
The perennial holiday question: Buy new decorations for the Christmas tree, or not? This year we have the solution: you can 3D-print your own personalized tree ornaments. You have several Christmas designs and models available. All you need is a 3D printer. On cults3d.com you will find different models, we offer you the most varied and affordable one. After printing, we recommend that you paint and decorate them with color and glitter.
The Grinch Figurine
The Grinch is a hairy, green, meany that lives alone in a cave on a mountain and detests everything Christmas. This classic holiday character is sure to bring smile of holiday cheer end of the year. So why not print a 3D miniature version of this character? You can then paint it to give it its classic colors.
Large-Scale Multi-Piece Snowman
Why wait for first fluffy snowfall of the season to create your own snowman? If you live in areas where this meteorological phenomenon is not very common, or too inconsistent to create snow figures, here's a solution. Just 3D-print your very own large-scale frosty figure! All you will need are filaments in the right colors, so you don't have to paint it later, and a 3D printer with a build volume large enough to create each part. According to the author of the design, once all the pieces have been printed and assembled correctly, the snowman measures 316 mm high and 175 mm wide at the base. What are you waiting for to start creating yours?
Christmas Reindeer
For the fifth year in a row, find the files you need in order to 3D-print your own Christmas deer ready to download from Thingiverse. So, holiday lovers, you can't leave them out of this year's decor! Once again proposed by the designer yeg3d, he explains having used a 3D printer based on the FDM process to manufacture them. And in order to simplify the process, it also clarifies that printing does not require any media. The designer adds that at a print speed of 88mm / s, printing took 6 hours and 49 minutes. Finally, to get a colorful and shiny final piece, he recommends using metallic paint as well as glitter paint. All that remains is to place the 3D printed deer at the foot of the tree!

You can download the files for this reindeer on Thingverse HERE
Star Tree Topper
In the biblical story of Jesus, the Star of Bethleham guided the Magi to the manger where Mary had just given birth to Jesus. The star has become an enduring symbol in Christianity, commonly featured in Christmastime Nativity scenes. During the holiday season, you can often find a star placed atop a Christmas tree and prominently displayed as holiday decor. We offer you this tree topper that can be 3D-printed using PLA. In addition to working as a tree topper, this design also works well displayed on a tabletop or any flat surface. 
Window Decorations
Who doesn't like to admire the decorated windows at Christmas time? Or shop windows? Adhesive photos, stickers, glitter, artificial snow, light: everything is good for enhancing the room! We therefore offer you some Christmas decorations printed in 3D to be stuck directly on your windows. By using flexible TPU, you won't have too much trouble creating original objects and placing them on all your windows. You can of course paint your creations once they are out of the 3D printer!
Christmas Snowflake
This object is quite playful to make as it is a flake in kit form. You print the whole thing flat and then detach each part of the print to make a nice snowflake. This clever model was created by Ysoft Be3D. If you don't have snow on Christmas day, you can print a nice decoration!
Little Christmas Village
For anyone who adores decorating their home for the holiday season, you can't miss this 3D-printed little village! Designer yeg3D provides models of quaint mini houses that will immerse you in the Christmas spirit. He used a classic FDM 3D printer and advises using white PLA. In fact, you can place LED lights inside to illuminate everything. Plus, you won't need any printing media which will make the printing process much easier! Different models of these adorable maisonettes are available, making it possible to create a fully personalized village. The designer regularly publishes updates so that you can gradually expand your village: this is a great decoration idea that will serve you for many years to come!
Have you already 3D printed Christmas decorations? Let us know in a comment below or on our Linkedin, Facebook, and Twitter pages! Don't forget to sign up for our free weekly Newsletter here, the latest 3D printing news straight to your inbox! You can also find all our videos on our YouTube channel.