Top 10 3D Printed Christmas Decorations
Published on December 23, 2020 by
Jamie D.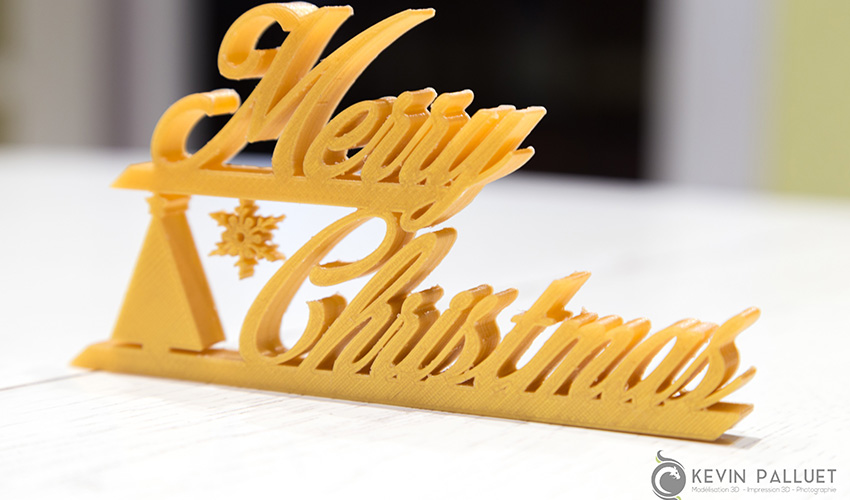 When we think of Christmas, one of the first things that comes to mind is undoubtedly its universe, its magic, its decorations, all the lights that illuminate our homes. There are no limits to decoration: whether figurines, simple motifs, typical colours, garlands and balls, anything goes. So why not try 3D printed Christmas decorations? This way you can create your own personalised decorations that are not necessarily available for purchase. All you need is a 3D printer or a 3D printing service. To give you an idea of the possibilities, we have created a list of different decoration ideas available on the Thingiverse platform and on Cults3D. Let your creativity speak for itself and have a great holiday!
Christmas Tree
Decorating your tree is a typical Christmas custom. Why not accompany it with a miniature version, like the one below for example? This 3D printed Christmas tree is made of plastic, preferably transparent PETG, without filling. This way, you can light it from the inside. In our example, the tree has a diameter of 210 mm and a size of 300 mm, but can be individually adapted to the print volume of your printer.
Christmas cookie cutters
Biscuits are an absolute must at Christmas time. So why not combine tradition, flavour and delicacy? It's possible thanks to 3D printing! All you have to do is imagine the shape you would like to give to your biscuits: a tree, a star, Father Christmas, etc. In our case, we have chosen the traditional Christmas stocking in which all the presents are slipped. Don't hesitate to go to Thingiverse to find different shapes and models.
Tree decorations
As mentioned above, a decorated Christmas tree is a typical custom of the festive season, that's why it is important to find the right decorations – so we had to mention them in our list. If simple Christmas baubles are too "simple" for you or if you just want something different, you will surely like these 3D printed elements. The design of the biscuits will allow you to create gingerbread characters, Christmas socks, snowflakes, stars and much more to decorate your Christmas tree. All you need is a 3D printer, a wooden filament and a white PLA filament.
The Grinch
The Grinch is a hairy, green creature that lives alone in a cave on a mountain and hates Christmas. It's not a Christmas emblem, but it's a classic – the film usually resurfaces on our screens at the end of the year. So why not print a 3D miniature version of this character? You can then paint it to give it its classic colours.
Father Christmas
Father Christmas, a character at the heart of the Christmas traditions in many countries, could not be missed. Whether he leaves presents on the 24th or 25th of December, depending on the culture, he is THE symbol of Christmas that can be found everywhere in houses, streets and shops. We suggest you bring it to life by printing it in 3D! Just like the Grinch, you can paint it in red and white for an even more realistic effect.
The sleigh and its reindeer
What would Father Christmas be without his famous sleigh pulled by his reindeer? It is thanks to this ingenious means of transport that he is able to get around and deposit gifts in every house. So it's no surprise that we include a decoration that reminds us of Tornado, Fury, Comet or Dancer.  This 3D printed Christmas decoration consists of a sleigh and individual reindeer. The picture shows you three reindeer but you can of course make all nine reindeer in the colours of your choice.
A 3D printed star
The star is originally a Christian symbol, representing what guided the shepherds and the Magi to the manger where Jesus was born, in Bethlehem. Today, it is usually found at the top of our Christmas tree or hung in the window, or simply placed on a piece of furniture in the house. We offer you this model to be printed in 3D, in PLA, in different colours and sizes. There are dozens of them on 3D file platforms.
Decorate your windows
Who doesn't like to admire the decorated windows at Christmas time? Or shop windows? Adhesive photos, stickers, glitter, artificial snow, light: everything is good for enhancing the room! We therefore offer you some Christmas decorations printed in 3D to be stuck directly on your windows. By using flexible TPU, you won't have too much trouble creating original objects and placing them on all your windows. You can of course paint your creations once they are out of the 3D printer!
The Christmas Flake
This object is quite playful to make as it is a flake in kit form. You print the whole thing flat and then detach each part of the print to make a nice snowflake. This clever model was created by Ysoft Be3D. If you don't have snow on the D-day, you can print a nice decoration!
The snow globe
The famous snow globe is a decorative element often found in homes. Here it is a real maker's ball because you have to print the base of the snow globe which shows a small village. Then you just have to screw this base on an empty Nutella pot. Finally, you have to add some glitter so that this snowy decoration comes to life. A perfect creation for upcycling made by Vectary.
Did you like these 3D printed Christmas decorations? Let us know in a comment below or on our Facebook and Twitter pages! Sign up for our free weekly Newsletter here, the latest 3D printing news straight to your inbox!