Something Sweet for Easter: 3D Printed Chocolate!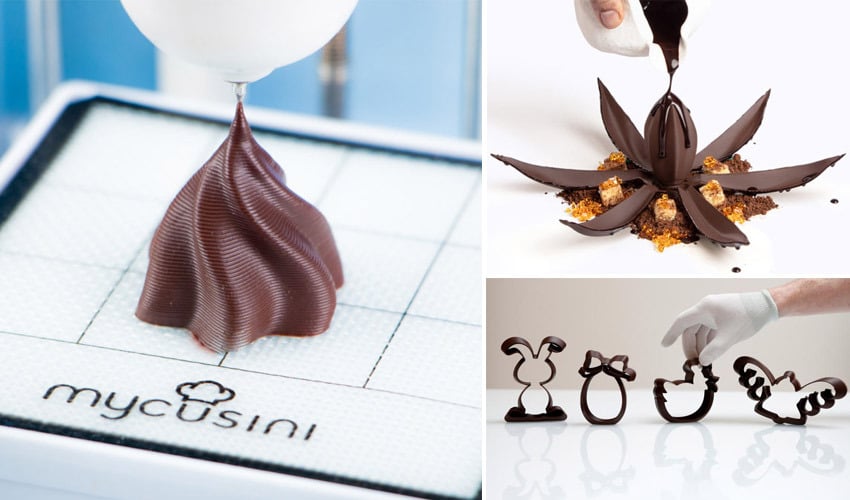 It's almost Easter and with it, its chocolates of all shapes and sizes as well as its always enticing sweets! At 3Dnatives, we love chocolate as much as 3D printing and that's why we are highlighting today the different ways that exist on the market to get 3D printed chocolate. First, there are manufacturers who have developed machines to extrude this sweet treat layer by layer. The solutions have multiplied in recent years and it is even possible to create gravity-defying, incredible structures! The other possibility to have 3D printed chocolate is to buy it directly from a dedicated company. They are indeed some who offer chocolates made using 3D printing, either directly 3D printed or from a 3D printed mold. It is indeed another way to get chocolate: you can design a complex mold – a bell, a rabbit, a fish – and pour your chocolate into it. Whichever method you prefer, you'll be satisfied! Happy Easter to all!
Manufacturers of Chocolate 3D Printers
3Desserts Graphiques
The young French company 3Desserts Graphiques has developed a 3D food printer which is capable of extruding chocolate in all its forms. Called L'impressionnante, the machine is equipped with a piping bag to extrude different doughs and is in the shape of a robotic arm. The solution is CE certified and has been designed for professionals in the food industry – it is not a chocolate 3D printer that would be used in just anybody's kitchen. With the machine, chefs are able to to make many different chocolate decorations.
byFlow
Based in the Netherlands, the company byFlow has developed a chocolate 3D printer, called 3D Chocolate Shaper. It's a more compact machine than its predecessor, much more reminiscent of a desktop FDM 3D printer. What's particularly interesting about byFlow's approach is the online platform it has developed to allow users to access designs and recipes easily and quickly. Any type of chocolate can be used, as the machine is equipped with a temperature control system.
Chocola3D
Chocola3D has been producing and developing 3D food printers since 2016. The company focuses in particular on chocolate 3D printing, where your personal fantasies have no limits. From the Eiffel Tower to faces to refined inscriptions, Chocola3D offers a series of 3D printed chocolate treats with its sweet 3D printers. The Ukrainian 3D printing company offers its customers individual creations, 3D printing training in the food industry and of course the sales of its own 3D printer.
Chocolate3: From Pastry Chef to 3D Printing Expert
Benedikt Daschner is a pastry chef by training who quickly integrated 3D printing into his business, specifically chocolate 3D printing. Having no knowledge of additive manufacturing, he taught himself everything at first; from hardware to software, he read countless books until he was finally able to complete his own 3D printer called "choc mate 2". Since then, he not only supplies his 3D printed chocolates to pastry chefs, but also to restaurants and caterers. In addition, the 31-year-old's chocolate 3D printers are also available for sale.
Choc Edge
Choc Edge is a creative team that focuses on developing and designing chocolate 3D printing solutions. For individuals and businesses alike, they create custom chocolates and much more. Considered the founder of chocolate 3D printing, Choc Edge is working to bring the world's first commercial chocolate 3D printer to market, including their "Choc Creator V2.0 Plus". The teams want to bring their solution to businesses, chocolatiers, bakers and even pastry chefs.
CocoaPress and the Production of 3D Printed Chocolate
Cocoa Press was created in 2014 by its founder, Ellie Weinstein. An engineer by training, she developed and marketed a 3D chocolate printer, among other solutions. Years later, in 2019, she was selected to develop her product and business, which she did successfully. So, she started creating fully customized 3D printed chocolate. Her goal is to offer innovation through her sweets and to foster creativity. The end result? A 3D printer that allows you to customize your chocolates according to your needs. Thanks to CocoaPress, you can design your box online and they will print the rest!
The Digital Patisserie Brings Sweet 3D Creations to Life
La Pâtisserie Numérique offers tools and services to create new sweet treats using 3D printing and all digital manufacturing techniques. The French startup offers solutions to improve the productivity of professionals through additive manufacturing. It has developed Cakewalk, a food extruder compatible with hundreds of FDM printers. Any user can transform his 3D printer into a 3D food printer to make good 3D printed chocolates (but not only!)
MyCusini
In 2014, the MyCusini team of food experts, as well as hardware and software enthusiasts, came together to conquer the world of food 3D printing. Their main idea was to build a chocolate 3D printer for every kitchen. Today, you can buy it for less than 500 euros. The machine is the same size as a coffee machine, which makes it suitable for small kitchens. In addition to selling 3D printers, they also offer various chocolate bars and other sweets.
Buy 3D Printed Chocolate
More Than Shape – The 3D Printing Graduate Project
Have you already heard of More Than Shape? The project is the brainchild of Thibault Baes, a Brussel-based designer along with his partners, including a Michelin-starred chef and a famed chocolatier. Baes uses Print2Taste chocolate 3D printers to realize his formal research that aims to create new taste experiences thanks to 3D printed chocolate. The designer hopes to push food 3D printing past just being used as decoration to harness the genuine properties of the technology. Though unfortunately you cannot currently buy any chocolate on the website, for those interested, Baes offers workshops to create a three-course menu using both traditional techniques and new technologies, including of course 3D printing.
Mona Lisa 3D Studio Offers High Quality Chocolates
According to their website, Mona Lisa 3D Studio is "the first and only studio in the world where we 3D print your creations or designs in real, delicious chocolate at scale." The studio is a spin-off of chocolate manufacturer Barry Callebaut, allowing it to offer customers creations made with the same chocolate couvertures preferred and used by world renowned pastry chefs and chocolatiers. The studio notes by ordering their 3D printed chocolate, customers can reduce lead times to about 12 weeks or less for the entire production process, including designing, prototyping and final chocolate production. Though the company is not offering any Easter collections, one of their most famous pieces is a chocolate egg which, when touched with melted chocolate, transforms into a beautiful flower like creation.
3D Printed Chocolates by Ryan L. Foote
Made in Hong Kong, Chocolates by Ryan L. Foote fuses the old and the new by combining 3D printing technologies with chocolatier techniques to create incredible fractal, geometric and organic "edible art." The chocolates pay homage to both Melbourne and Hong Kong, Ryan L. Foote's two home identities, with flavors from traditional Cantonese deserts and Australian native flora. For a more unique chocolate gift, pick up one of the chocolate boxes, available from HK$390.00 (~USD$49.00).
Sugar Lab Creates 3D Printed Bonbons
Run by self-proclaimed rogue chefs, the Sugar Lab considers itself to be the world's first true digital bakery. Using their own invented culinary 3D printer, they extrude not food paste but rather sugar and water to create unique bonbons for a variety of tastes. And they have now expanded their selection to include chocolate, including choices for Easter. Technically speaking, their solutions are different from others on our list because the chocolates they create are not 3D printed, however the outer casings (made out of sugar and paste) are. Still, be sure to check out some of their festive selections for Easter including the ultra-cute Orange Blossom Egg Bonbons, in the shape of a chick hatching from an egg, made with orange blossom and early grey chocolate. Or, you could go for the fancier version, the Bejeweled Spring Truffles in the shape of Fabergé Eggs and which comes in many different flavors.
Which 3D printed chocolate would you choose for Easter? Let us know in a comment below or on our Linkedin, Facebook, and Twitter pages! Don't forget to sign up for our free weekly Newsletter here, the latest 3D printing news straight to your inbox! You can also find all our videos on our YouTube channel.