Concept Revealed for Carbon Neutral, 'Invisible' 3D Printed Yacht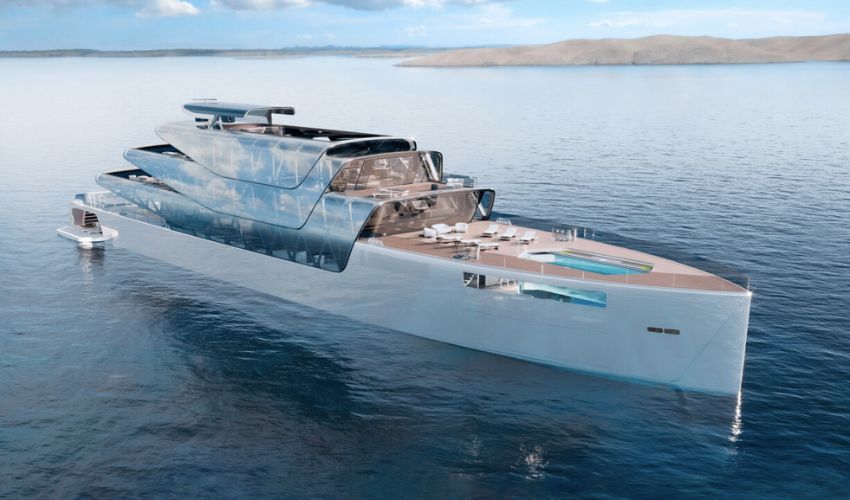 On the scale of luxury, 3D printed products can range from simple jewelry pieces all the way to opulent fashion and high-end motors. Today we are observing the latter end of the scale: Italy-based designer Jozeph Forakis has designed a  88m yacht which can be made with robotic 3D printing. The ship will appear 'invisible' when at sea thanks to mirrored glass. 
According to Forakis, his inspiration came from a Greek island, where he decided to create a yacht 'as close to the sea and nature as possible'. Forakis designed the partially invisible aesthetic to mimic the clouds between the two. The boat, named Pegasus in an allusion to Greek mythology (perhaps a reference to the location of its inception), is a solar electric/hydrogen hybrid which he claims to be carbon neutral in operation. Its construction method, robotic 3D printing, creates a mesh framework including the boat's hull and superstructure. Aside from being visually impressive, the end product is a lightweight yet durable yacht. In terms of sustainability, the ship will use solar energy to convert seawater into hydrogen. The on-board fuel cells will convert this into electricity.
From the outside, the ship has a low, linear hull with a plumb bow. The interior design contains the so-called 'Tree of Life', the centrepiece to the design. It is a testament to the power of mother nature and the nucleus of the hydroponic plants. These provide a dual benefit of fresh food and air purification on board. The base of the tree emerges from a reflecting pool on the lower deck, which the Zen Garden surrounds. The tree extends vertically through all four levels accompanied by a sculptural spiral staircase. The top level of the yacht, with the exclusive access of the owner, has a forward-facing master suite featuring a large private terrace. The forward pool club has an aquarium-style lap pool and expansive horizontal windows that transform into open balconies, port, and starboard.
With offices in Milan and Brooklyn, Forakis' design agency aims to connect physical and digital products with optimum environmental efficiency. The ultimate aim is to make 'humanistic' design solutions. As well as this 3D printed yacht, they have previously designed a 3D printed helicopter in collaboration with Leonardo. They also offer lighting, furniture, and technology products. You can find out more on the company website HERE.
What do you think of this 3D printed superyacht? Let us know in a comment below or on our LinkedIn, Facebook, and Twitter pages! Don't forget to sign up for our free weekly Newsletter here, the latest 3D printing news straight to your inbox! You can also find all our videos on our YouTube channel.
*All photos credit: Jozeph Forakis