3D printed Buttons from Recycled Fishing Nets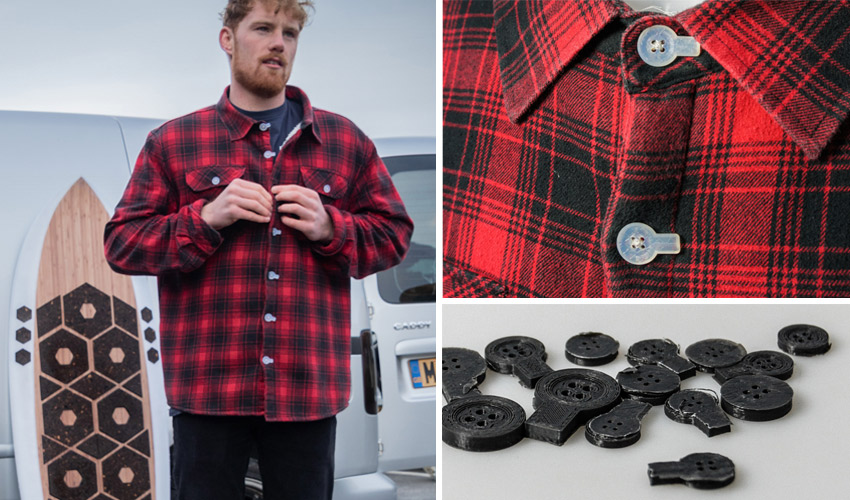 Finisterre is a British brand that designs environmentally friendly clothing and accessories, particularly for surfers. The company has recently initiated a new project around additive manufacturing: why not 3D print the accessories that allow us "to close" our clothes – buttons, zipper pulls, etc.? This ambitious project inspired a collaboration between Fishy Filaments, a company that designs printing filaments from recycled fishing nets, AddiFab and a student from Falmouth University. Together, they developed 3D printed buttons that are more ergonomic and above all more practical: they have a sort of tab that makes it easier to detach them even when your hands are cold or wet.
You might be surprised how much waste buttons generate for our environment. Around 50,000 tons of these small accessories are produced every year, most of them coming directly from China – you can imagine the transport flows that this represents. Moreover, they are often made from Nylon 6, a material that produces almost half a million tons of CO2 each year! Additive manufacturing could help reduce this environmental impact by reducing overproduction and using local materials.
Niall Jones is the student who came up with the design of the button. He explains that he needed a practical shape that could be quickly attached and detached in any situation. So he designed several different models and the one with the small tab proved to be the best one. He explains his approach: "The best way to test the performance of the buttons would be to test them with cold hands. I spent two hours surfing without gloves in December – it was cold for sure. When I got out of the water, I tested several of my models and that's how I found the right one." Once he created the 3D model and prepared his STL file, Fishy Filaments provided him with the material he needed.
The company designs plastic granules from fishing nets thrown into Newlyn harbor, 60 tones a year. These granules are transformed into printing filaments or used for injection molding. For this project, the manufacturer supplied Marine Nylon®, a nylon-based filament. Niall Jones explains: "Fishy Filaments nylon has only 2-3% of the environmental impact of virgin nylon. In other words, for every virgin nylon button made, we could make 46 buttons with Fishy Filaments nylon before we reach the same environmental footprint. 1 virgin nylon button versus 5 Fishy Filaments buttons for a shirt." The material choice is indeed promising, however, after having 3D printed several buttons, the student realized that the finish was not neat enough to be a viable solution for a professional clothing line – note that a button is already small enough on its own, and now it needed to have intricate details of the brand added to it.
The partners therefore turned to injection molding, once again using the plastic granules offered by Fishy Filaments. The mold is printed in 3D, allowing to keep the unique shape of the tab. These small accessories are already all the rage among consumers, who find them more practical and easy to attach. You can find more about this project HERE.
What do you think of these 3D printed buttons? Let us know in a comment below or on our Facebook and Twitter page! Don't forget to sign up for our free weekly Newsletter, with all the latest news in 3D printing delivered straight to your inbox!