3D Printed Bus Shelters are being Created in China
Published on January 4, 2018 by
Jamie D.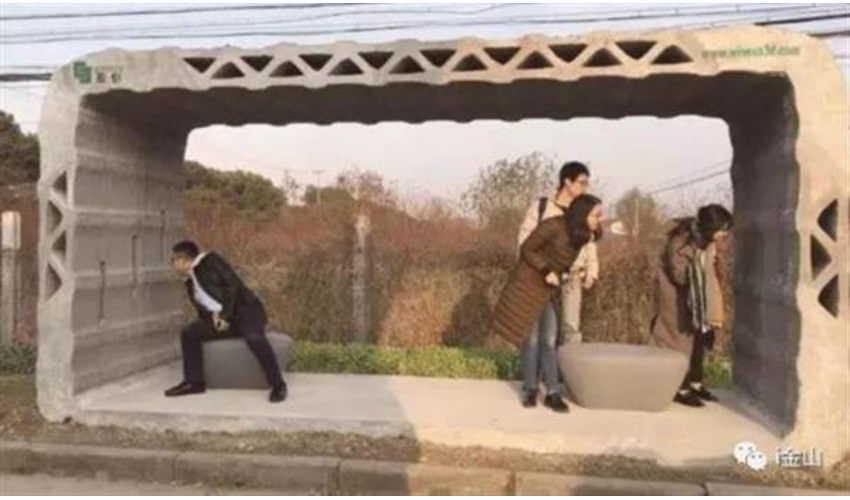 Additive manufacturing and 3D printing are currently exploding with popularity and usage in a variety of sectors. Since last year, 3D printing has expanded into producing metal parts, creating whole houses within 24 hours, and carving its niche in manufacturing. This latest update however is very different, 3D printed bus shelters are being created in China with chairs and desks. We found this project very exciting as it shows how 3D printing is being used in infrastructure.
WinSun: 3D printed bus stop
Chinese company WinSun Construction recently 3D printed this bus shelter in Fengjing, Jinshan, China. This unusual looking bus shelter was 3D printed using recycled waste material, setting a good example for saving the environment. In addition, the 3D printed bus shelter is able to support more than 6 people at a time who may be waiting for a bus, or just sheltering from the rain.
Total time to print: just one night
Moreover, what's most impressive about this Chinese bus shelter is that it was 3D printed in just one night. However, it wasn't printed on location – it was printed elsewhere and shipped there. WinSun are experimenting with the design, and intend to upgrade these shelters to include more features than just desks and chairs. Furthermore, WinSun have previously 3D printed a restroom with the same environmentally friendly materials, and intend to show that whole small towns can be created using 3D printing and additive manufacturing.
You can view the 3D printed bus shelter in more detail in this video below:
What do you think of these 3D printed bus stops? Let us know in a comment below or on our Facebook and Twitter pages! Sign up for our free weekly Newsletter, all the latest news in 3D printing straight to your inbox!