XTreeE will 3D print a bridge in Paris for 2024 Olympic Games
Published on October 16, 2020 by
Aysha M.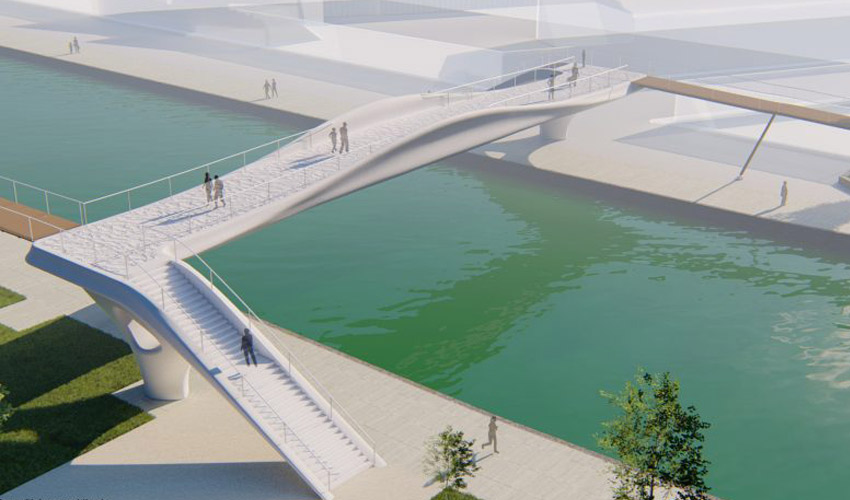 The latest interesting news related to 3D printing in the construction sector: ahead of the 2024 Olympic Games, Plaine Commune Grand Paris has awarded the design and construction of a 40-meter long footbridge to the Freyssinet / Lavigne & Cheron Architects / Quadric / XtreeE / LafargeHolcim consortium: its load-bearing structure, or deck, will be entirely 3D printed with concrete. The project should be finalized for the 2024 Olympic Games. This 3D printed bridge will be a first for the French capital.
It seems like additive manufacturing keeps spreading to more and more cities: we immediately think of Amsterdam with its first 3D printed bridge or the innovative bridge project by MX3D, but also Dubai, which plans to 3D print 25% of its buildings by 2030. In the US, companies like Mighty Buildings are 3D printing houses with unique proprietary concrete, and ICON has 3D printed a community in Mexico… The reason the 3D printing technology is becoming increasingly popular is because it brings greater design freedom, significant reduction in the materials used, and lower cost. XtreeE understood this very quickly, and thus developed a process to design concrete structures that are more durable, more complex and more respectful of our environment. The company's objective is to reduce concrete consumption by 60% compared to traditionally built structures.
In an interview the company gave us a few years earlier, they explained: "Today, concrete is the second most consumed material on Earth, after water. In the last three years, China has produced more concrete than the United States during the entire 20th century. It is of course unthinkable to stop building with concrete, it is a great material as its formulation can be adapted to the properties required. This is where 3D printing comes into play: with increased geometric control, we can build optimized shapes to limit the quantity of materials to be used. Shapes that it was absolutely impossible to obtain on such a large scale before, for technological as well as financial reasons. Today, it is possible to manufacture with low-cost processes, architectural elements that are of real environmental interest".
XtreeE will therefore 3D print the first footbridge in Paris, and through collaboration with Freyssinet, Lavigne & Cheron Architects, Quadric and LafargeHolcim, the complementary technical expertise will be combined and multiplied. The plan is to 3D print the entire bridge deck, i.e. the entire load-bearing structure, with a material developed by LafargeHolcim. For the moment, few details have been revealed. As for the location, we know that the footbridge will be in Aubervilliers, most likely it will be above the Lucien Lefranc wharf, next to the Pleyel district, since it was chosen to host the Olympic and Paralympic Village for the 2024 Games.
The exact delivery date is not known, probably sometime in 2023. In any case, we look forward to learning more about this innovative project and will not fail to keep you informed of the progress of the construction! In the meantime, you can visit the XtreeE official website to learn more about their technology and materials developed.
What do you think about the 3D printed bridge in Paris? Let us know in a comment down below or on our Facebook and Twitter pages! Don't forget to sign up for our free weekly Newsletter, with all the latest news in 3D printing delivered straight to your inbox!