The Most Impressive 3D-Printed Bridge Projects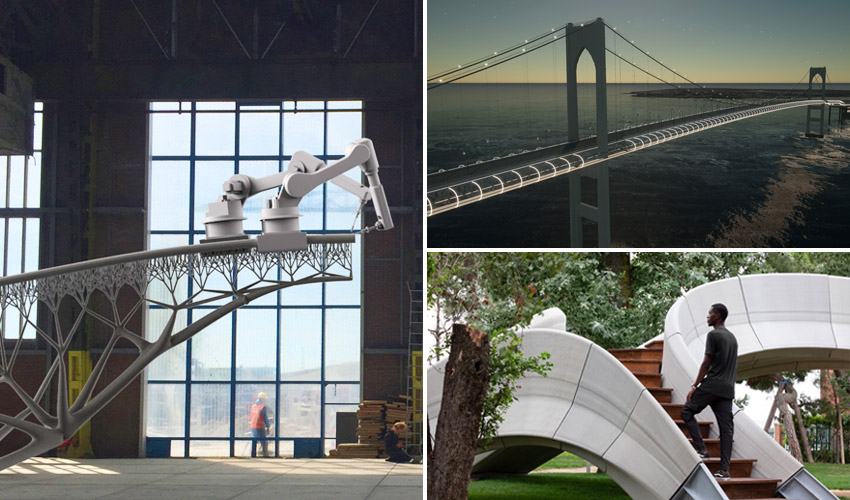 In the construction industry, additive manufacturing is being widely used today. Whether it's to build houses, schools, or even bridges, 3D technology offers great benefits. In terms of structures and walkways of urban architecture, 3D-printed bridge projects have multiplied in recent years. While the first 3D-printed bridges were created back in 2016, many countries are now using additive manufacturing to build these connecting structures. To learn more about these sorts of projects and how additive manufacturing facilitates the construction of bridges, we have compiled a list of some of the most preeminent initiatives of recent years—whether they are completed or currently still under construction.
A Walkway Made With 60% Less Material
Although it seems difficult to believe, this project is a reality. Specifically, it was Ghent University that carried out the initiative to create a walkway through additive manufacturing that required less material and had a reduced environmental impact. On the project, Ghent University worked with Vertico and Technion – Israel Institute of Technology to design the pedestrian bridge, which is not very impressive for its size, but it is impressive in terms of aesthetics, and especially striking for being a bridge with optimized topology. For this, they used their concrete 3D printer that offers a printing volume of 4.5 x 2 x 2.5 m, with a material specially designed for this purpose. In this way, the company aims to reduce CO2 emissions and increase productivity in the construction sector.
MX3D Bridge in Amsterdam 
Debuted in July 2021, this 3D-printed metal bridge was installed in the Red Light District of Amsterdam. Dutch company MX3D printed the bridge over time between 2017 and 2018 using WAAM (Wire Arc Additive Manufacturing) technology. The company relied on generative design which is an iterative design process that creates multiple design outputs in order to meet predetermined criteria, producing outputs from sounds, images, and CAD models.  It is a process that is commonly used in fields such as art, architecture, and product design. In addition to being aesthetically unique, this bridge is equipped with sensors that records data such as the behavior of crowds, and monitors any deformation of the bridge, its load, vibrations, and movement. This information that is collected will allow for a 'digital twin' to be created, representing the bridge live, enabling the project managers to understand how the bridge evolves.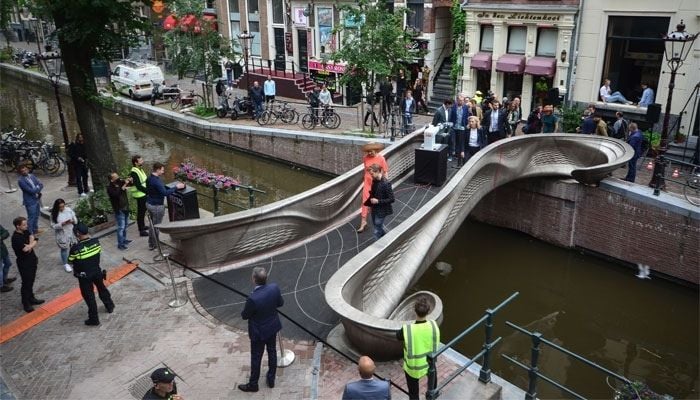 The Technological University of Eindhoven's Collaboration
Acclaimed architect Michiel van der Kley, along with Summum Engineering and Witteveen+Bos collaborated with the Technological University of Eindhoven (TU/e) on the design of the 3D model for the longest 3D-printed bridges built for cyclists. The bridge was manufactured in the 3D printing center of Saint-Gobain Weber Beamix, which uses several BAM robotic arms. The 29-meter-long bridge was designed with round and natural shapes to blend in with its outdoor placement.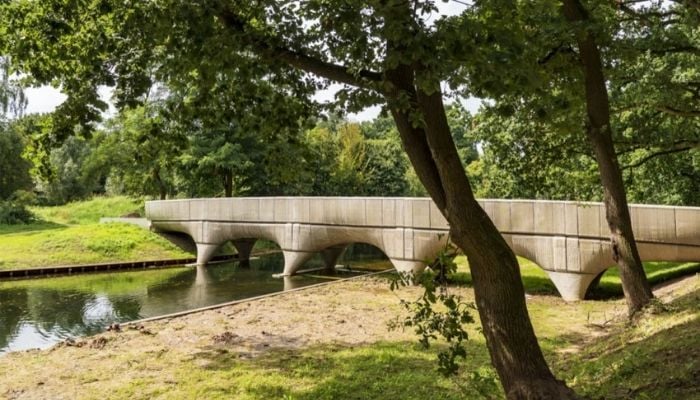 Acciona 3D-Prints a Bridge in Madrid
We could say that these were the first 3D-printed bridges installed in the world. Located in Alcobendas, in Madrid, the concrete structure was created by the Spanish company Acciona, which works with several business lines, including energy, infrastructure, and for a few years, additive manufacturing. Although Acciona was in charge of the 3D printing process, the concrete pedestrian bridge was designed by the Institute of Advanced Architecture of Catalonia. Regarding the more technical aspects, we can highlight that the bridge is 12 meters long and 1.75 meters wide, which represents a milestone in civil engineering in the Iberian country. In addition, its design has an organic and biomimetic architecture, resembling forms of nature.
The Shanghai Digital Future Project
China is one of the first countries to embark on building bridges using additive manufacturing. Among the first constructions made with this technology are the two bridges printed in 3D by the School of Architecture and Urbanism of the University of Shanghai. As part of the "Shanghai Digital Future" project, the two structures aimed to demonstrate that new technologies can revolutionize many areas, such as the architecture and construction sectors. Created from plastic, the two bridges measure 4 and 11 meters respectively. To build the two structures, project managers claim they used a Kuka robotic arm and a custom 3D printing module. This required a total of 360 hours of additive manufacturing.
The First 3D-Printed Bridge in the Netherlands
In 2017, the Eindhoven University of Technology (TUE) and the company BAM Infra designed the first 3D printed concrete bridge in the Netherlands. Made up of 800 layers of concrete, the 8-meter long and 3.5-meter wide bridge is located over a ditch and thus connects two roads. As in many situations, TUE and BAM Infra claim to have minimized, through 3D printing, the amount of concrete needed to build such a structure. Located in the town of Gemert, the bridge was built in just 3 months.
Facilitating the Development of 3D-Printed Bridges
Together with Zaha Hadid Architects, the ETH Zurich architects succeeded in designing the Striatus pedestrian bridge, which was manufactured using a unique 3D printing process in cooperation with Incremental3D. Striatus is a 12 x 16-meter long unshielded bridge that was installed in a park in Venice. It is part of the International Architecture Exhibition and consists of several individual pieces, which allow for flexible and easier assembly and disassembly. With the technology used, the concrete is not applied layer by layer horizontally, as usual, but at certain angles, which ensures that the bridge does not need any extra reinforcement. Visitors have the opportunity to cross the Venice Bridge until November 21, 2021.
Shanghai's Longest Concrete Bridge
An impressive 176 units of cement support the longest 3D-printed concrete bridge in China (originally the World before being overtaken by a project in the Netherlands), allowing pedestrians to cross the Shanghai Canal. The bridge was designed by a team led by Professor Wu Weiguo from Tsinghua University and made using additive manufacturing next to Wisdome Bay. Inspired by the historic Anji Bridge in Zhaozhou (China), the pedestrian structure in Shanghai is intended to be representative of the potential of 3D technology for engineering projects of all kinds. Two robotic arms were used for the construction, creating the concrete arch in 450 hours. The team claims that it was possible to save two-thirds of the implementation costs compared to conventional manufacturing processes.
A 3D-Printed Retractable Bridge
Last summer, China unveiled another bridge designed in part thanks to additive manufacturing, this time with a very special feature. It was designed to retract at any time and is controlled by a simple button connected via Bluetooth. The entire bridge has not been 3D printed, it is simply made up of triangular panels custom made by additive manufacturing in just 3 days. These 36 elements were made with a composite material from recycled materials. The bridge is 9 meters long and 1.5 meters wide and was installed in Wisdom Bay Park.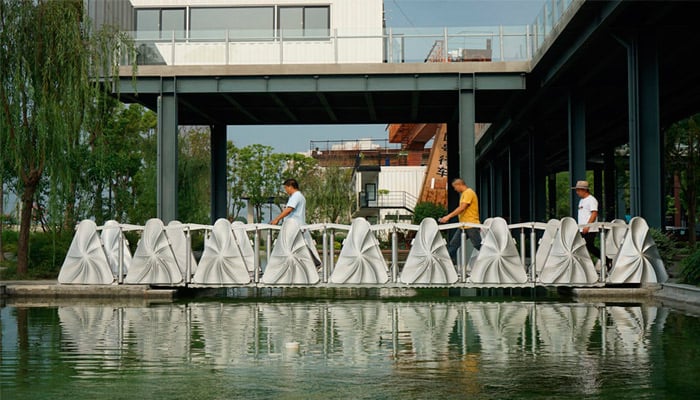 3D-Printed Bridges That are Still in Development
A Gateway to the 2024 Olympics
As you know, the city of Paris will host the next Olympic Games in 2024. The French capital is already preparing to receive athletes and athletes, as well as its organization so that all events take place in the best conditions. But it is not only about the events, it is also necessary to organize the spaces to accommodate all the visitors who will come to support their favorite team. It is in this context that a large group of companies (Freyssinet, Lavigne & Cheron Architects, Quadric, XtreeE, LafargeHolcim) will create a 40-meter long walkway, the entire deck of which will be 3D printed. It must be installed in the Pleyel district, chosen to host the Olympic and Paralympic Village.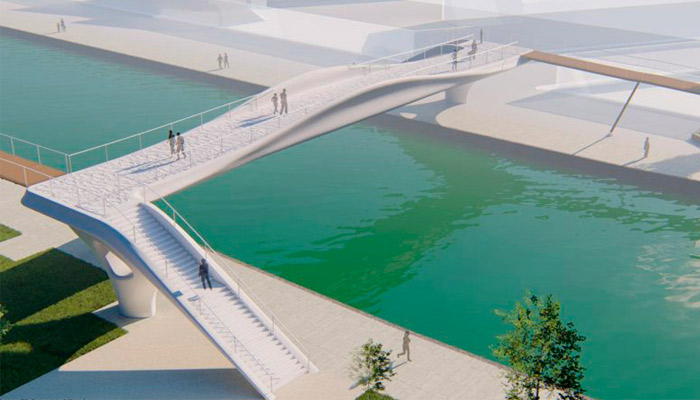 Marine Corps Combat Testing 3D-Printed Bridges
In 2019, the United States Marine Corps had a training program for special divisions on the field operation of an Automated Construction of Expeditionary Structures (ACES) printer. While the Marine Corps is still experimenting with the use of large concrete and aluminum printer systems, they plan to be able to deploy these types of 3D printers that will allow field engineers to create custom-made bridge structures for crossing any land gap. "The only restraints right now are working out intellectual property deals with industry.", explained Captain Matthew Friedell, the team leader of the Advanced Manufacturing Operations Cell in the Marine Corps Rapid Sustainment Office. Within the next few years or so, he predicts the additive manufacturing industry and the U.S. Department of Defense will have worked out deals for using proprietary 3D technology.
A Pedestrian 3D-Printed Bridge in Rotterdam
A collaboration between Royal HaskoningDVC, CEAD and Covestro has resulted in the first lightweight 3D printed pedestrian bridge prototype, which was made using a glass-filled thermoplastic composite material. The companies claim that they chose the material as fiber-reinforced polymer bridges are known for having a longer lifetime expectancy and lower life cycle costs compared to steel. They also note that apparently this is the first time that someone has used 3D printing technology to make a bridge made out of large-scale continuous fiber reinforced thermoplastic parts. For the technology, they used fused granulate fabrication and Arnite AM8527 pellet material from Covestro. They name a number of benefits to the bridge including having a reduce construction time, increased sustainability, reduced maintenance burden and increased lifespan. Currently, the bridge only exists as a prototype, however ultimately it will be installed in Kralingse Bos park in Rotterdam.
A Suspension Bridge Level with a 3D-Printed Enclosure
The Newport Bridge was built in 1969 to connect the towns of Jamestown and Newport in Rhode Island. At the time of its creation, it was hailed as a testament to technological progress thanks to its 2.1-mile length and height of 400 feet (for Navy aircraft carriers to pass underneath). However, in 2019, after being named the Claiborne Pell Bridge, some realized that it might be time to update the bridge. Namely, Senator Sheldon Whitehouse and other government leaders hoped to reroute access to the more economically disadvantaged North End neighborhood in Newport as well as make the bridge more accessible to pedestrians and bikers. Students from Rhode Island School of Design (RISD)'s Interior Architecture department recently proposed a possible solution. In August 2021, they showed a 3D experience of their vision, a suspended lower level for the bridge. Though they have not shown how they plant to make the structure, they have already noted that they will be using 3D printing to create an enclosed structure out of carbon fiber which would protect the lower level from high winds.
Plastic-based 3D-Printed Bridge
In 2018, the Chinese construction company Shanghai Mechanized Construction Group Co (SMCC) and the 3D filament manufacturer Polymaker teamed up to develop an original 3D printed bridge. Created based on plastic and intended for pedestrians, the bridge measures 15.25 meters long, 3.8 meters wide and weighs no less than 5,800 kilos. To achieve this, the two companies said they obviously used an XXL printer, which would have a print volume of 24 meters long by 4 meters wide. Regarding the material used, they claim to use ASA, an acronym for acrylonitrile styrene acrylate, loaded with fiberglass.
What do you think of these 3D-printed bridges? Let us know in a comment below or on our Linkedin, Facebook, and Twitter pages! Don't forget to sign up for our free weekly Newsletter here, the latest 3D printing news straight to your inbox! You can also find all our videos on our YouTube channel.