HP and SmileDirectClub partner up to offer 3D printed mouth molds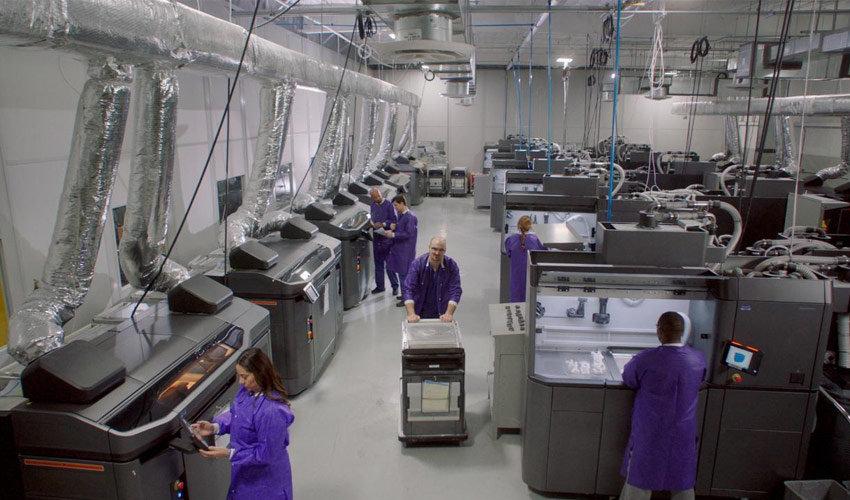 At Rapid +TCT in Detroit, HP announced a new partnership with SmileDirectClub, an American manufacturer of braces. The company will use 49 HP Multi Jet Fusion 3D printing solutions to create more than 50,000 molds per day. An impressive production volume as it means that SmileDirectClub will design up to 20 million custom-made 3D printed molds in a single year.
A recent study conducted by Transparency Market Research (TMR) showed an annual growth rate of 17.5% in 3D dental printing until 2025, proof that the technology is doing well in a sector that seeks to mass-customise while optimising lead times and manufacturing costs. The collaboration between SmileDirectClub and HP is following this trend: the American company should now be able to produce custom-made braces in large volumes. It could also provide a solution to the share of Americans (79%) who need orthodontic care but cannot access it because of their very high costs.
SmileDirectClub, a personalised digital orthodontic solution
At the moment, the solution developed by SmileDirectClub has met the expectations of 500,000 people. The principle is quite simple: the company relies on a digital network of dentists and orthodontists licensed by the State. They prescribe treatment plans for tooth straightening and manage all aspects of clinical care. They take charge from diagnosis to end treatment from the moment they receive the digital model of the patient's teeth (a step that is done directly at home or in a brand store). Everything is then done via a digital platform. Alex Fenkell, co-founder of SmileDirectClub, continues: "SmileDirectClub is digitally transforming the traditional orthodontic industry, making it more personal, affordable and practical to enable millions of consumers to achieve a smile they will love. HP's revolutionary 3D printing and data intelligence platform allows us to respond to this upheaval, pushing productivity, quality and manufacturing predictability to unprecedented levels, while allowing us to save money for consumers seeking treatment through our remote dentistry platform."
The 49 machines are running continuously and SmileDirectClub says it will be able to produce up to 20 million moulds per year in order to address a wider market. They are betting on industrial production that is also sustainable: the two partners explain that they are committed to recycling excess material and moulds that are not needed anymore to transform them into granules for injection moulding.
Christoph Schell, Head of 3D printing and digital manufacturing at HP, concludes: "SmileDirectClub and HP are reinventing the future of orthodontics by pushing the boundaries of personalised 3D mass production and democratising access to high quality dental care for millions of people. Through this collaboration, HP is helping SmileDirectClub accelerate its growth, opening a new era of personalised consumer experiences made possible by industrial 3D printing and digital manufacturingS." Find more information HERE.
What do you think of HP and SmileDirectClub's plans?  Let us know in a comment below or on our Facebook and Twitter pages! Don't forget to sign up for our free weekly Newsletter, with all the latest news in 3D printing delivered straight to your inbox!