Navigating the Best Examples of 3D Printed Boats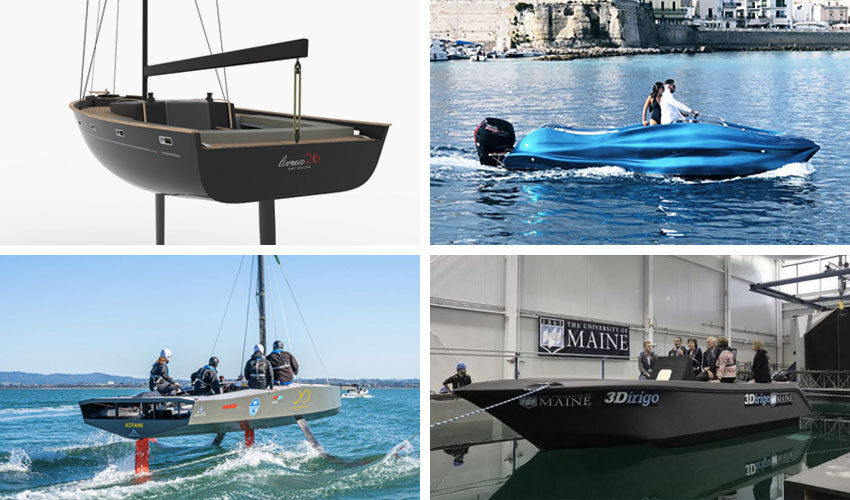 Additive manufacturing is now a production method used everywhere, whether on Earth, in the air, in space or even underwater. Some players in the maritime sector are turning to 3D technologies to design components for their boats, spare parts for submarines and even components of currents turbines. We won't go into these initiatives today, but we will focus on 3D printed boats: whether they are fully or partially 3D printed, more and more of them are incorporating additive manufacturing. From bow to stern, discover how 3D technologies are impacting the construction of our boats through some innovative applications.
The world's largest 3D printed boat
In September 2019, the University of Maine's Advanced Structures and Composites Center made headlines when it announced that it had made the world's largest 3D printed boat. The 3Dirigo was printed in 72 hours by the world's largest thermoplastic 3D printer and measures 25' (7.62m) long and weighs 5,000lbs (2,268kg). Beyond holding the Guinness World Record for largest 3D printed boat, it also holds a record for being the world's largest solid 3D printed item. Though the boat will not actually be used, it was tested in a pool at the Alfond 22 Ocean Engineering Laboratory test site, with U.S. senators as well as U.S. Representative from Maine, boarding the boat for a test ride. The project is part of a partnership with the U.S. Department of Energy's Oak Ridge National Laboratory in Tennessee (ORNL) to develop a large-format AM program based on 3D printing materials that contain wood fiber.
MAMBO, a functional 3D printed fiberglass boat
Unveiled in 2019 during the FormNext international trade show, the MAMBO boat was designed by Moi Composites, in collaboration with Autodesk, Catmarine, Micad and Owens Corning. It is 12'4″ (6.5 meters) long, 8'2″ (2.5 meters) wide and weighs about 1763.7lbs (800 kg). The peculiarity of the project is that it turned out to be the first functional 3D printed fiberglass boat to sail in Italian waters during the Genoa boat show. For its development, the company relied on additive manufacturing technology with continuous fiber composite materials. The process involved two robots that fabricated the boat's components to be assembled. This system allows the creation of much lighter, yet strong and durable parts, limiting material waste and without the need for molds – a successful example of the possibilities of 3D printing in the maritime sector!
Europe's first seaworthy 3D-printed boat
A collaboration between RISE (Research Institute of Sweden) and Cipax, the owner of the boat company Pioner, resulted in Europe's first seaworthy 3D-printed boat to be manufactured in one piece. The Pioner 14 Active Dark Line model was produced layer by layer from a plastic and glass fiber mixture using ABB robotic arms. In order for customers, such as the police or the military, to be equipped with the 3D printed boats in the future, it is still necessary to compensate for the excessive material density with floating hulls. If this goal is achieved, nothing should stand in the way of commercialization of the model.
3D printing the AC9F
The New Zealand company Yachting Developments has been building boats for a few years now, particularly with composite materials. It has developed a branch dedicated to additive manufacturing in order to accelerate the production of its ships. One of its latest projects was to 3D print all the tooling needed to build the AC9F, a boat that took part in the 36th edition of the America's Cup, which took place from March 10 to 21. Thanks to 3D printing, the teams were able to drastically reduce the manufacturing time of the final boat.
The One Minute Boat project
Every minute, no less than 20 tons of plastic waste is dumped into the oceans. Despite the fact that they are very harmful to marine life, millions of plastic bottles are thrown into the sea every day. That's why Searious Business, a company that specializes in the fight against plastic pollution, has developed the "One Minute Boat" project, named after the data mentioned above. The sailboat, printed in 3D, will be built from 20,000 kg of PET plastic recovered from discarded plastic bottles. In order to obtain a model of the project, Searious Business collaborated with the company Lay3rs, which 3D printed a replica of the boat with recycled PET. An initiative that proves that additive manufacturing also has a role to play in the fight against ocean pollution.
The world's first autonomous 3D printed boats
Roboat is the central focus of a five-year research project conducted by the Amsterdam Institute for Advanced Metropolitan Solutions and MIT's Computer Science and Artificial Intelligence Laboratory (CSAIL). The institutes intend to manufacture the world's first (3D printed) fleet of autonomous floating vessels. These will rely on self-driving technology set to change cities and their waterways through automation. Autonomous platforms will be integrated to form floating bridges and stages, collect waste, deliver goods, and transport people, all while collecting data about the city.
A 3D-printed version of the Livrea26
The next boat on our list is the Livrea26, prototyped by CRP Group, an industry group specializing in additive manufacturing and rapid prototyping, among other things. The inspiration for the 3D project, which is the result of a collaboration with Livrea Yacht Italia, comes from the traditional fishing boats on the Italian island of Pantelleria. Together, the partners aim to contribute to the development of innovative materials for boat building, with the goal of revolutionizing watercraft construction methods and designs. The 3D-printed version of the Livrea26, which has a scale of 1:14, is made of Windform materials. Thanks to additive manufacturing and Windform materials, the boat was built in just a few days, maintaining the most complex de-tails and strong aesthetics.
Thermwood's 3D printed boat hull
Last year, Thermwood, a company specializing large format additive manufacturing solutions, used 3D printing to manufacture a hull mold for a 51-foot-long yacht with carbon fiber reinforced ABS. In order to do so, the company used its smallest 3D printer, the LSAM MT, which possesses a print volume of 10 x 10 feet. Thermwood then 3D printed four parts taking 65.5 hours (just under 3 days), weighing a total of 4,012 pounds (about the same as a hippo), which it later bolted together to form the whole boat hull.
A 3D printed Kayak
Our final boat is not a prototype, nor a miniature but rather a fully functional kayak and the first of its kind. The genius behind this invention is Jim Smith of Grass Roots Engineering. He was able to create a kayak that is 5 meters long, 0.5 meters wide, and weighs about 30 kilograms, using 28 different ABS plastics. Other than that, Jim used only screws, threaded inserts and some silicone sealant. To make his project a reality, the 3D Systems engineer even created a custom, large-scale 3D printer. One thing's for sure: no challenge could stop him from this innovation, and we can't wait to see if more kayaks are 3D printed in the future.
What do you think about these 3D printed boats? Let us know in a comment below or on our Linkedin, Facebook and Twitter pages! Sign up for our free weekly Newsletter here, the latest 3D printing news straight to your inbox!