Navigating the Best Examples of 3D Printed Boats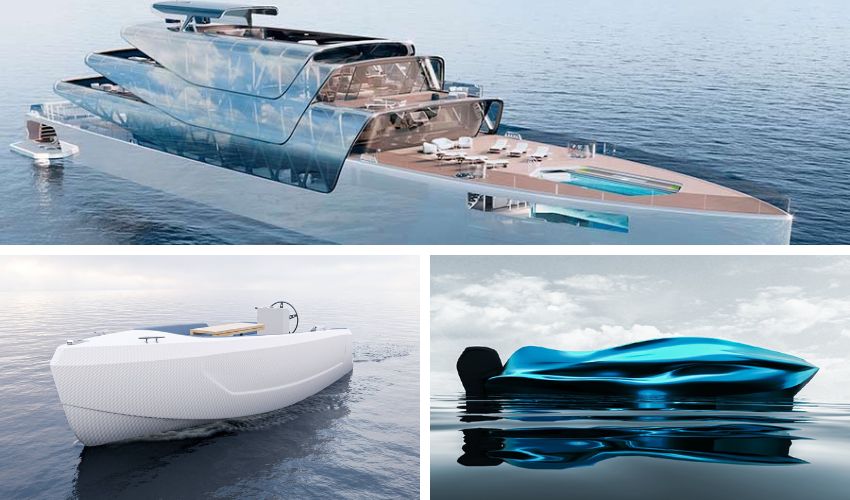 Additive manufacturing is now a production method used everywhere, whether on Earth, in the air, in space or even underwater. Notably, more and more players in the maritime sector are turning to 3D technologies to design parts for their boats, spare parts for submarines and even components of currents turbines. But today we want to focus on something even more extraordinary. Increasingly users are creating fully 3D printed boats. From bow to stern, discover how 3D technologies are impacting the construction of boats through these innovative applications.
UMaine and the Largest Boat to Be 3D Printed
In 2019, the University of Maine unveiled the 3Dirigo, the largest boat to ever be fully 3D printed. In 2022, they surpassed their own record when they printed two new boats for the US Marines, one of which measured twice as large as the original 25-foot, 5000 lbs patrol boat. Though exact information about both boats (including images) is lacking due to national security concerns, what we do know is that they are logistics vessels made for the Department of Defense and which are capable of transporting two shipping containers and a Marine rifle squad with three days of supplies, an astonishing milestone in composite manufacturing. The boats were also made using polymeric composites and the world's largest polymer 3D printer, which UMaine commissioned in 2019 and which also made the 3Dirigo. 
MAMBO, a Functional 3D Printed Fiberglass Boat
Unveiled in 2019 during Formnext, the MAMBO boat was designed by Moi Composites, in collaboration with Autodesk, Catmarine, Micad and Owens Corning. It is 12'4″ (6.5 meters) long, 8'2″ (2.5 meters) wide and weighs about 1763.7 lbs (800 kg). The peculiarity of the project is that it turned out to be the first functional 3D printed fiberglass boat to sail in Italian waters during the Genoa boat show. For its development, the company relied on additive manufacturing technology with continuous fiber composite materials. The process involved two robots that fabricated the boat's components to be assembled. This system allows the creation of much lighter, yet strong and durable parts, limiting material waste and without the need for molds – a successful example of the possibilities of 3D printing in the maritime sector!
Europe's First Seaworthy 3D Printed Boat
A collaboration between RISE (Research Institute of Sweden) and Cipax, the owner of the boat company Pioner, resulted in Europe's first seaworthy 3D-printed boat to be manufactured in one piece. The Pioner 14 Active Dark Line model was produced layer by layer from a plastic and glass fiber mixture using ABB robotic arms. In order for customers, such as the police or the military, to be equipped with the 3D printed boats in the future, it is still necessary to compensate for the excessive material density with floating hulls. If this goal is achieved, nothing should stand in the way of commercialization of the model.
3D Printing the AC9F
The New Zealand company Yachting Developments has been building boats for a few years now, particularly with composite materials. It has developed a branch dedicated to additive manufacturing in order to accelerate the production of its ships. One of its latest projects was to 3D print all the tooling needed to build the AC9F, a boat that took part in the 36th edition of the America's Cup, which took place from March 10 to 21. Thanks to 3D printing, the teams were able to drastically reduce the manufacturing time of the final boat.
Tanaruz Boats Focuses on Sustainability on the Water
Tanaruz is a Dutch company that manufactures 3D printed boats from polymers with a focus particularly on the idea of a circular economy. This means that boats that have reached the end of their useful life can be shredded and the material used to make new boats. Customers can select their own boat from a handful of models on an app, design and customize it according to their wishes. The ecological idea accompanies the entire production process. The original material comes from industry and is then reprocessed for the production of the boats. The material used is recycled polypropylene (PP) with 30% glass fibers. This combination of materials impresses with its mechanical properties and ensures the longevity of the boats. To reduce manufacturing time, Tanaruz relies on 3D printing. The raw material is applied by a robot with an extruder to create the customer's desired design. 3D printing offers numerous advantages in this step. In addition to saving time and money, it also saves energy and resources, which goes hand in hand with the company's sustainability principles. Moreover, individual customer requests and creative designs can be effortlessly implemented in 3D printing. The boats are equipped with an electric motor after printing. They are around 6.5 meters long in total and offer space for 3 to 7 people.
Pegasus 88m – The First 3D-Printed Superyacht
The Pegasus 88m is a 3D-printed superyacht that is not just carbon-neutral but also can be considered to be 'invisible.' The idea for this impressive yacht came to the designer Jozeph Forakis on the island of Koufonissi. He wanted to create a yacht that would perfectly fit into the image of the surroundings. The yacht should float like clouds above the water and be invisible in the overall picture. The exterior design of the vessel thus resembles the natural colors of the water, and nature also plays a major role in the interior design. Notably, the Tree of Life comprises four floors and is placed in the middle of a wellness oasis. An integrated garden on board also provides fresh air and fresh food and underlines the prevailing idea of unity between man, machine and nature. The designer pursues the aspect of invisibility not only visually, but also ecologically. Pegasus 88m is powered by solar energy and does not emit any harmful emissions. In terms of manufacturing, the designer was also concerned to focus on sustainable production. A 3D printing robot was thus used for the basic framework, as additive manufacturing requires much less energy, time and resources.
The Autonomous Ferry Designed for the 2024 Olympic Games in Paris
Another type of 3D-printed boat is the autonomous ferry that is to be put into service to facilitate public transport on the Seine during the 2024 Olympic Games. This project comes from a collaboration between Holland Shipyards Group, Sequana Développement and Roboat, who won the call for tenders issued by Voies Navigables de France in December 2022. The aim of the project is to relieve congestion on the roads and on public transport, while reducing CO2 emissions. The ferry will measure 9 meters by 3.90 meters making it the world's largest 3D-printed autonomous ferry. Its hull was built using additive manufacturing from recycled materials. Autonomous and stylish, it features an electric propulsion system. Moreover, docking and loading will be automated.
Hydra, the First-Ever, 3D-Printed Unmanned Ship Prototype
The UAE has made great strides in additive manufacturing in the maritime sector this year by 3D printing the first ever unmanned ship prototype. Abu Dhabi's marine equipment manufacturer, Al Seer Marine, unveiled 'Hydra', a pioneering 3D printed unmanned surface vessel (USV) prototype which was presented at the NAVDEX 2023 exhibition. This 5-meter-long, 350 kg drone ship marks a significant leap in 3D printing innovation. Collaborating with Dutch 3D printer manufacturers CEAD, Al Seer Marine uses AM Flexbot technology for large-scale 3D printing. While specific components weren't detailed, the rapid design and construction of Hydra within five days showcased 3D printing's efficiency. Al Seer Marine plans to further integrate CEAD's system and print additional parts for the vessel, including an integrated mast and electric motors. The company also hints at an upcoming lighter unmanned drone boat model, further exemplifying the potential of 3D printing in marine technology.
A 3D Printed Sailboat From Caracol
Italian manufacturer Caracol is becoming increasingly known in the 3D printing industry for its large-format additive manufacturing solutions as well as its commitment to sustainability. And both of these are at the core of one particular project from the company: the 3D printed sailboat Beluga. Made in partnership with NexChem and using Caracol's proprietary robotic additive manufacturing system, Beluga's hull was printed in one piece using recycled PP with 30% glass fiber for strength. The company points to the sailboat as an example of the benefits of a circular economy as well as proof that upcycled materials can be used for advanced applications. Moreover, the company notes that the 3D printed sailing boat is a symbol for new beginnings, restarting, and exploration.
Sustainable Sloops From IMPACD Boats
The 3D printed, sloop-type boats from IMPACD Boats, based in Friesland, the country's largest province, are made from recycled materials. This means that IMPACD Boats' boats are themselves recyclable. Indeed, the company says its boats are 74% more sustainable than standard sloops, according to a study by Delft University of Technology. The boats are powered by an electric motor. IMPACD Boats offers several sloop models, from the 450 Limited, which has a Mercury Avatar 7.5e outboard motor, can carry up to 5 people and is available in only 100 units, to the IMPA CD 635, presented as a more traditional shape and designed to carry 8 people, via the sportier IMPCD 550 and the IMPACD 570, also suitable for carrying 8 passengers and featuring a sun deck. The 500MB and 680MB models are due for release shortly.
What do you think about these 3D printed boats? Let us know in a comment below or on our LinkedIn, Facebook, and Twitter pages! Don't forget to sign up for our free weekly Newsletter here, the latest 3D printing news straight to your inbox! You can also find all our videos on our YouTube channel.