A New 3D Printed Bicycle Frame Made With Recycled Polycarbonate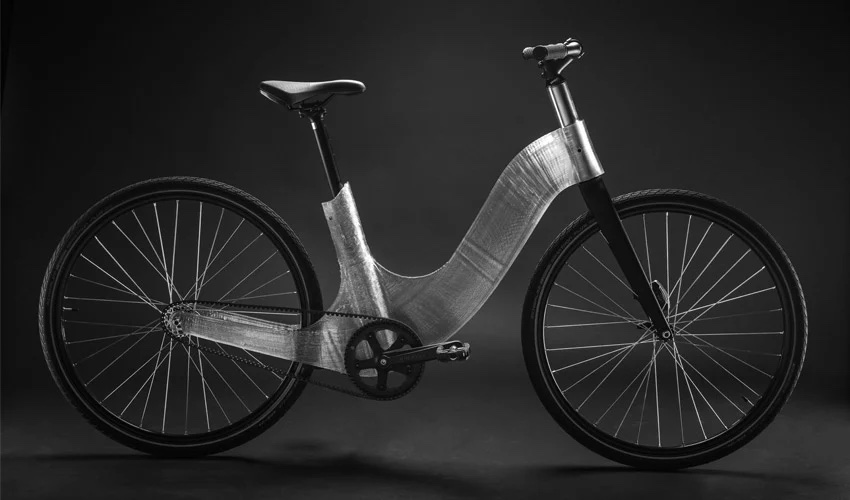 Recently, during Milan Design Week, a new 3D printed bicycle frame was introduced to the general public for the first time. Designed by the Italian companies INDEXLAB and GIMAC-EXGINEERING, this prototype is made from 100% recycled polycarbonate and created using a robotic arm. The 8-kilo weighing frame, which was installed on the New01bike, seeks to promote the circular economy and customization. Its main objective is to recycle objects at the end of their life to make a custom product, which is adapted to each user's individual taste.
You might now think that it's just another 3D printed bike frame, adding to a number of countless others, since 3D technologies and cycling have been much talked about in recent months. But this time, the approach is a little different because it is primarily about quickly producing a custom bike, that can also be recycled. INDEXLAB explains, "Custom ergonomic bikes are not only costly and slow to manufacture but also very difficult to mass-produce since they are tailored for particular needs and usages. On the other hand, mass-serialized bikes are seldom so versatile that they accommodate different user body proportions and measures, as they are made for the 'standard user'. New01bike was created to fill this gap, make a custom bike affordable, fast, and easy to mass-produce and recycle."
The bike's frame was 3D printed from recycled polycarbonate, which gives it a transparent effect. We can't say for sure what objects were recycled to obtain the final material, but since polycarbonate is being widely used in the production of transparent objects and requires a high impact resistance, we wouldn't be surprised if the frame was made from recycled safety glasses or a motorcycle helmet.
In terms of technology, Robotic Additive Molding was chosen, which means that a 6-axis robot was used. It also seems that another robot was used to mill the frame's fixtures at the level of the crankset and the rear wheel. This method was chosen to obtain a curved and strong part, characteristics which would not have been able to be made by a three-axis machine. The frame weighs about 8 kilos.
INDEXLAB concludes, "the objective will be to create a local circular system of recycling and manufacturing, achieving an organized approach that promotes sustainable materials and new production methods to build products without sacrificing functionality." You can learn more about this 3D printed polycarbonate bike frame HERE.
What do you think of this Italian project? Let us know in a comment below or on our LinkedIn, Facebook, and Twitter pages! Don't forget to sign up for our free weekly Newsletter here, the latest 3D printing news straight to your inbox! You can also find all our videos on our YouTube channel.
*Cover photo credits: INDEXLAB