Researchers have created a 3D printed bathroom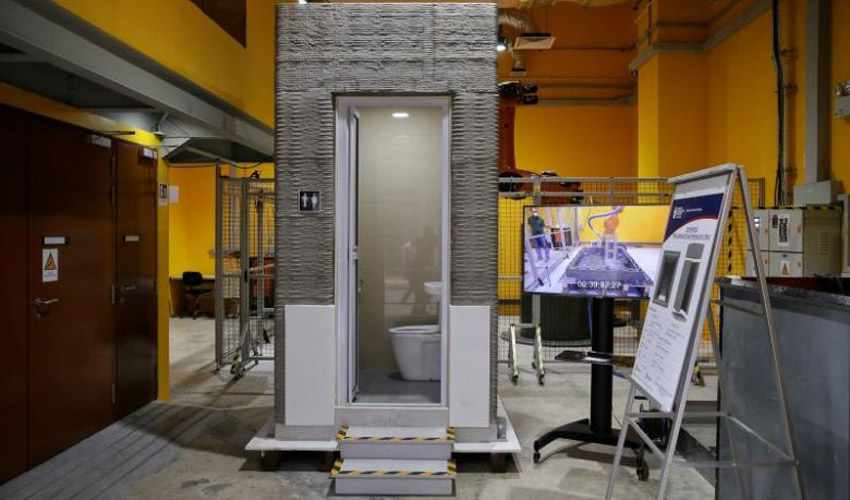 At Nanyang University of Technology in Singapore, a team of professors claim to have developed a small 3D printed bathroom cubicle in less than a day: once the cubicle printed, it is equipped with a toilet, shower, sink and mirror.  The concrete walls are 3D printed in 9 hours, once ready the cabin was then equipped to become a prefabricated unit, ready for use on construction sites. The final objective is to propose solutions that are easier to implement, at a lower cost and more quickly.
3D concrete printing has enabled the creation of many projects, whether finished or in the prototype stage. We can think of houses, small functional buildings, but also of villas, skyscrapers and business offices. The technology offers more freedom in terms of geometric shapes while reducing the difficulty of the work, costs and manufacturing times. Some builders have claimed to have printed all the walls of a house in only 24 hours! That's about the time it would have taken for this team of Singaporean researchers to design this bathroom cubicle.
A durable 3D printing material
One of the keys to the success of the project is the material developed by this team: they have developed a concrete mixture that includes geopolymers made from ash waste. A combination that would allow the material to cure quickly enough for the machine to apply a new layer over it shortly afterwards, while being fluid enough to be extruded. According to the researchers, this approach saves up to 30% material and weight and is twice as fast as the traditional cast concrete construction process.
The team therefore presented two prefabricated bathrooms: the first, 1.62 x 1.5 x 2.8 m, has been 3D printed in 9 hours while the other, which measures 2 x 2.6 x 2.8 m, has been 3D printed in 12 hours. A KUKA 6-axis robotic arm with a range of about 6 metres in diameter was used. Once the walls were completed, the teams took care of laying the tiles and equipping the cabin. There is a sink, a mirror, a shower and toilets – everything would have been done in about 5 days. The 3D printed cabins, lighter and less expensive, are then transported directly to the construction site.
Tan Ming Jen, professor at the Singapore 3D Printing Centre at NTU University explains: "By being able to print on demand, companies can save on their inventory costs as well as their labor costs, as they do not need to store as much and their employees can be redeployed to perform higher level tasks. This approach improves workplace safety as robots are building the bathroom unit." The larger of the two cabins was subjected to rigorous testing: the results showed that it had achieved the required strength and robustness, in accordance with industry standards. You can find more information HERE.
What do you think of this 3D printed bathroom? Let us know in a comment below or on our Facebook and Twitter page! Don't forget to sign up for our free weekly Newsletter, with all the latest news in 3D printing delivered straight to your inbox!