Exos Armor: The Entirely 3D Printed Back Brace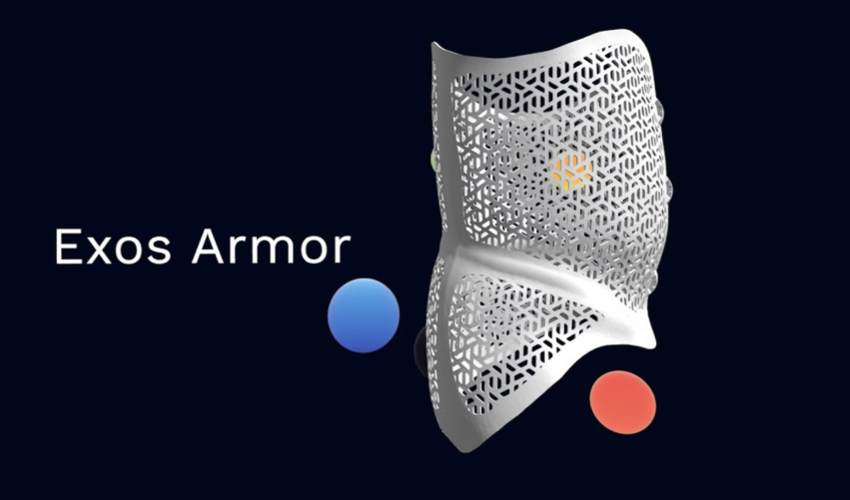 At CES 2021 Exos unveiled their 3D printed back brace, entitled Armor, intended to better posture and treat scoliosis. The Exos Armor is fully eco-sustainable and entirely 3D printed from eco-friendly materials making it both light and strong at the same time. Using 3D printing Exos have developed a back brace able to achieve the same degree of effectiveness as traditional braces, and also offer advantages in terms of comfort, breathability and functionality. Additive manufacturing has enabled several benefits including increased production speed and minimization of environmentally harmful consequences that tend to accompany traditional methods of production.
Exos is an Italy-based biomedical startup made up of a team of engineers and designers, whose mission was to revolutionize bracing in the orthopedic treatment of scoliosis. Scoliosis is a sideways curvature of the spine affecting between 6-9 million people in the United States. While more often than not its cause is unknown, it can be the result of conditions including cerebral palsy and muscular dystrophy. The most common type of back brace is the Boston. Boston back braces are uncomfortable, rigid braces that are typically meant to be worn for between 16 and 23 hours daily, for 6-18 months. Similar to most traditional back braces, the Boston is made of a thick plastic material that lacks breathability and can cost $2,500-$2,600. A Cheneau brace can cost around $8,500.
Exos have used 3D printing to redesign the production process. The Armor can be manufactured in just a few days, cutting production time by 90%. Moreover, thanks to additive manufacturing, Exos have been able to optimize the strength and flexibility of their braces as well as create a product which can be customized and tailored to the needs of individuals on a mass scale. Exos Armor comprises materials and shapes that have been optimized making it 50% lighter than traditional braces. The 3D printed back brace is comfortable to wear for long times thanks to the breathable holed pattern.
Exos Armor is also 30% thinner than most traditional back braces, making them less bulky and far more comfortable to wear. Exos claim that "you can wear Exos Armor during hot summer days without breaking a sweat". The brace is perfect for any clinical situation and patients of all age as it is tailored with millimetric precision and completely customizable including color, material, pattern, shape, functionality as well as accessories. The Exos Armor also comes equipped with a modular closure system allowing for multiple types of configurations, as well as the potential to be upgraded over time.
While 3D technologies have already been used in bracing, (the Boston 3D relies on CAD software as part of treatment), the Exos Armor is part of a new generation of fully 3D printed orthoses. You can find out more about the Exos Armor HERE.
What do you think about the Exos Armor? Let us know in a comment below or on our Facebook and Twitter pages! Sign up for our free weekly Newsletter here, the latest 3D printing news straight to your inbox!