A 3D printed and recycled wood cabin
---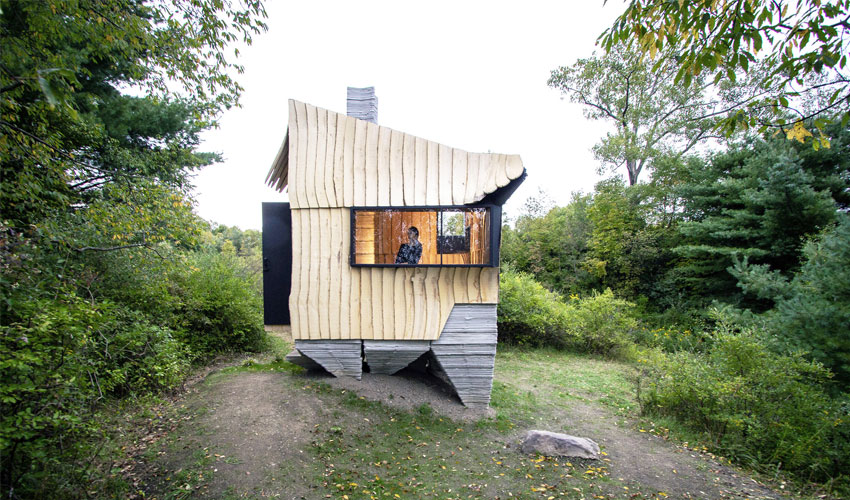 What if we reuse wood waste to make small houses and other constructions? That's the idea behind Ashen Cabin, a cabin imagined by the HANNAH design studio: using emerlad-ash-borer-infested wood (a species of beetle insect), the American company used 3D printing technology and robotics to erect a cabin in the middle of the forest. Add to this several 3D printed elements, including the chimney.
As 3D printing develops in the construction market, offering alternative solutions for erecting the walls of our future homes, it seems that it goes hand in hand with a deeper respect for the environment. Initiatives are multiplying to use local resources and materials, to reduce our carbon footprint and to promote a circular economy. One example is the Gaïa house, whose walls have 3D printed using waste from rice cultivation. Ashen Cabin is joining this movement by combining 3D scanning, 3D printing and decomposition of infested ash trees. In the United States, the latter are very numerous: the larvae of the emerald ash borer come to settle under the bark of the tree to consume its phloem. They then create various galleries that prevent water and nutrients from circulating properly in the tree, causing the ash tree to weaken or even die.
The HANNAH studio has therefore decided to reuse this infested wood which is often burned to accelerate its decomposition. Sasa zivkovic, co-founder of the studio explains: "Infested ash trees often decompose or are burned to produce energy. Unfortunately, both scenarios release CO2 into the atmosphere, and the benefit of using compromised ash trees for construction is that they bind carbon to the earth and offset the exploitation of more commonly used wood species". In concrete terms, from a 3D scanner, the studio was able to retrieve data from several pieces of ash trees, allowing a 6-axis robot to cut the logs according to a very precise pattern. The whole wood forms the facade of the small house.
In addition to this original construction method, HANNAH used concrete 3D printing to erect several elements of its cabin, such as the entire base, the floor, the interior fittings consisting of nine interlocking concrete segments and even the chimney! Leslie Lok, the studio's second co-founder, adds: "We know that concrete is responsible for 8% of total CO2 emissions. By using 3D printing, we eliminate the use of unnecessary formwork and we can place concrete intelligently and only when structurally necessary, significantly reducing its use while maintaining the integrity of the building."
The cabin was built in one of Ithaca's forests. Find more information on this 3D printed recycled wood cabin HERE. What do you think of this 3D printed cabin using wood waste? Let us know in a comment below or on our Facebook and Twitter pages! Don't forget to sign up for our free weekly Newsletter, with all the latest news in 3D printing delivered straight to your inbox!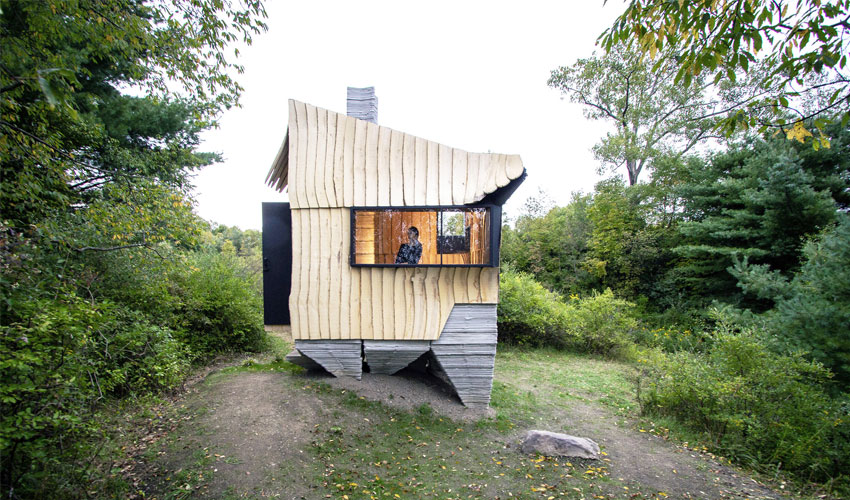 ---
You may also like