3D printed anatomical models transform surgical planning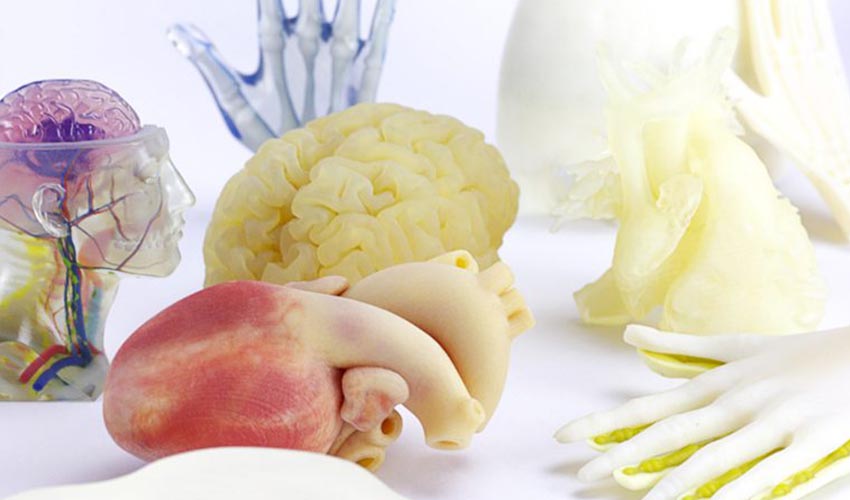 In the medical sector, additive manufacturing technologies are slowly but surely having more impact on treatment outcomes for patients than they once were. For example, they can be used to create tailor-made medical devices thanks to enhanced design freedom during modeling and manufacturing. Some of these devices include prosthetics, orthotics, implants, but also anatomical models. Indeed, surgical planning and rehearsal is a critical stage in any treatment pathway, and many experts believe that 3D printing will become a normal step in clinicians' daily routine when assessing different treatment options. Stratasys, leader in 3D printing solutions, recently revealed some of its customers' projects around these applications. In fact, the company states that 1 year after the launch of its J750 Digital Anatomy 3D printer, it has successfully sold and installed the system at healthcare institutions and medical service providers around the globe, showcasing the growth that lies ahead in this segment.
We told you last year about the launch of the J750 Digital Anatomy 3D printer from Stratasys. The manufacturer had explained that its newest solution aimed to further expand its commitment to the medical field by introducing an even more responsive solution. Today, the giant reveals that many institutions and service providers have invested in the new system to help improve patient care and accelerate medical innovation. These include Seattle Children's Hospital, VA Health Care System, Nicklaus Children's Hospital in Miami, Medilife and BIO3DModel in Italy, Tknika and AIJU in Spain, to name a few. The designs mimic the actual feel, responsiveness, and biomechanics of human anatomy. Furthermore, models can be punctured, sutured, cut, and physically manipulated like actual human tissue.
Surgical planning using 3D printed anatomical model
For example, Seattle Children's Hospital is using the 3D printer in-house to duplicate things like airways, livers and hearts to prepare for surgery in a more effective way. "The earliest prints using TissueMatrix material were instrumental for understanding the optimal fit for a custom tracheostomy tube […] I believe that by making models in parallel to a patient's care journey we can truly make a difference. Now integrated into a systemic program called Custom Care, we have little doubt this new technology will help us provide the best care possible to our patients and families," commented Seth Friedman, Ph.D, Manager of Innovation Imaging and Simulation Modeling in the Improvement and Innovation Department.
In another case, Dr. Redmond Burke, chief of Cardiovascular Surgery and co-director of the Heart Program, explained it's now a critical part of surgical planning: "It's very valuable to be able to actually cut open a model to get a very clear vision of what we'll see in the operating room. We believe this is a significant advance that will allow us to reduce the trauma of patients undergoing complex heart surgery." He added that this technology opens up completely new avenues in teaching and patient care.
Normally, surgeons would only have access to CT or MRI data before going into the operating room. Therefore, 3D printing could really revolutionize complex cases that doctors see every day. Not only that, but the technology is also capable of providing time and efficiency savings. For example, in the UK, Axial3D is aiming to produce and ship patient-specific 3D printed anatomical models within 48 hours.
What do you think of changes onset by 3D printing in surgical planning and rehearsal? Let us know in a comment down below or on our Facebook and Twitter pages! Don't forget to sign up for our free weekly Newsletter, with all the latest news in 3D printing delivered straight to your inbox!