3D Printed 3-Layer Bike Seat to Maximize Rider Comfort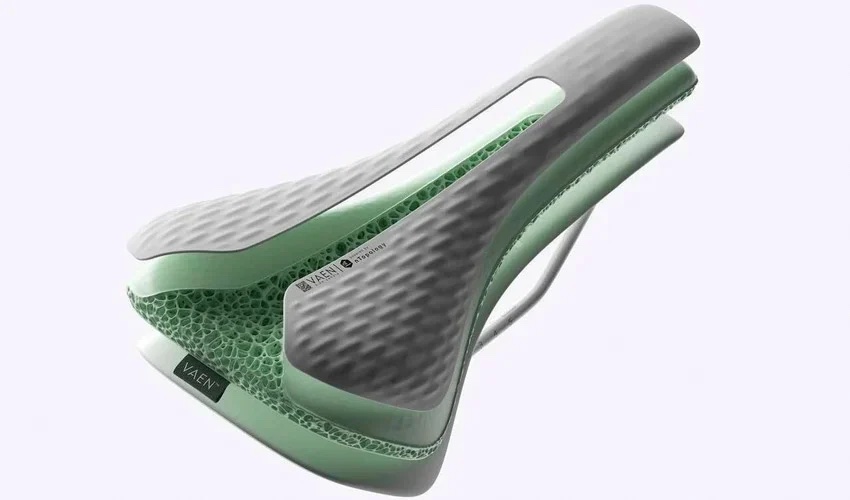 One of the most important elements for a cyclist is undoubtedly the bike saddle. As you can imagine, it must be as comfortable as possible to allow for maximum ride performance. And it seems that optimal comfort has been found thanks to designer Vasi Ganea. He has imagined the VAEN bike seat whose structure was 3D printed. Its design is quite original, with an organic lattice foam reminiscent of a Voronoi diagram. Composed of several layers, it is customizable, available in several colors and guarantees maximum comfort while reducing pressure peaks.
The use of additive manufacturing in cycling seems to be one of the trends of this year with innovative projects multiplying every week. While we were talking about this all-wheel drive bike earlier this week, this time we come back to one of the key components of a bike, the saddle. This is not the first time that this part has been 3D printed; as we know, thanks to 3D printing, we can design a product optimized in terms of materials, weight, with the key, more lightness and better performance. The company Specialized comes to mind, which has made this a flagship activity. The initiative of the Spanish designer Vasi Ganhi is very promising, as the saddle is adjustable according to the cyclist's needs.
The designer drew inspiration from nature and sought to reproduce organic shapes, hence the lattice foam. The saddle is composed of three distinct layers, made of different materials to provide distinct levels of performance for each area. The outer layer, which can be injected, cut or 3D printed, addresses friction, comfort and breathability needs. The middle layer is capable of absorbing shock. It was 3D printed from a flexible material and topologically optimized, resulting in a lattice structure. Finally, the third layer is a hard base that can be injected or 3D printed from carbon fiber reinforced materials. The objective here is to have a very strong layer.
Vasi Ganea takes the manufacturing process a step further, "As if it were an organic growth, we algorithmically design a lattice structure generated from the unique pressure map of each cyclist to achieve density variations that guarantee maximum comfort by reducing pressure peaks. Ergonomic means comfortable and completely customizable in VAEN, we believe that more progressive customization will be the future of saddle ergonomics, and 3D printing will play a key role in that regard." You can find out more about the project HERE.
The 3D printed bike seat is available in 5 colors: black, yellow, glass, blue and orange. You can find more information about this project HERE. Let us know in a comment below or on our Linkedin, Facebook, and Twitter pages! Don't forget to sign up for our free weekly Newsletter here, the latest 3D printing news straight to your inbox! You can also find all our videos on our YouTube channel.