3D printable gun files on sale for as low as $12 on the dark-web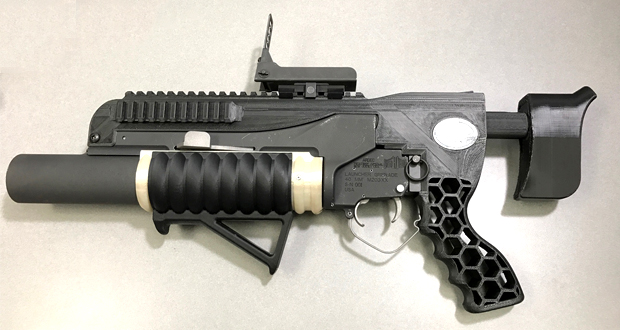 3D-printed weapons have been a major industry controversy since 2013. On May 6, 2013, Cody Wilson, the Senior Representative of the group Defense Distributed, unveiled and distributed the first weapon created with 3D printing, the "Liberator". In only two days time the files had managed to be spread and downloaded around different networks more than 100,000 times before the U.S. Department of State ordered Defense Distributed to stop spreading the downloads. Although they stopped, this hasn't stopped the file from continuing to be passed around on other networks. Alarming, no?
It is because of this potential danger, such as seen with the Liberator", that led to Rand Europe and the University of Manchester to conduct a joint study on this subject. Their goal? to highlight the potential dangers that 3D printing could have as people are now obtaining designs for their own 3D printed guns in the dark-web for as little as $12.
The Dark Web is home to many black markets known as "Cryptomarkets", which are inaccessible when trying to locate them through Google search engines. Within the study, the two parties studied 12 of these Cryptomarkets markets over a week in September of 2016, collecting data and observing the happenings from within.
It was during their research of these markets that they discovered that instructions for making firearms were the second most popular firearms purchase on the dark-web, with 222 listings of digital and CAD files. These sales only came in second to the sales of actual firearms, which had around 339 active listings.
"In very simple terms, anyone can connect to the dark web and within minutes have access to a variety of vendors offering their products, which are most often illegal", explained Judith Aldridge, Professor of Criminology at the University of Manchester. "The dark web enables illegal trade at a global level, removing some of the geographical barriers between vendors and buyers while increasing the personal safety of both buyers and sellers through a series of anonymizing features that obscure their identities. This veil of anonymity, combined with the relative ease of access, makes the dark web an attractive option for a wide range of sellers."
3D printing is undoubtedly a revolution for the industry, making it much more efficient at a much lower cost, but the development of 3D printed weapons has been recognized as a threat to the international community that must be prevented. In the report, they recognized the work that is currently being done by law enforcement officers on this subject, but they call on the need to reinforce current policies as well as the need for both national and international cooperation in order to combat the potential danger that this may hold.
As of now, the report believes that these markets remain limited in who it attracts and what it offers. But, being that this is the first report done on this subject, they believe that there is further research that needs to be conducted in order to have a well-rounded understanding of the role that the dark-web plays in illegal sales, as well as the trends that are seen within it.
For more information, you can check out the study here.
Do you think that 3D printed guns could be a danger in the future? Let us know in a comment below or on our Facebook and Twitter pages! Don't forget to sign up for our free weekly Newsletter, with all the latest news in 3D printing delivered straight to your inbox!