3D print the Tesla Cybertruck directly at home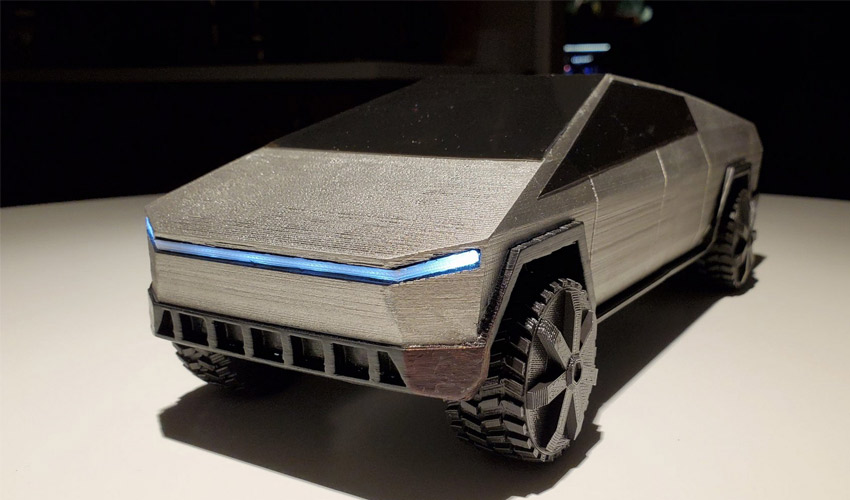 Why not 3D print your own Tesla Cybertruck? A smaller model of course. This was the idea of designer Roger Kappler who created a small-scale 3D model of the famous pickup truck that should be released in 2021. He started from a file available online on Thingiverse, which he cut into several pieces in order to enable printing directly at home. Good news for all of the brand's fans who can now reproduce the model! The 3D printing process took 24 hours according to Roger Kappler, who then integrated LEDs powered by batteries hidden in the trunk.
The Tesla Cybertruck was officially introduced last November and is the brand's first pickup truck: it's 6 metres long and 1.9 metres high, the vehicle is at the very least original, with its futuristic design. In terms of performance, the car comes in 3 different electric models, including the most sporty one capable of reaching 209 km/h, with 800 km of range. The first vehicles are planned for 2021, mainly in North America, which is why this 3D printed model is a well thought-out B plan!
The designer explains that he 3D printed the entire body of the car with a white plastic – a process that took him about 24 hours. He did not specify which 3D printer he used, but we imagine that pretty much any desktop machine will do the job. He then sanded the piece and painted it in silver to match the colour of the model announced by Tesla. An additional 15 hours were then required to complete the car: windows and headlights had to be created with acrylic sheets and the batteries for the LEDs had to be hidden in the trunk. In total, the designer estimates the cost of materials and accessories (excluding 3D printer) at $50.
The final result is quite amazing and very similar! The size of the vehicle is evident when you compare the model to other cars Roger owns. . You can find the 3D file on Thingiverse: get started!
What do you think of Tesla's Cybertruck ? Let us know in a comment below or on our Facebook and Twitter pages! And remember to sign up for our free weekly Newsletter, to get all the latest news in 3D printing send straight to your inbox!