World's First 3D Print Bridge Opens in Amsterdam
Published on October 31, 2017 by
Jamie D.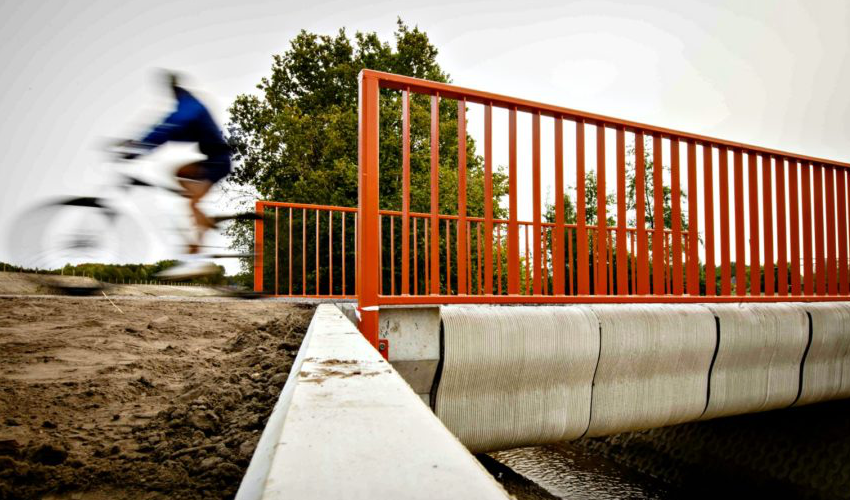 The world's first 3D-printed concrete bridge has just been opened in the Netherlands. The bridge, in Amsterdam, will mostly be used by cyclists.
A World First
Theo Salet from the Eindhoven University of Technology commented "The bridge is not very big, but it was rolled out by a printer, which makes it unique." The bridge took a total for three months to build since printing commenced in July. The bridge is made from reinforced concrete, contains 800 layers, and is 26 feet long.
Work on printing the bridge, which has some 800 layers, took about three months after starting in June. The bridge is made of reinforced, pre-stressed concrete according to the university. Because 3D printing was used, there were several advantages over the traditional method of building bridges. These include using less concrete, as concrete is only printed exactly where it is needed, and therefore not wasted.
Netherlands: 3D printing leaders
This means that as fewer resources were wasted, there were less costs associated with the materials for making concrete. If this could be improved upon, this may mean 3D printing becomes the default method of creating large structures like bridges.
This further shows the Netherlands as a major part in the rise of 3D printing: Ultimaker, one of the largest 3D printer manufacturers, is also a Dutch company. In addition, MX3D, another Dutch startup is currently 3D printing a stainless steel bridge. The build is currently one third completed, the objective to open the bridge in June.
These developments are exciting for the 3D printing world. First bridges, in the future perhaps moon colonies? We will have to see if more companies try to develop large structures like bridges or houses using 3D printing. Perhaps in the next 20 years, we may see it become the preferred method of bridge-building.
What do you think of these 3D-printed bridges? Let us know in a comment below or on our Facebook and Twitter pages! Don't forget to sign up for our free weekly Newsletter, with all the latest news in 3D printing delivered straight to your inbox!