How to choose a 3D software for 3D printing: Experts give their advice!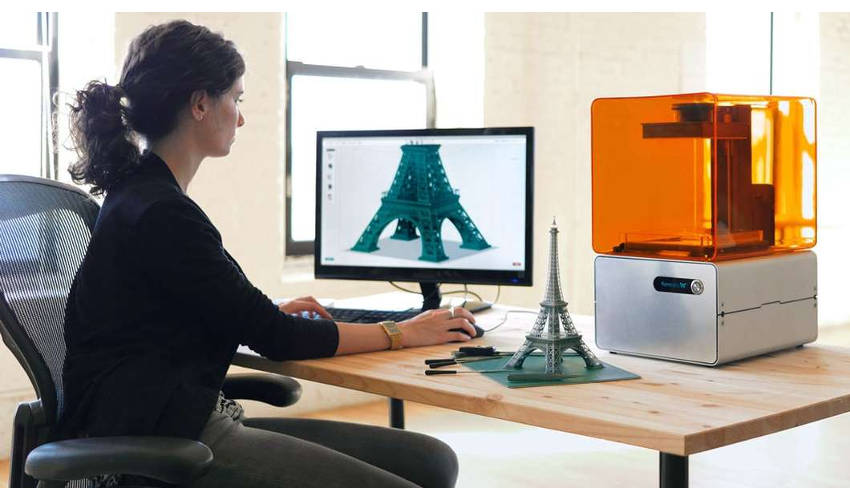 Over the last few months we have provided you with the advice from experts in different fields of additive manufacturing on multiple 3D printing topics: from choosing a 3D printer, filament, scanner to choosing an appropriate 3D technology. Today, we come to you with an expert advice about choosing the right 3D design software to fit your needs. We spoke to three experts, Simon Indrele, 3D Printing and Scanning Application Engineer at Fisher Unitech –  the company that provides 3D design software tools and 3D printers across the US, we also spoke to Raymond Wang, Lead Product Engineer at PrintAWorld – the company is based in New York and provides additive manufacturing services for clients, including 3D printing, 3D scanning, 3D modeling, etc. And last but certainly not least, we spoke to Giovanni Avallone, the Founder of the design studio Caracol, based in Italy, which investigates new production possibilities derived from access to 3D printing technologies.
Simon Indrele, 3D Printing and Scanning Application Engineer at Fisher Unitech,
Raymond Wang, Lead Product Engineer at PrintAWorld
Giovanni Avallone, the Founder of the design studio Caracol,
So what 3D software should you be using?
First, you have to consider what you are using the 3D design software for. In general, 3D design software falls into two categories, the first is CAD software and the second is 3D modeling software. Even though we use these terms interchangeably, they are not the same tools. Both can be used for 3D printing, however CAD software is often used in fields such as automotive, aerospace, aeronautics, architecture, or anywhere where the mechanical properties of the final part are important. It is not necessarily a question of the technicality of the project you are trying to model, but rather what sort of part you are trying to print. 3D modeling allows more artistic freedom, as designs do not need to work mechanically, be functional or fit to a real world device.
The first thing you should consider is which industry or application you are using 3D software for
Simon Indrele explains, "The first thing I would recommend is to take a look at what software is used by the particular industry you are in. Whether it's manufacturing, jewelry design, toy design, etc. the industry will typically use a particular type or set of software. Evaluating those makes sense, as it's possible you'll have to transfer files between your vendors and clients. Being able to provide the type of files and file formats they're accustomed to is good practice."
As Raymond Wang further explains, "For animation work, Maya is great for making rigs and tweaking them to make different positions for the model. For sculptural work, we like using Zbrush for digital sculpture. It's also very useful when dealing with larger files and organic forms. For product design, we choose Rhino since it has many tools for measuring distance and finding out the optimal locations for analysis. Finally, for engineering purposes, Solidworks is used to simulate and build parts with high accuracy. Sometimes we combine software for projects that involve different aspects of design."
Giovanni Avallone emphasis on the importance of parametric software, "In our daily workflow we design technical parts for automotive as well as furniture for kids. And sometimes we use the same software for both! I recommend choosing parametric software that allows you to have a dynamic approach to the design development."
Additionally, you should consider what sort of 3D models you are making
As mentioned above, CAD software will be used over 3D modeling software for certain industries, depending on the application. About this Simon Indrele adds, "CAD software provides ease of iterative redesign and provides accurate drawing for manufacturing", whereas 3D modeling software is capable of digital sculpting and therefore allows for the creation of organic geometry.
Giovanni Avallone reiterates this last point by saying, "Usually good software for solid modeling is not friendly for free form and organic design modeling, but the trend today is to have one powerful tool for as many applications as possible. Think about generative design applied to mechanical applications, the really important aspect concerns the level of details and engineering you need to reach and also the technology you want to use for your prototypes or production. Since we are talking about 3D printing, to get good results it's recommendable to be careful in the way you model, you are not modeling for 3D rendering, you are modeling for a real-life product, made with a specific material which has to work and follow precise physical rules."
But more specifically, what is the key difference between CAD software and 3D modeling software?
"CAD software is primarily used by engineers to create 3D models and drawings of parts and assemblies for manufacturing where precision, tolerancing, redesign, simulation and other engineering based aspects are important factors. 3D modeling software is generally used by designers and artists to create models for video games, movies, toys, etc. where control over the geometry is given the highest priority. I think either type of software is easiest for their proper use", we are told by Simon Indrele.
In fact, even though we like to compare these two categories of 3D software, they target different needs completely. "They are two very different ways of developing 3D objects. CAD software requires part mating and confirmation. 3D modeling software requires artistic ability and attention to sculptural detail. To say which one is easier is comparing apples to oranges", explains Raymond Wang.
Giovanni Avallone adds an interesting point, "It may sound paradoxical but 3D modeling software is probably easier and more intuitive to use for a non expert user, we perceive the world in 3D, not 2D."
And finally, any advice from our experts for a beginner?
Again, it seems to all boil down to which industry you work in. "Whether you own a company and are considering software packages or an employee/student looking at software to learn for your field, my answer to this question is simple. Pick the software most widely used by your industry. For one reason over any others, when it's time to hire more employees or to start looking for prospective employers, you will have many to choose from. That is more valuable than you may consider at this time", Simon Indrele advises.
Some more concrete examples are given by our expert at PrintAWorld, "Google Sketchup is quite easy to use and understand. For beginner engineers, I would recommend the online platform, OnShape which has many tutorials and is cost efficient. For artists and creative, I would recommend using Meshmixer to manipulate shapes and get comfortable working in a 2.5D space." Moreover, you shouldn't forget about the open source software available, especially when you are trying to figure out the logic behind 3D modeling for the first time. Giovanni Avallone suggests starting with Sketchup, "It's so intuitive that in less than one hour you are already designing! I think it may be a good starting point."
You can find more information on the following websites, Fisher Unitech, PrintAWorld and Caracol Studio.
Was this advice useful? Let us know in a comment below or on our Facebook and Twitter pages! Sign up for our free weekly Newsletter, all the latest news in 3D printing straight to your inbox!