#3DStartup: Glassomer, advancing 3D glass printing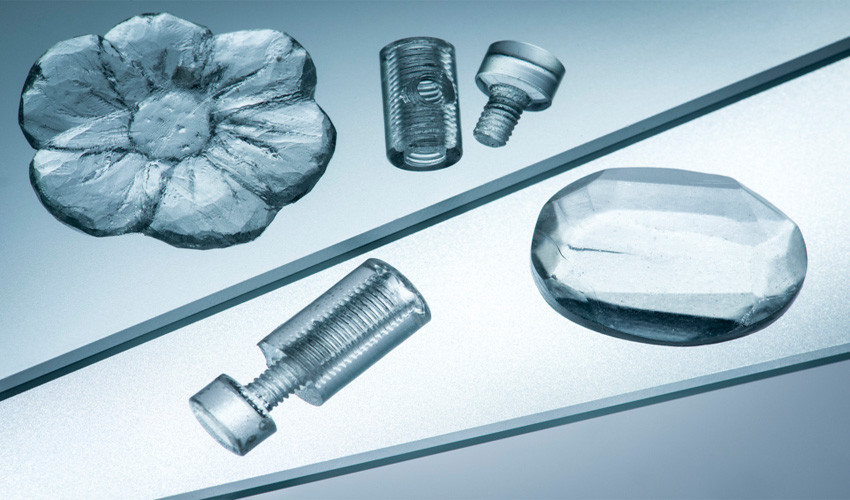 Glassomer is a German startup that has developed a 3D glass printing technology. A method that we had already discussed in the case of an MIT project. As a result, this young company based in Freiburg, Germany, has decided to develop its own 3D glass printing technology and market it, an innovation that made it worthy of being our 3D startup of the month! We met Frederik Kotz, co-founder and Chief Scientist of Glassomer, to learn more about the startup's projects and the future of glass in the 3D printing sector.
3DN: Can you introduce yourself and tell us more about the origins of Glassomer?
Our startup Glassomer has developed and patented a new revolutionary process for shaping glass. Glass is difficult to shape because it is melted at very high temperatures, making it difficult to use in casting moulds or other shaping methods. This is why we have developed special materials, which we call "Glassomers" – we are able to shape them  like plastics – liquid glassomers can be hardened by heat or light, solid glassomers can be carved, drilled, milled, or embossed. By heating in the oven, we convert the "Glassormers" into pure quartz glass. The Glassomer technology was developed in our working group, the NeptunLab, and our publications on the subject immediately attracted interest from a wide range of industries. We were receiving requests for very special glass components that had not yet been manufactured. Our ambition was awakened to turn our technology into a product.
3DN: Can you explain how your nanocomposite works?
Our nanocomposite (the "Glassomer") consists of a very high proportion of the finest glass powder and a binder made of plastic. Due to the binder, the materials behave like plastics and can also be processed like plastics. It is only after processing that the components enter the furnace and are converted into glass. During this process the plastic (binder) is removed and the glass powder combines to form a transparent glass component, a process called "sintering". Since this sintering process does not require a temperature as high as when melting glass, the glass components do not deform or melt. The sintered glass components are chemically and physically indistinguishable from commercial quartz glass.
3DN: To what extent can a connection to 3D printing be established?
The binder resembles a 3D printing resin, i.e. it is liquid and photo-hardening and can therefore also be processed in commercial stereolithography printers. Nothing changes in the printing process, but after the printing is done, the component can be placed in the oven and transformed into transparent glass.
3DN: For which applications can Glassomer be used?
The technology is used, for example, to manufacture highly integrated microfluidic chemical reactors or compact optics. However, we also receive many inquiries from the medical technology, automotive and jewellery industries.
3DN: What are the biggest challenges in 3D printing of glass? How do you manage to overcome them?
The printing challenges with our approach are the same as with stereolithography: how do I remove excess resin?  How do I cure? How do I rinse fine structures freely without damaging the surface? What are the best printing parameters for high resolution? Here the process does not differ from traditional printing with common resins. During the subsequent conversion to glass in the oven, the art is to remove the plastic from the interior without blowing up the component. For this purpose, we have added further substances to the binder, which ensure that the binder can escape in a controlled manner in several steps.
3DN: What are the advantages of 3D printing with glass?
It is impossible to imagine modern society without glass. Internet, smartphones, micro-optics, all this is not possible without glass. Glass has completely different properties than plastics, e.g. in terms of optical transparency, haptics or durability, they are superior to plastics. They are also very easy to recycle. In the case of glass, too, the trend is towards small structures. Classically, glass is formed by etching or grinding – this limits the forms that can be produced. 3D printing, and above all micro 3D printing, makes completely new forms accessible and can thus open up new fields of application for glass.
3DN: What are your future projects?
We are currently looking for suitable industry partners who share our vision of the glass production of the future. In the long run, we will build a medium sized manufacturing and development department that will develop the technology but also manufacture products.
What do you think of our 3D startup this month? Let us know in a comment below or on our Facebook and Twitter pages what you think of our articles! Don't forget to sign up for our free weekly Newsletter, with all the latest news in 3D printing delivered straight to your inbox!